Walston's Quality Start Squandered In Loss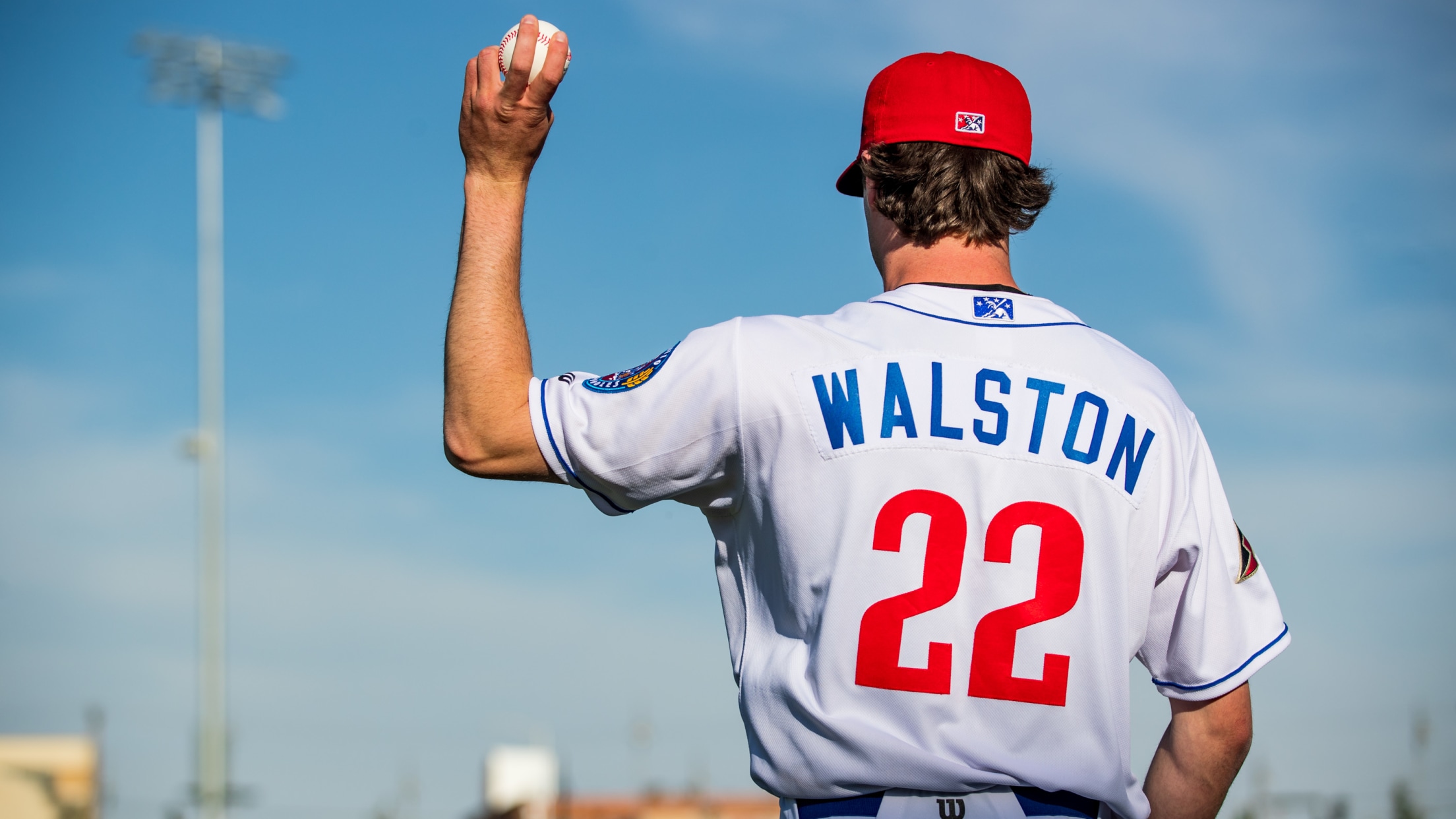 (John Moore)
Frisco, Texas – The Amarillo Sod Poodles (47-53) suffered a 6-5 loss to the Frisco RoughRiders (55-45) on Friday night, the team's sixth loss in a row. LHP Blake Walston picked up his fourth quality start and exited in line for the win, but a four-run 7th propelled Frisco to
Frisco, Texas – The Amarillo Sod Poodles (47-53) suffered a 6-5 loss to the Frisco RoughRiders (55-45) on Friday night, the team's sixth loss in a row. LHP Blake Walston picked up his fourth quality start and exited in line for the win, but a four-run 7th propelled Frisco to victory.
Jorge Barrosa started the evening strong with a leadoff home run on the first pitch of the game. It immediately put the Sod Poodles up 1-0 and was the team's third leadoff home run of the year. Walston got off to a quick start as well, striking out two in the bottom of the 1st.
The RoughRiders matched Barrosa with a leadoff home run of their own in the 2nd inning. Walston allowed one more hit in the frame before ending it with his third strikeout.
Eight Sod Poodles were retired in a row after the leadoff homer. Frisco put runners at the corners on a pair of two-out hits in the bottom of the 3rd, but a highlight running grab in left field by Eduardo Diaz ended the frame.
Roby Enriquez led off the top of the 4th with a single, but he was quickly put away on a double-play. Frisco led off the bottom of the inning with a double and an error at third by Ti'Quan Forbes, and they took a 2-1 lead with a run scoring on a double play.
The first two batters were retired in the 5th, but Amarillo took a 3-2 lead on a two-out rally. Forbes doubled and was joined on the bases by Drew Stankiewicz on a walk. They executed a double-steal to put two runners in scoring position, and Forbes tied the game on a wild pitch. Barrosa then drew a walk to put two on, and Roby Enriquez smacked an RBI single to take a 3-2 lead.
Frisco got two two-out hits again in the 5th, but Walson escaped the inning scoreless. Amarillo put two on in the top of the 6th but hit into their third double-play of the game to end the threat.
Amarillo added to their lead with two runs in the top of the 7th. Forbes led off the inning with a single and quickly scored on a Stankiewicz RBI single. Barrosa made it 5-2 with a sacrifice fly before the half-inning ended.
Walston was relived in the bottom of the 7th after notching his fourth quality start of the season. His line ended at 6.0 IP, 8 H, 2 R, 2 ER, 0 BB, and 6 K, and he exited in line for the win.
The RoughRiders roared to life with four runs in the bottom of the 7th off of Amarillo's bullpen. Austin Pope allowed a runner to get into scoring position on a one-out single and a wild pitch, and he scored on an RBI double. He allowed another single and recorded the second out before being relieved by Mack Lemieux. Lemieux juiced the bases with a walk and they were promptly unloaded on a three-RBI double that put Frisco up, 6-5.
Tristin English singled and stole second as the tying run in the top of the 9th, but the Sod Poodles were unable to overcome the one-run deficit. Tonight was the team's sixth loss in a row and their second consecutive one-run defeat. Amarillo was out-hit 13-7 and committed one error to Frisco's two.
Down 4-0 in the series, the Sod Poodles will look to pick up a win over the final two games this weekend. RHP Ross Carver (0-1, 21.60 ERA) will take the hill on Saturday in his second career Double-A start and RHP Deyni Olivero (1-8, 6.66 ERA) will close out the series on Sunday.
Notes:
This Streak Can Vote: OF Roby Enriquez went 2-for-3 with an RBI tonight to extend his minor-league-leading active hitting streak to 18 games. He has been exceptionally potent in the last week with five multi-hit games in a row and 11 hits in that span. He is batting .423 (30-for-71) with 12 RBI over his 18-game hitting streak and is slashing .647/.684/.941 with seven RBI in the last five games.
Barrosa Bomb: OF Jorge led off the game with a solo home run on the first pitch thrown by RoughRiders starter Jack Leiter. It was the third time this year that the Sod Poodles have led off the game with a homer after Corbin Carroll did it on May 8 vs Midland and Barrosa did it on July 3 vs Northwest Arkansas. Arizona's No. 23 prospect turned in a 1-for-3 performance with 2 RBI in the loss, extending his active hitting streak to 14 games (.500/.588/.704, 27-for-54, 9 RBI, 2 HR, 5 2B).
Just Top Prospect Things: Starting pitcher LHP Blake Walston, Arizona's No. 3 prospect, turned in his fourth quality start of the season in a no-decision. He finished with 6.0 IP, 8 H, 2 R, 2 ER, 0 BB, and 6 K and finished with a no-decision. He has come into form over the last two weeks, and he is 2-0 with a 2.25 ERA over his last three starts (16.0 IP, 4 ER). He is still 2-0 in starts against Frisco's top pitching prospect Jack Leiter.
Two-Quan Forbes: 3B Ti'Quan Forbes went 2-for-4 tonight with two runs scored. It was his first multi-hit game since he had three on July 28 against Corpus Christi. On the year, Ti'Quan is batting .249 with 7 homers and 39 RBI.
Rally Killer: The Sod Poodles hit into three double-plays tonight, tied for the most they've suffered in a game this season. This was the fourth time they've hit into three double-plays, most recently July 8 vs Wichita.