Veen, Romo provide Rocky Mountain hope
Colorado's rebuild shows lots of promise at lower levels of system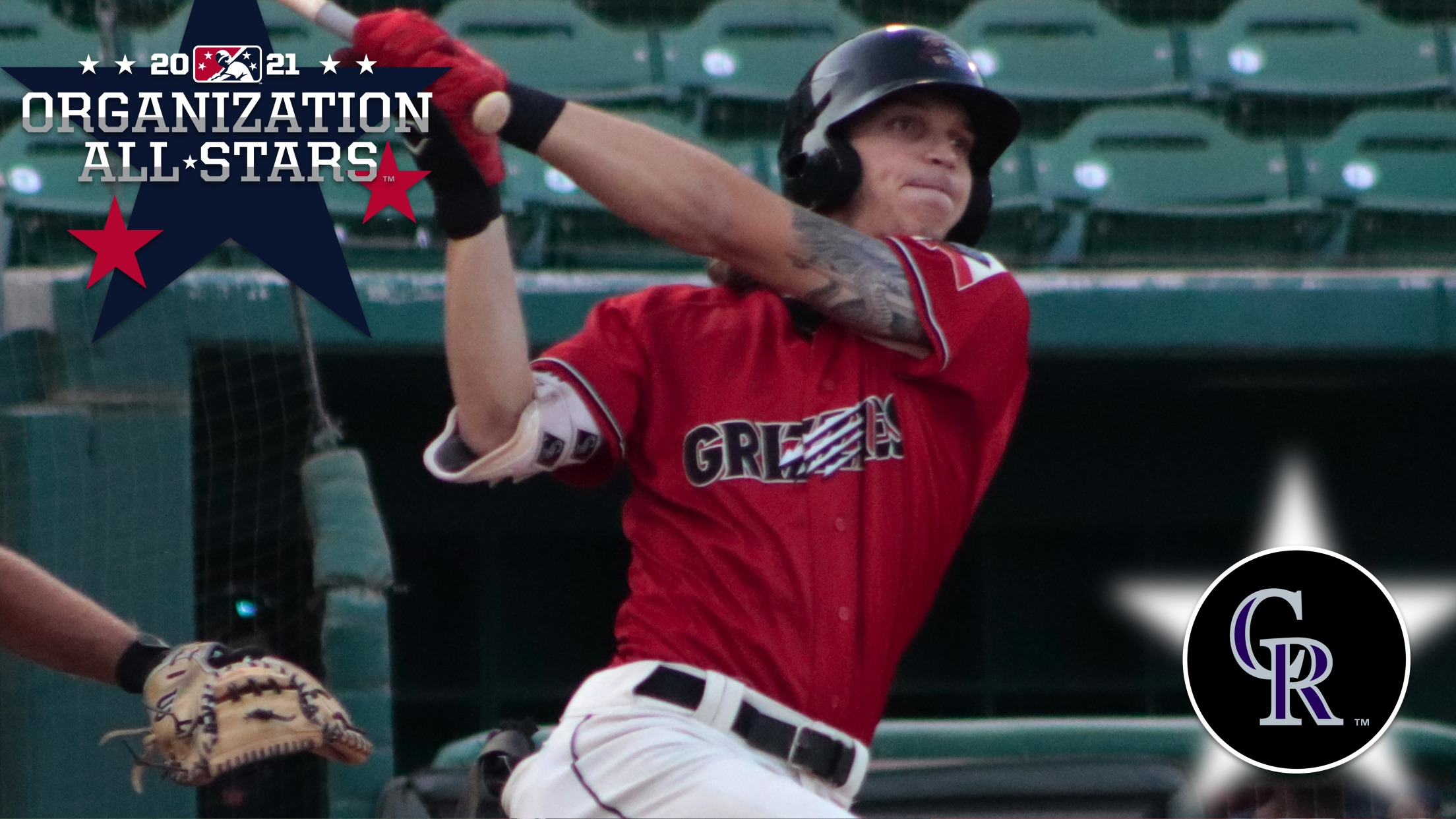 Zac Veen posted a .301/.399/.501 slash line with 15 homers, 83 runs, 75 RBIs and 36 stolen bases in his first pro action with Low-A Fresno. (Fresno Grizzlies)
Each offseason, MiLB.com goes position by position across each system and honors the players -- regardless of age or prospect status -- who had the best seasons in their organization. Click here to locate your favorite club.
Each offseason, MiLB.com goes position by position across each system and honors the players -- regardless of age or prospect status -- who had the best seasons in their organization. Click here to locate your favorite club.
The Colorado Rockies are coming off a third straight losing season with a fourth-place finish in the NL West Division, and they signaled a changing of the tide when they dealt away the face of their franchise –- Nolan Arenado -– in February.
But the team showed signs of gelling late and finished the year with a 40-39 mark after July 1, providing some hope for the future. The organization's farm system echoed that sentiment this season, posting a .534 winning percentage across their six Minor League clubs. A closer look shows much of that success occurred at the lower levels, where High-A Spokane and Low-A Fresno topped their respective divisions and played for championships.
The organization currently boasts a trio of Top-100 prospects in 2020 ninth overall Draft pick Zac Veen (No. 50), this year's No. 8 overall selection Benny Montgomery (No. 93) and left-hander Ryan Rolison (No. 95).
Rockies Organization All-Stars
Catcher – Drew Romo, Fresno (79 games): Developing a catcher has historically been notoriously difficult for the Rockies. Chris Iannetta (fourth round, 2004) put together a solid 14-season career -- and no one else has come close. Romo, 20, has a long way to go, but is off to a good start – posting a .314/.345/.439 slash line at Low-A Fresno in his first pro season.
Known as a defense-first catcher, that offensive output could have warranted a promotion for the club's eighth-ranked prospect last season. But his maturity and leadership enabled him to lead the pitching staff at Fresno to a division title.
"He's very advanced for his age, very technically savvy behind the plate already," Rockies assistant director of player development Chris Forbes said. "I love to see how emotionally invested he gets with whoever is on the mound. And offensively, we heard that he was not a very good hitter, but since he's been here, we've seen a guy with a really good approach from both sides of the plate. He's going to have some power too … this is the best catching situation we've had in years."
Drew Romo (@LSUbaseball commit), one of the top prep catchers in the 2020 #MLBDraft class, shows off his 💪

1.61 pop time
78.1 mph

Put in perspective: Of 26 #MLB catchers with 3+ measured 3rd-base pop times this year, only 4 average < 1.61.

Watch live: https://t.co/DIgHLklDrk pic.twitter.com/6atWdbBejx

— MLB Pipeline (@MLBPipeline) July 22, 2019
First baseman – Greg Bird, Albuquerque (112 games): After being plagued by injuries for most of his career, Bird enjoyed a bit of a resurgence this season. The former highly touted Yankees prospect appeared in the most games he had since 2013 and showed what that smooth lefty swing could do with a clean bill of health. Bird, who just celebrated his 29th birthday on Tuesday, posted a .267/.362/.532 slash line with a career-high 27 homers, a triple, 21 doubles, 91 RBIs and 63 runs scored over 112 games with the Triple-A Isotopes while also earning postseason All-Star honors. He is currently a free agent.
Second baseman – Adrian Pinto, Dominican Summer League (54 games): Still just 19 years old, the Venezuela native really opened some eyes with his performance at the Rookie level. Pinto batted .360/.486/.543 with 22 extra-base hits, 64 runs scored and 27 RBIs. He also showed the ability to handle center field with ease because of his elite speed – which enabled him to steal 41 bases. Yes, 41. Pinto is expected to arrive stateside next year and participate in his first full pro season with the organization.
Third baseman – Elehuris Montero, Hartford (92 games), Albuquerque (28 games): Montero was a key prospect acquired by Colorado in the deal that sent five-time All-Star third baseman Arenado to St. Louis in February. And after a rocky start, the team's fourth-ranked prospect found his footing with his new organization and really took off on both sides of the ball. The 23-year-old set a Double-A Hartford club record with 22 homers in 92 games, then hit .278 with six homers in 28 games for the Isotopes. Montero also split time between third and first, but appeared to settle in better at the hot corner.
"He's got an unbelievable knack to find the barrel, and he has such a passion for hitting," Forbes said. "The power is real. The ability to drive the ball into both gaps is real, and at 22, he's still very much a kid who's going to get better. We tried to get him some reps at first to see where he fits best on the field, but there's no question about it, we're going to find a place for him to play because of his bat."
Shortstop – Ezequiel Tovar, Fresno (72 games), Spokane (32 games): Few players within the organization made the post-shutdown jump that Tovar did this season. The 11th-ranked prospect executed significant jumps across the board, posting a combined .287/.322/.475 slash line with 79 runs scored, 72 RBIs and 24 stolen bases in 104 games across two levels of the Minors. And what made his performance even more remarkable were the challenges he's faced since early 2020.
"Things have gone a little fast when you count the whole pandemic shutdown and that, at 20, he's still such a young kid," Forbes said. "But I have to give him a ton of credit because when the shutdown happened and the borders closed, we weren't able to get him back home to Venezuela. So we got him (and a few other guys) an AirBnB and he's been here the whole time. He still has not been home yet since the shutdown.
"So from a maturity factor, we see the way he's gone about immersing himself here, and when he showed up at instructional league, you just saw a different guy. You saw a guy with a lot of confidence who truly felt like he belonged. Defensively, there is an easiness to how he operates, and we already see the strides with the bat too."
Honorable mention, Jack Blomgren, Spokane (86 games): The 2020 fifth-round Draft selection made an impressive pro debut in High-A, hitting .284/.406/.392 with 61 runs scored and 30 stolen bases.
Outfielders
Zac Veen, Fresno (106 games): The top Rockies prospect came just as advertised in his first professional season. The 2020 No. 9 overall Draft pick was a sparkplug in the Grizzlies lineup all year, batting .301/.399/.501 with 15 dingers, four triples, 27 doubles, 83 runs scored, 75 RBIs and 36 stolen bases. In the field, he split time between left and right and posted a combined .967 fielding percentage.
"He's got this intriguing combo of hittability and power," Forbes said. "Definitely goes up there with a damage type mind-set, an aggressive hitter. He's really shown a lot of maturing this year and with (Drew) Romo, the pair organically took on leadership roles in (the Fresno) clubhouse."
Isaac Collins, Fresno (17 games), Spokane (78 games): In his first full season of pro ball, the 24-year-old opened the year with a brief stint at Fresno before rising on June 1 to Spokane, where he performed even better. Collins launched a career-best nine long balls while hitting .312 for the Indians. His combined 55 walks showed advanced strike-zone awareness, and his versatility was on full display as he lined up at second base as well as the corner outfield spots.
"He's got that physical and mental toughness that you need on a winning team, and he always expects to win. This is a winning player," Forbes said. "A little pesky, probably not liked by other teams, but great versatility, switch-hitter and just goes out there and grinds things out."
Sean Bouchard, Hartford (91 games): The 25-year-old continued his trend of being a reliable and productive player. For the fourth straight year, the UCLA product batted above .256 (.266). He also tied a career-best with 14 homers and scored 58 times while driving in 46 runs. Bouchard showcased his ability to handle the defensive corners as well -- lining up at first and third, and in left and right.
Right-handed starting pitcher – Ryan Feltner, Spokane (seven starts), Hartford (13 starts), Albuquerque (one start), Colorado (two starts): Rising up three levels of a system in the same season is a remarkable feat, but climbing four levels to make your Major League debut is nearly unheard of. That's exactly what the organization's 22nd-ranked prospect did, opening the season at High-A before getting the ball for the first time in The Show on Sept. 5 at Coors Field. In 112 2/3 combined Minor League innings this season, the Ohio State product posted a 2.96 ERA with 127 strikeouts.
"We started to really see this season just how meticulous of a worker he is – in everything he does, really," Forbes said. "He's a guy with a great four-pitch mix, very aggressive about attacking hitters, can work to both halves, and he started to show a 94- to 97-mph fastball with action. He always had a great changeup to equalize everything, but the uptick in velocity really helped the effectiveness of his slider, and he just put it all together this season."
Left-handed starting pitcher – Nick Bush, Spokane (10 games, seven starts), Hartford (seven starts): The southpaw had a sensational start to the year – posting a 2.58 ERA and a 0.94 WHIP with 60 punchouts and only nine walks over 52 1/3 frames at High-A. A late promotion to Double-A proved to be an adjustment early on, but the 25-year-old returned to form after a few appearances for the Yard Goats and finished the season on a high note.
"He's got the secondary options that play up his fastball," Forbes said. "His ability to land his secondary stuff in all counts – early and late – on top of a mid-90s fastball, and from the magic side of the mound, makes him a really intriguing option for us."
Relief pitcher – Dugan Darnell, Fresno (eight games), Spokane (36 games): With one of the most intriguing backstories of any prospect in the Minors, Darnell is the epitome of a "diamond in the rough." The 24-year-old, who was not scouted, promoted himself after an effective run in the Independent League, and proved those numbers were no fluke by dominating in his first pro season. He posted a 1.95 ERA and a 0.76 WHIP with 80 strikeouts over 55 1/3 combined innings between Low-A and High-A.
"This is a young man who did a fantastic job of self-promotion. He sent his tape to every department in our organization – ticketing, suites, the front office – I mean, he left no stone unturned here," Forbes said. "And our scout in Ohio knew who he was and said, 'Why not, let's give him a shot. It's not going to hurt us.' And right away, he showed us an uptick in the fastball, his split-finger that he tunnels unbelievably well, and a curveball that can land early in counts and it changes the whole at-bat. … I'm glad that we answered those e-mails."
Rob Terranova is a contributor to MiLB.com. Follow him on Twitter @RobTnova24.