Tides Swing Their Way To Victory In Slugfest
Nine Extra-Base Hits By The Tides Clinches Series Victory On Saturday Night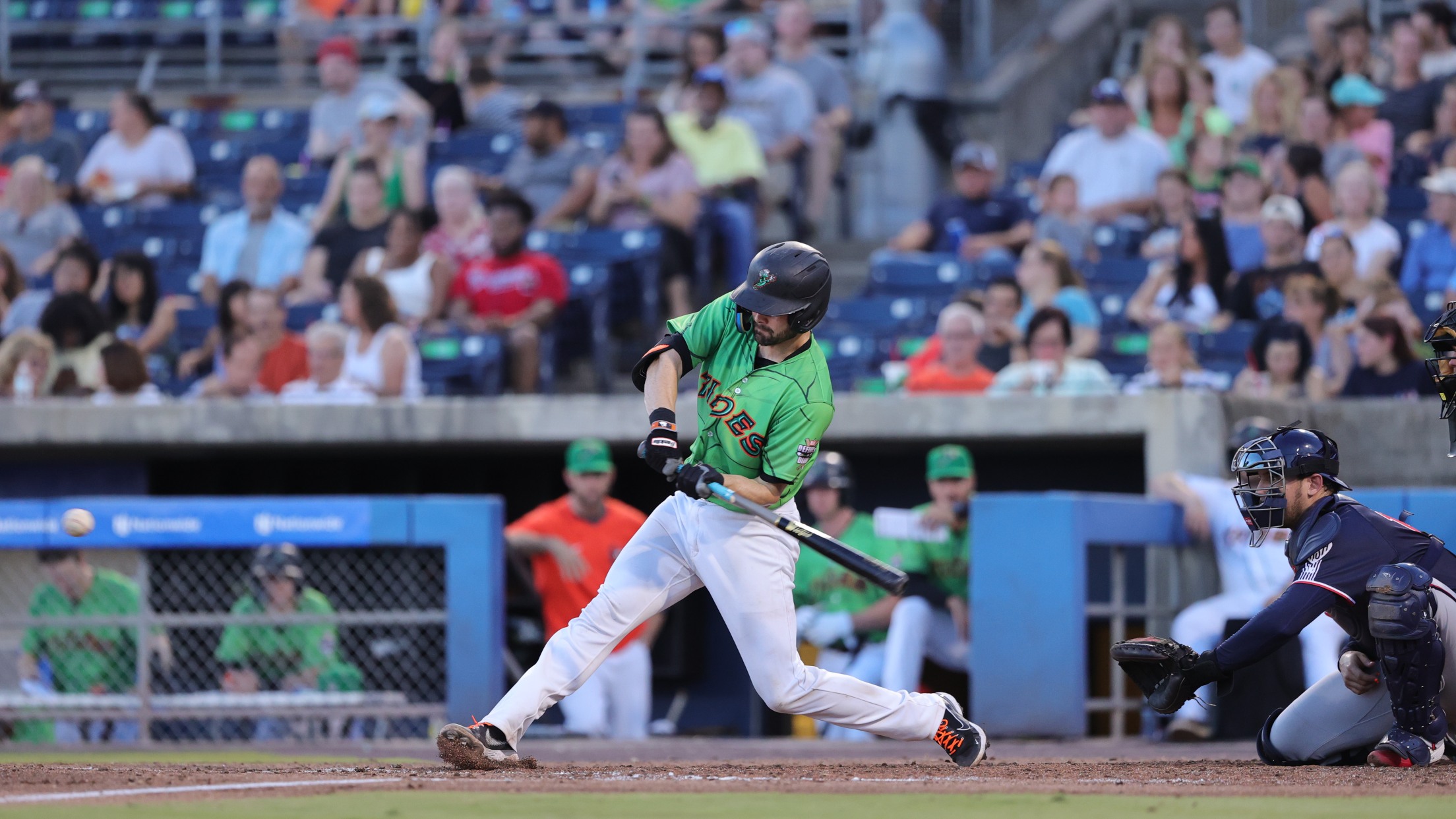 (Scott Sears)
MEMPHIS, TN --- The Norfolk Tides (35-14) defeated the Memphis Redbirds (26-24), 11-6, on Saturday night at AutoZone Park. Nine extra base hits by Norfolk batters propels the Tides to victory, clinching a series win against the Redbirds. The Tides got off to a hot start with the sticks tonight
MEMPHIS, TN --- The Norfolk Tides (35-14) defeated the Memphis Redbirds (26-24), 11-6, on Saturday night at AutoZone Park. Nine extra base hits by Norfolk batters propels the Tides to victory, clinching a series win against the Redbirds.
The Tides got off to a hot start with the sticks tonight with Jordan Westburg getting Norfolk on the board early with a solo blast. He was immediately followed by Josh Lester who also sent one deep, going back-to-back with Westburg for the 2-0 lead.
The first inning fireworks would continue as Lewin Díaz launched one into the seats and the Tides sent Ryan Watson to the mound with a 3-0 advantage. With two away in the home half of the first, Luken Baker's bat was sawed in half, but he was able to muscle a ball over the left field fence for a solo homer, bring the score to 3-1.
A rain delay put the game on hold before commencing the second inning. When the rain passed over, play resumed and not long after the break in action, Memphis was able to take the lead in the third on a rally that was capped by a Taylor Motter RBI single to put the Redbirds ahead by a score of 4-3.
Tying the game in the fourth was Shayne Fontana as a groundout brought in Anthony Bemboom to tie the game at four apiece.
With two away in the sixth inning, Bemboom found his way on base with a single. After advancing on a wild pitch and a Joseph Rosa single, Bemboom sprinted to the plate on another wild pitch, diving into home to score the go-ahead run. An inning later Daz Cameron looped a ball into right to score Lester, giving the Tides a 6-4 lead.
A line drive hit into the right-center gap by Fontana gave the lefty two RBI on the three-bagger that kicked off a five-run eighth, bringing the Norfolk total to 11. While Memphis added two more runs with two solo home runs in the eighth and ninth, the Tides would come out on top by a score of 11-6.
Norfolk finishes the series against Memphis tomorrow night with first pitch scheduled for 7:05 p.m. against the Redbirds. Taking the hill for the Tides will be RHP Chris Vallimont (2-0, 2.65) and he will face off against LHP Zack Thomspon (0-1, 13.03)
POSTGAME NOTES
Just Joshin': Going 3-for-5 with three doubles, a double, a home run and an RBI tonight was Josh Lester...it was his 17th multi-hit game of the season, ranking third on the Tides...he currently ranks second in the International League in home runs with 14...since April 20, he's hit safely in 22 of his last 31 games, batting .325 (41-for-126) over that span.