Hoeing's Fast Start With Blue Wahoos Earns Rapid Rise To Triple-A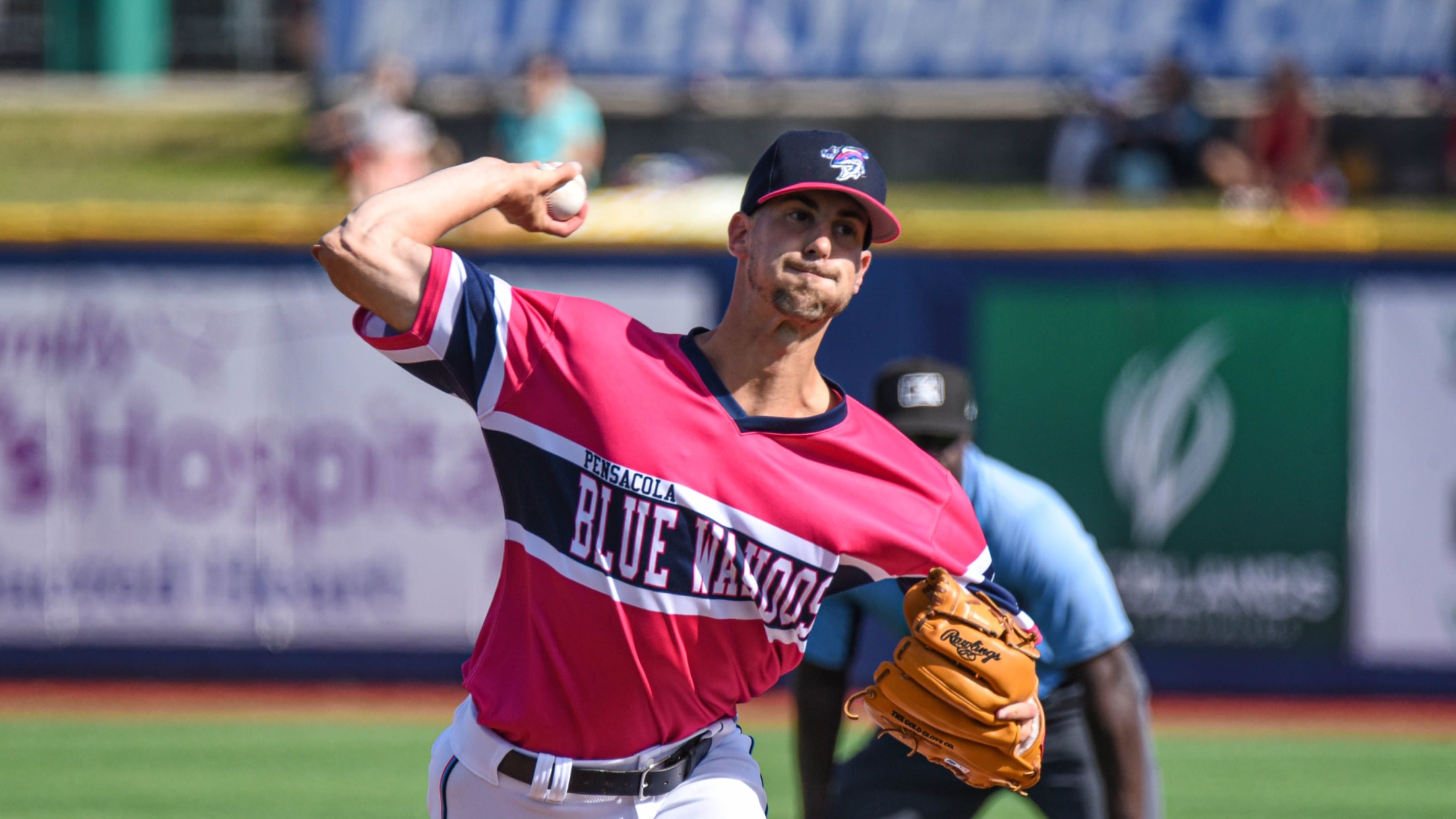 Bryan Hoeing, shown in his last Blue Wahoos home start on April 24, was elevated May 3 to Triple-A Jacksonville, continuing the recent history of Blue Wahoos pitchers climbing toward MLB destination. (Daniel Venn)
Bryan Hoeing had such a stellar first month with the Blue Wahoos, it merited a quick promotion. Hoeing, 25, jumped another level Tuesday when the Miami Marlins elevated the 6-foot-6 righthander to Triple-A where he will make his next start this week with the Jacksonville Jumbo Shrimp. He becomes the
Bryan Hoeing had such a stellar first month with the Blue Wahoos, it merited a quick promotion.
Hoeing, 25, jumped another level Tuesday when the Miami Marlins elevated the 6-foot-6 righthander to Triple-A where he will make his next start this week with the Jacksonville Jumbo Shrimp. He becomes the latest of an impressive succession of Blue Wahoos pitchers in recent years on fast tracks to a potential big-league destination.
Hoeing, a Batesville, Indiana native, heads across the Panhandle as the Minor League Baseball leader in earned run average (0.35), which is the lowest across all MILB levels among pitchers with 25 or more innings.
"I knew heading into Pensacola from spring training I was in a good spot as far as my arm and my pitch count," said Hoeing, a seventh-round pick in 2019 from the University of Louisville. He was 2-1 with the Blue Wahoos with 26 strikeouts and just four walks. He allowed just four rounds, none of those earned runs.
"I felt even from week one if I was pounding the (strike) zone I could go into the fifth or sixth inning," Hoeing said.
His rapid climb since college includes the adjustment of going from being primarily a reliever in the ACC with the Louisville Cardinals into a dependable starter in pro ball.
Pensacola fans got to see Hoeing pitch twice. The last was April 24 where he earned his first Double-A win against Montgomery. He followed that start with his best outing in working seven complete innings, allowing just two hits, no runs May 1 in a win at Biloxi.
He credits being able to hone his slider during the off-season with adding another weapon to his arsenal.
"I would say the biggest thing for me was working on my slider," he said, following his Pensacola start. "I tweaked my grip a little bit and it has been a great pitch so far. What also helps going late into games is my (Blue Wahoos) defense. As a starting pitcher when your defense makes those type of plays you are able to go deep into a game."
Hoeing will be replaced in the Blue Wahoos rotation by Jeff Lindgren who was 1-1 in four starts in Jacksonville. Lindgren was in Pensacola back in January, visiting with Blue Wahoos fans during the team's "Fish Fest" event. Lindgren had 19 starts for the Blue Wahoos last season with a 6-8 record and 3.82 ERA.
The plan is for Lindgren to regain some of that edge he had a year ago to further advance his career.
Hoeing has climbed three levels in eight months. He spent the entire 2021 season in Beloit (Wisc.), the Marlins' High-A affiliate, co-owned by Blue Wahoos' owners Quint and Rishy Studer.
Hoeing, a seventh-round draft pick by the Marlins in 2019, made 22 starts in Beloit with a 4.83 ERA in 121 innings. He had 96 strikeouts and allowed just 24 walks.
That led into his 2022 preseason at the Marlins' training complex at Roger Dean Stadium in Jupiter.
"It was good to get down to Jupiter in the mid of January to start a throwing program," said Hoeing, a former all-state basketball player in Indiana who decided on full-time baseball commitment midway through his prep career. "I was able to build up my pitch count with some live Abs and some intrasquad scrimmages. That led into spring training where I had built up to go four or five innings in spring training."
Though he made just 14 starts in Louisville with a 3.24 collegiate career ERA, Hoeing has exceeded expectations three years into his pro career as a starter.
"I would say it's preparation throughout the week," Hoeing said, describing the difference. "Right now we are in a six-man rotation so I am throwing once a week. When that day comes, I should feel fresh and ready to go. As a starter, I just think it is so important to pound the (strike) zone and keep your defense alive. I don't want them to fall asleep back there before me.
"When you start, you know you need to give your team a chance to win and hopefully go four or five or six innings. In the bullpen, I'm not sure if I am going to be there for one out or two innings, or one inning. A starting role is definitely different, but I think it all comes down to preparation."