Conine's First 'Little League' Homer Lifts Blue Wahoos To Dramatic Win Against Rocket City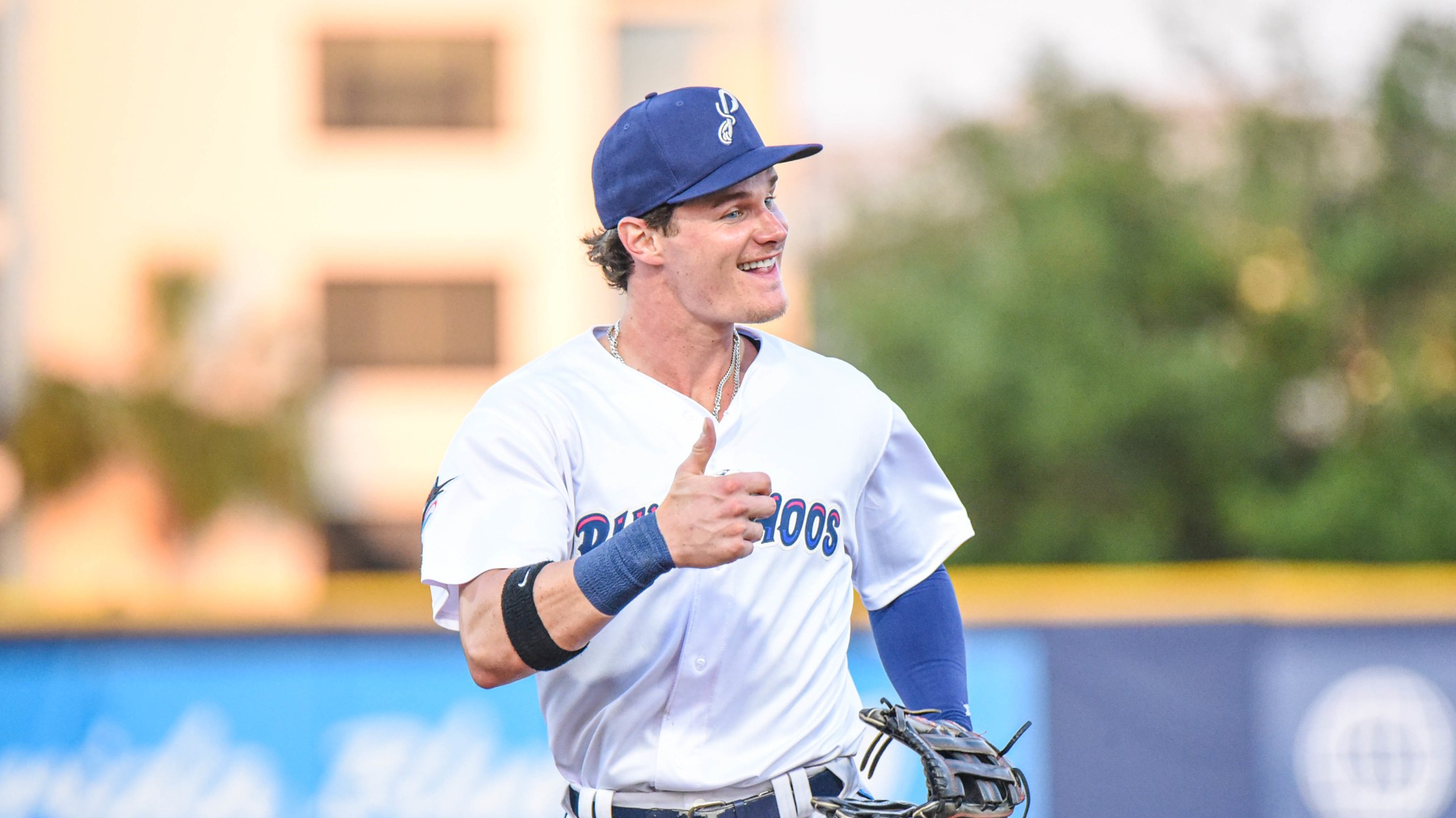 Blue Wahoos outfielder Griffin Conine, hit a 2-run triple that became a 3-run play in the eighth inning Tuesday to lead Pensacola to a 4-2 win against Rocket City at Blue Wahoos Stadium. (Daniel Venn)
The season so far has included so many of these kind of games for the Blue Wahoos where one at-bat, one swing, can determine the outcome. Griffin Conine knows it well. "It comes down to wanting to be ready for the moment," he said. "Wanting to be the guy." He
The season so far has included so many of these kind of games for the Blue Wahoos where one at-bat, one swing, can determine the outcome.
Griffin Conine knows it well.
"It comes down to wanting to be ready for the moment," he said. "Wanting to be the guy."
He was that guy Tuesday night.
Conine laced an eighth-inning pitch with two runners on that eluded Rocket City right fielder Trey Cabbage, then became even grander when a relay throw to third base sailed, leading into a circle-the-bases, three-run hit in the Blue Wahoos dramatic 4-2 victory against the Trash Pandas at Blue Wahoos Stadium.
Their first home game in two weeks was an instant season highlight.
"I think that was my first-ever, Little League, type homer," said Conine, laughing, who was credited with a 2-RBI triple, followed by him scoring on the throwing error.
"Yeah, oxygen tank was necessary after that one," he said. "But at the same time, adrenalin was going hard enough to not feel it right at the moment, but I definitely was feeling it afterword."
The series-opening game Tuesday had been a pitching showcase on both sides.
The Trash Pandas (18-10), the Los Angeles Angels Double-A affiliate, entered this week with the best record in the Southern League.
Blue Wahoos starter George Soriano produced his best start, going six complete innings for the first time with just a run allowed and season-best eight strikeouts.
Josh Simpson followed with two clean innings, setting the stage for the Blue Wahoos (13-15) rally in the eighth inning.
Ray-Patrick Didder led off with a single, moved to second on a sacrifice bunt by Troy Johnston. Jerar Encarnacion was then hit by a pitch.
With runners on the corners, after a pickoff attempt on Didder went awry, Conine stepped up with two outs.
"With a guy on third, definitely not trying to get too big there," said Conine, discussing his approach. "Just hit the ball on the barrel. He went changeup first. He the next one up and I jumped on it."
The laser shot eluded a diving Cabbage, so two runs were easily going to score. But as Conine was sliding into third, the high relay throw enabled him to get back up and head home, rolling his way across the plate at the end.
It completed a night where Conine walked twice and wound up scoring two runs.
"You want to have that confidence every time," he said. "There is going to be a big at-bat, so be ready for the moment.
"Our pitchers are so good and we really are not going to be out of too many games," Conine said. "We're going to be in every game.
"And when the seventh or eighth comes around, it's going to be close. It almost always is. Most of the time there's going to be a big at-bat necessary."
Blue Wahoos reliever Eli Villalobos finished the win in the ninth, after allowing a leadoff homer to Trash Pandas first baseman Braxton Martinez.
He struck out the last three batters to seal the win and pick up his second save.
GAME NOTABLES
--- Blue Wahoos honored usher Angela Avery as the team's Employee of the Month. She threw out a first pitch and was recognized between innings on the dugout.
---- The National Anthem was performed by Caitlan Ferguson.
---- Tuesday's Fat Tuesday promotion, which was a $26 ticket on the Winn Dixie Party Deck, featured a sampling of food items from the Fin & Fork Restaurant on Gregory Street, along with hamburgers, hotdogs and cookies, plus unlimited Pepsi.
--- Beginning Thursday, the Blue Wahoos will offer items from Rock & Roll Sushi at a concourse cart.
WANT TO GO?
WHAT: Blue Wahoos Homestand
WHO: Rocket City Trash Pandas vs. Blue Wahoos
WHEN: Wednesday Through Sunday. Game times are 6:35 p.m. on Wednesday through Friday; 6:05 p.m. on Saturday and 4:05 p.m. on Sunday.
WHERE: Blue Wahoos Stadium
TICKETS: Online at www.bluewahoos.com/tickets, or by phone at 850-934-8444. Or visiting box office at the stadium on Monday through Friday from 10 a.m. to 5 p.m.
RADIO: ESPN-Pensacola (99.1 FM and 1330 AM and WYCT 98.7 HD4).
TV: YurView (check provider) and MILV.tv (streaming).