Capacity Crowd, Post-Game Fireworks Light Up Fifth Straight Blue Wahoos Win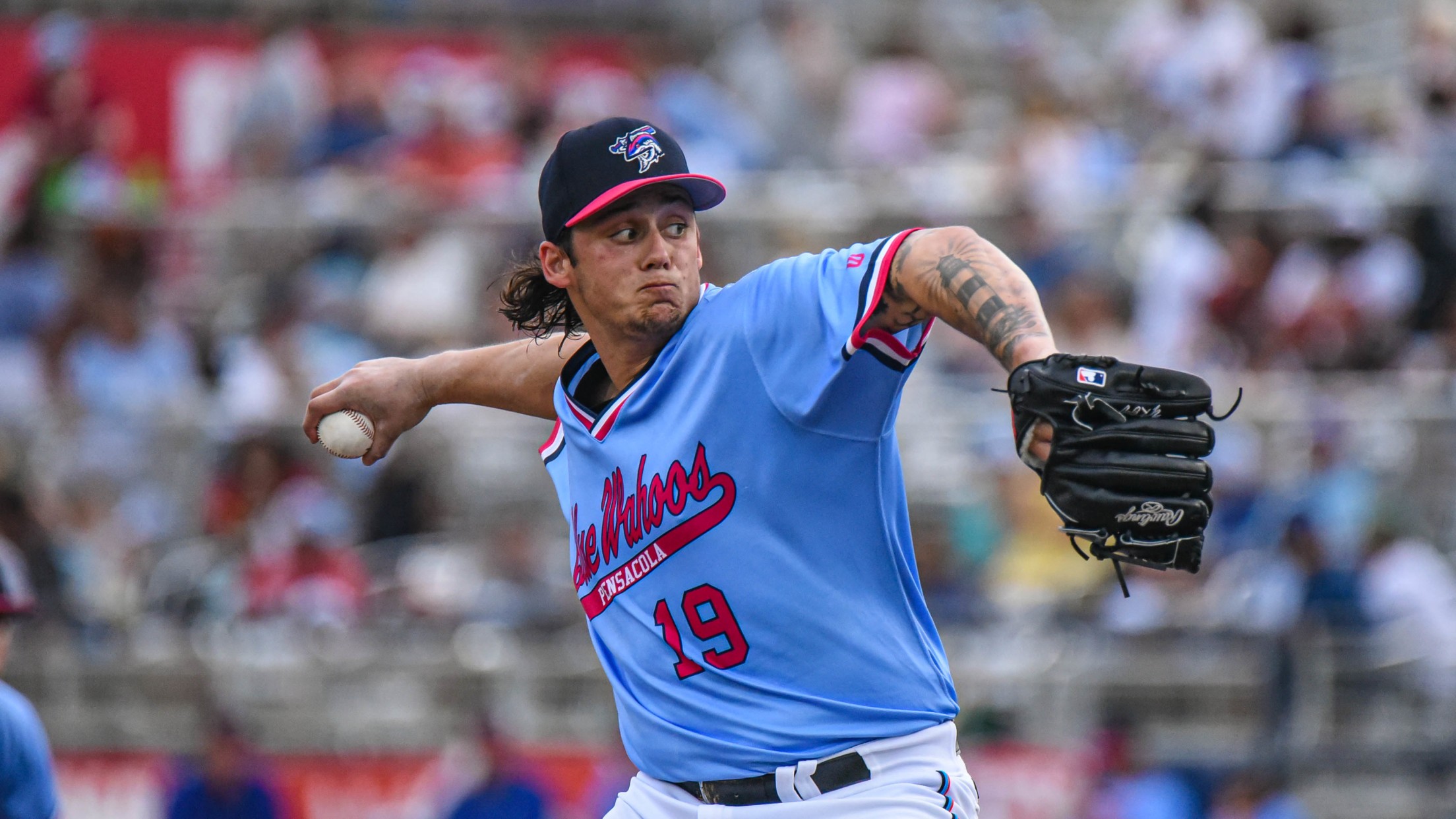 Zach McCambley becomes the latest Blue Wahoos starter to toss a gem in leading a fifth straight win Saturday against Rocket City Trash Pandas. (Daniel Venn)
In what has been a routine scene this week, a capacity crowd at Blue Wahoos Stadium began clapping with anticipation. Ninth inning. Two outs. Opposing runner on base. Game at stake. And then? Jubilation from a desired ending. The Blue Wahoos won their fifth straight game Saturday night in much
In what has been a routine scene this week, a capacity crowd at Blue Wahoos Stadium began clapping with anticipation.
Ninth inning. Two outs. Opposing runner on base. Game at stake.
And then? Jubilation from a desired ending.
The Blue Wahoos won their fifth straight game Saturday night in much the same way as before, by getting outstanding pitching, some big defensive plays and enough timely hits for a 2-1 win against the Rocket City Trash Pandas.
"I think we're vibing right now," said Blue Wahoos pitcher Zach McCambley, who earned his second win with his best start, working six scoreless innings with eight strikeouts.
"We are on a nice little win streak here," he said. "We are taking care of business on the field and the camaraderie and chemistry is through the roof for us right now."
With most of an overflow crowd of 5,000-plus staying around, the post-game fireworks provided by Pen-Air Federal Credit Union made the Blue Wahoos night complete.
The Blue Wahoos (17-15) started this week three games below .500, four games out of first place in the Southern League's South Division. They are now atop the division, two games ahead of the pack.
Meanwhile, Rocket City led the North Division with the best record in the league. That has changed with five straight Blue Wahoos wins heading into Sunday's series finale.
What's happened? The Blue Wahoos right now are contagious with strong pitching.
Saturday was another showcase. McCambley faced just 22 batters in his six innings of flashing zeroes. His fastball and curveball were located with perfection.
He got run support in the bottom of the sixth when Thomas Jones led off with a double against Trash Pandas lefty Ky Bush, a 22-year-old pitcher that MLB scouts believe has a big-league future.
Jones scored on a sacrifice fly, then Griffin Conine's grounder in the first-second base gap turned into a second run when Conine beat the play at first and Victor Victor Mesa sped around third to score.
When the game was turned over to the Blue Wahoos bullpen, one of Minor League Baseball's top relief corps shined again.
"I think we're nasty. Absolutely disgusting," said McCambley, in summation of the entire pitching staff in praiseworthy terms. "Top to bottom. Bullpen… those guys are dogs.
"It took the starters a couple starts to get our feet wet, but I think we're starting to come around a little more."
That's for sure. McCambley rooms on the road with 19-year-old phenom Eury Perez. A night after watching Perez deal his future Major League stuff, he followed suit Saturday.
"I think for us, it's not that we are trying to one-up each other, but I think it's just friendly competition within the clubhouse," McCambley said.
"When I saw Eury pitch and go out there and do his thing, it's not about me trying to one-up him, it is about me trying get a win for the team just like he did. Keep that ball rolling."
A season ago, McCambley was part of a Blue Wahoos starting rotation that featured Max Meyer, Edward Cabrera and Jake Eder.
Cabrera reached the Marlins, Meyer is on the doorstep and Eder was the low earned-run average leader in MILB before sustaining an elbow injury that ended his season and wiped out this year while recovering.
"Last year with having Eder and Max, those guys are studs," McCambley said. "But that just goes to show you how much talent is really in this organization from top to bottom. There are a lot of guys.
"I don't want to say which staff is better, but I think in terms of stuff, we match up pretty, pretty, close to last year's staff. It's fun to watch."
Same for the fans.
GAME NOTABLES
--- The fireworks show was sponsored by Pen-Air Federal Credit Union, a long-time Blue Wahoos corporate partner. Pen-Air also filled up the seating on the Winn-Dixie Party Deck with 500 of their employees, families and friends.
--- The National Anthem on Saturday was performed by the Crestview High School marching band, part of a group outing by the band.
--- Among other groups at the ballpark Saturday, included the West Virginia University alumni association in Pensacola, along with groups from the law firm of Morgan & Morgan, Corry Station, Scenic Hills Church of Christ, the Santa Rosa Christian School and Phoenix Coatings.
--- The Robertsdale (Ala.) Youth Baseball Yellow Hammers, Bill Bond Angels, Gulf Breeze Sports Association Royals and the Caring and Sharing youth teams were on the field in pregame, along with the NEP Eagles team party and the Robertsdale Baysharks.
Kids representing the teams each ran out with a Blue Wahoos player, creating a memorable National Anthem scene and interaction between youths and pros.
--- The Trash Pandas sustained a heartbreaking injury in Friday night's game when Trey Cabbage, their top slugger, collided with the Blue Wahoos' Jerar Encarnacion on an errant throw and was rushed to a local hospital with an arm injury. He will be out indefinitely.
Cabbage led the Southern lead in four separating hitting categories.
WANT TO GO?
WHAT: Blue Wahoos Homestand Finale
WHO: Rocket City Trash Pandas vs. Blue Wahoos
WHEN: Sunday, 4:05 p.m.
WHERE: Blue Wahoos Stadium
PROMOTIONS: Family Sunday with kids able to run the bases one time and families playing catch in outfield for 30 minutes after game.
TICKETS: Online at www.bluewahoos.com/tickets, or by visiting the Blue Wahoos stadium box office on Sunday, beginning at noon through game time at 4 p.m. Or by phone at 850-934-8444.
RADIO: ESPN-Pensacola (99.1 FM and 1330 AM and WYCT 98.7 HD4).
TV: YurView (check provider) and MILB.tv (streaming) through www.milb.com/live-stream-games with subscription discount using BLUE WAHOOS.