Blue Wahoos Perez Makes MLB Debut Tonight, Game Free On MLB TV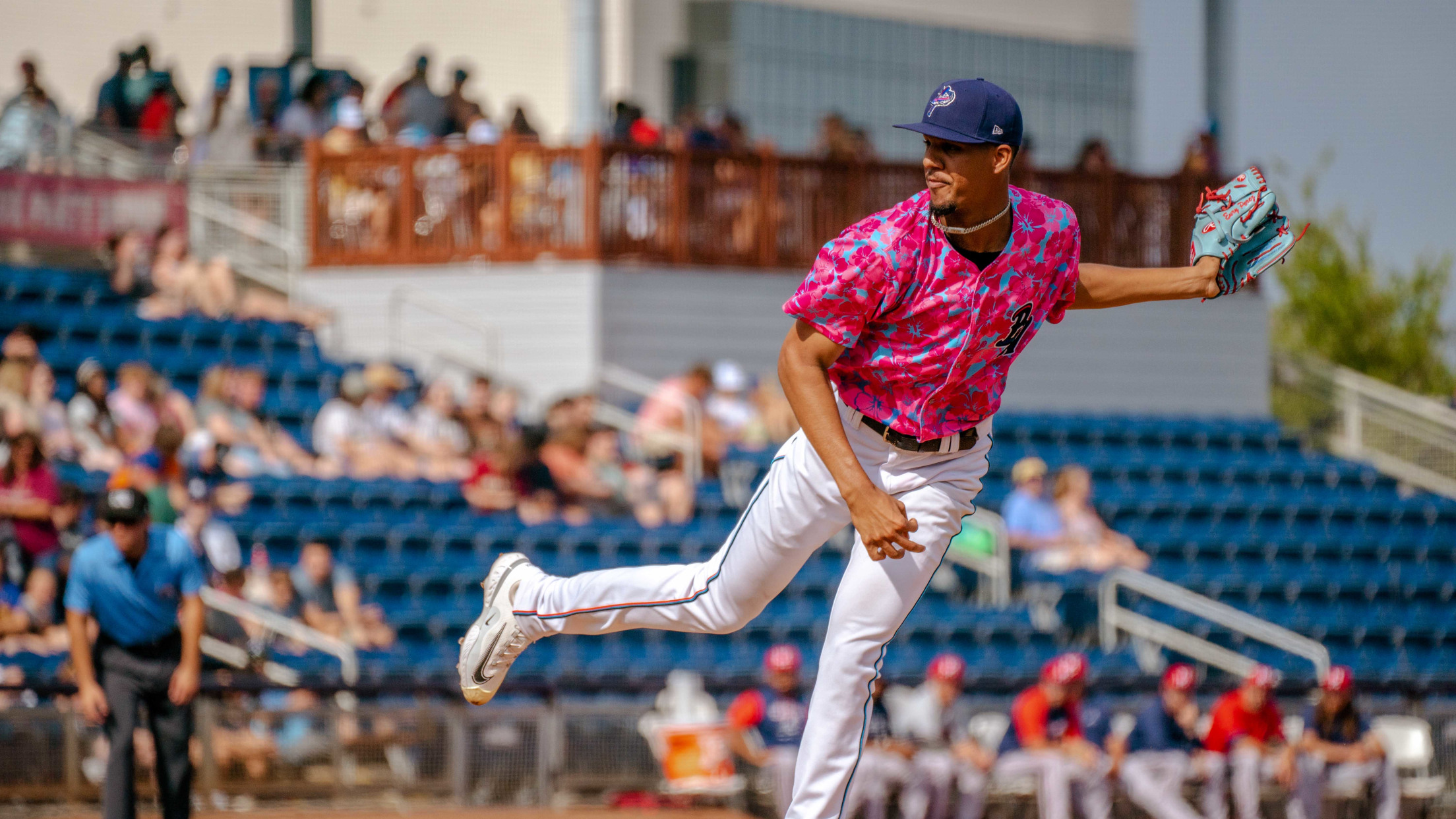 Eury Perez made his second start in the 6-game homestand on May 7 for the Blue Wahoos and was in top form, following a game-opening home run. (Nino Mendez/Pensacola Blue Wahoos)
Just five days after Eury Perez produced a six-inning gem in Pensacola, he will be commanding attention of the Major League Baseball world Friday night in his debut with the Miami Marlins. Perez, the Marlins' No. 1 prospect, was called up from the Blue Wahoos on Wednesday, then announced as
Just five days after Eury Perez produced a six-inning gem in Pensacola, he will be commanding attention of the Major League Baseball world Friday night in his debut with the Miami Marlins.
Perez, the Marlins' No. 1 prospect, was called up from the Blue Wahoos on Wednesday, then announced as the Marlins starter for their game tonight against the Cincinnati Reds at Miami's LoanDepot Park.
First pitch is set for 5:40 p.m. (Central Time) and it is being offered as a free game to watch via live stream on MLB.TV. You do not need a subscription to watch the game on live stream.
Perez, who pitched twice at Blue Wahoos Stadium last week, will become the youngest pitcher in Marlins history to reach the big leagues this soon. He surpasses Jose Fernandez, who did it in 2013 and also was 20, but was 227 days older than Perez when it happened.
"Watching Eury over the last year, year and a half, seeing the way he's performed gave us great confidence in his ability to come up here (to Marlins and big leagues) and do well," said Marlins general manager Kim Ng, speaking to reporters in Miami on Wednesday when the move was announced.
"This is going to be a situation where we are going to be watching him very closely and monitoring everything that goes on in the game… what his pitch count is, how stressful those pitches have been, but it's going to be an entire group of people making sure we the best thing for him."
Perez began the season rated the No. 11 overall prospect in Minor League Baseball by MLB Pipeline. With the Blue Wahoos, his last four starts, Perez allowed just three runs with 30 strikeouts and just five walks, which equates into a 1.23 earned run average.
He was sharp in both starts against the Mississippi Braves last week. After giving up a leadoff homer Sunday in what became his last appearance for the Blue Wahoos, Perez settled into a groove and dazzled the rest of the way.
The Marlins will have relievers prepared Friday should Perez struggle or if there is a pitch count limit on his outing.
"We'll monitor it," said Marlins manager Skip Shumaker, speaking to Miami area media earlier this week. "We're going to protect him. There's no doubt about it. But we're going to try and win games, too.
"(Perez) not just up here to have fun. We're going to protect him, use him the right way, because we know he has a bright future in this organization."
The way Perez learned he was jumping straight from the Blue Wahoos to the big leagues has now gone viral.
After the Blue Wahoos win Wednesday in a mid-day game against the Birmingham Barons, a video was taken showing Perez meeting with Blue Wahoos manager Kevin Randel and pitching coach Dave Eiland.
Randel first mentions to Perez about going up to Triple-A with the Jacksonville Jumbo Shrimp, but flips a laptop computer around and says that someone wanted to talk to him.
That person was Marlins star pitcher Sandy Alcantara, the 2022 National League Cy Young Award winner, who spent the off-season working out with Perez and becoming friends.
"I'm now going to see your face every day," said Alcantara, speaking in Spanish on the video, before welcoming by surprise to becoming a Marlins teammate.
Perez then has an emotional embrace with Eiland and Randel.
The 6-foot-8 Perez, who turned 20 in April, was prepared for this moment by pitching twice last week for the first time in his career. That helped convince the Marlins he was ready to make the big leap.
Miami's pitching staff has been hit with injuries, including to starters Johnny Cueto and Trevor Rogers, who did an injury rehab assignment last year in Pensacola.
In the two starts against the M-Braves, Perez worked a combined 11 innings and recorded 20 strikeouts while yielding just two earned runs.
After giving up a first-pitch home run Sunday to M-Braves leadoff batter Cal Conley, he retired the next 12 batters in order.
He threw just 39 pitches through four innings. He then pitched out of a two-on, none out jam in the fifth inning, then bases loaded with two out, to get out of the inning when Conley was called for runner's interference on a slow roller that Perez fielded.
Perez (3-1, 2.32 ERA) finished the sixth inning throwing 79 pitches in the game, 51 for strikes with nine strikeouts and two walks. In the sixth inning, he threw a 100 mph fastball, followed by a 99-mph fastball to strike out M-Braves slugger Drew Lugbauer, the club's all-time home run leader, for the final out and final batter Perez faced.
That became his final moment with the Blue Wahoos.
In facing the Reds, it will be against a team coming off a series win against the New York Mets. On Thursday, Ben Lively, a Gulf Breeze High graduate, who pitched for the Blue Wahoos in 2014 as a Reds prospect, earned his first win for the Reds in relief after being called up earlier this week.
Lively, 31, could see action in this weekend series against the Marlins. He was signed by the Reds as a free agent in 2022, following two years in the Korean Baseball League. His debut with the Reds followed his last MLB appearance four years ago while with the Kansas City Royals.
Lively made his MLB debut with the Philadelphia Phillies in 2017, after the Reds traded him for a veteran outfielder in December 2014.
WANT TO WATCH?
WHAT: Blue Wahoos Pitcher Eury Perez MLB Debut
WHEN: Friday, 5:40 p.m. (CDT).
WHERE: LoanDepot Park, Miami
WHO: Miami Marlins vs. Cincinnati Reds
HOW: Live Stream on MLB.TV (www.mlb.com)