Homestand Highlights: May 10-15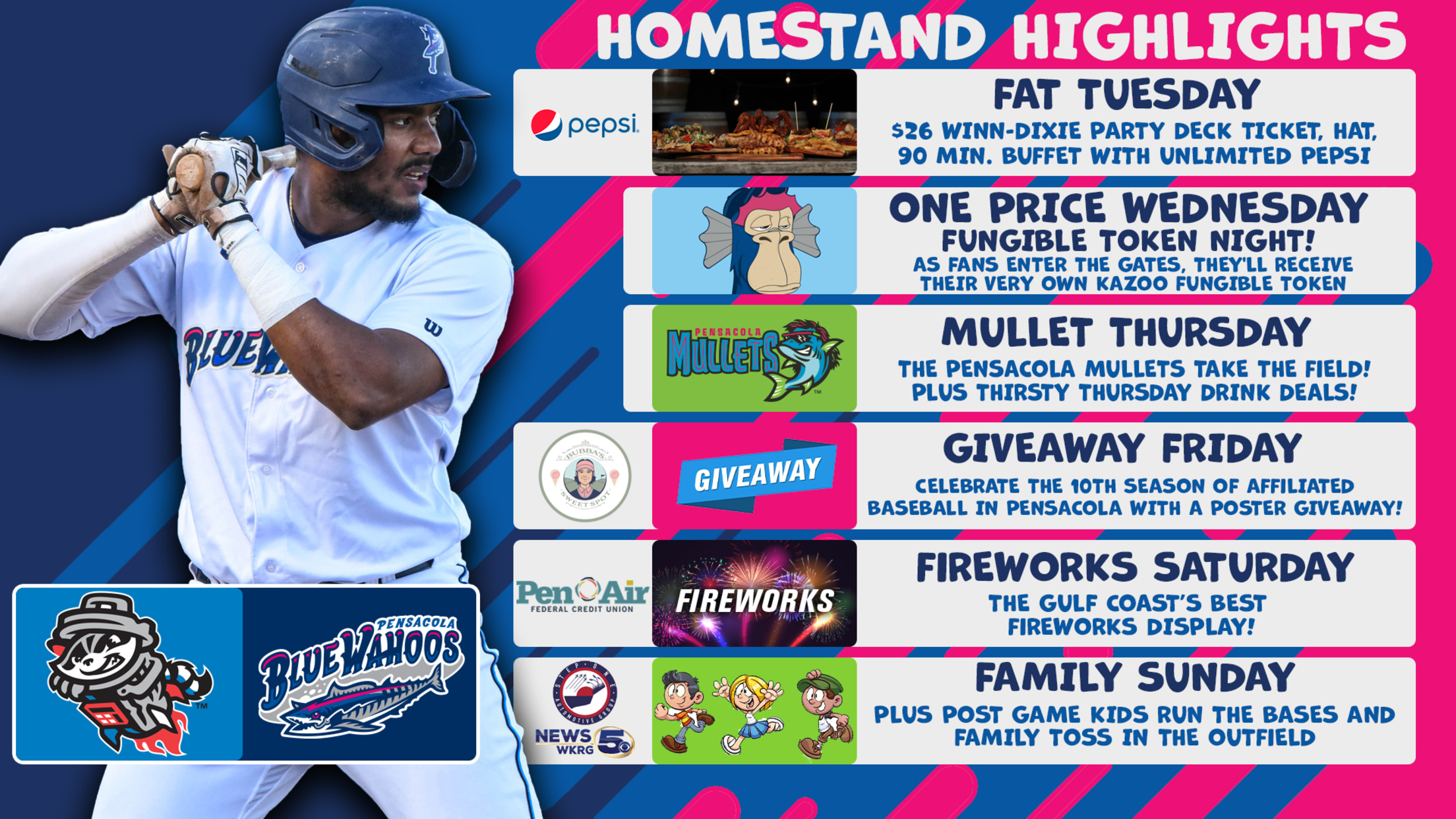 After two long weeks on the road, the Blue Wahoos return to Pensacola next week for a six-game series against the Rocket City Trash Pandas! We've packed their homecoming full of fun promotions, theme nights, giveaways, and more! Don't miss Fat Tuesday on Tuesday, May 10! For just $26, get
After two long weeks on the road, the Blue Wahoos return to Pensacola next week for a six-game series against the Rocket City Trash Pandas! We've packed their homecoming full of fun promotions, theme nights, giveaways, and more!
Don't miss Fat Tuesday on Tuesday, May 10! For just $26, get a ticket to the Winn-Dixie Party Deck, a 90-minute buffet dinner featuring ballpark favorites, samples from Fin & Fork, and unlimited Pepsi products, as well as an exclusive Blue Wahoos hat!
Are you going ape for the crypto craze? On Wednesday, May 11, the Blue Wahoos will put the FUN in fungible by hosting Fungible Token Night at the ballpark. As fans enter the gates, they'll receive their very own Kazoo Fungible Token, a printed copy of an NFT! Unlike a non-fungible token, our Kazoo fungible token is not unique, can be easily replicated, and holds no real value! Want to mint your FT? Visit our minting station to trade your FT in for a mint and walk away just as confused by the digital NFT craze as you were before, but with minty-clean breath! This night will be off the (block)chain!
Wednesday is also a One-Price Wednesday! EVERY ticket in the seating bowl (reserved, box, standing room) is just $17 in advance and EVERY ticket comes with a hot dog, chips, and a soda! The earlier your buy your ticket, the better seat and deal you get!
Hot dogs, chips, and drinks will be available for pick-up on the Winn-Dixie Party Deck between gates open (5:30 PM) and the conclusion of the third inning!
Mullet Madness is back on Mullet Thursday on Thursday, May 12. Join the party with great drink discounts throughout the night including $2 12 oz drafts from the concession storefronts and half-price ($4) 16 oz beers from stadium portables!
Friday, May 13 is Giveaway Friday at Blue Wahoos Stadium and fans who arrive early will take home a special 10th Season All-Decade Team poster while supplies last thanks to Bubba's Sweet Spot!
Fireworks Saturday is back on Saturday, May 14 thanks to Pen Air Federal Credit Union as the Blue Wahoos light up the sky with a post-game fireworks show!
The series concludes with Military Family Sunday on Sunday, May 15 presented by Step One Automotive. Catch an afternoon game (4:05 first pitch) at the ballpark and stick around for post-game Kids Run The Bases and Family Toss in the outfield thanks to WKRG News 5!