Familiar Faces Aplenty on Chiefs 2023 Coaching Staff
Manager Patrick Anderson back for 2023, Whitlock to become first uniformed female coach in Cardinals history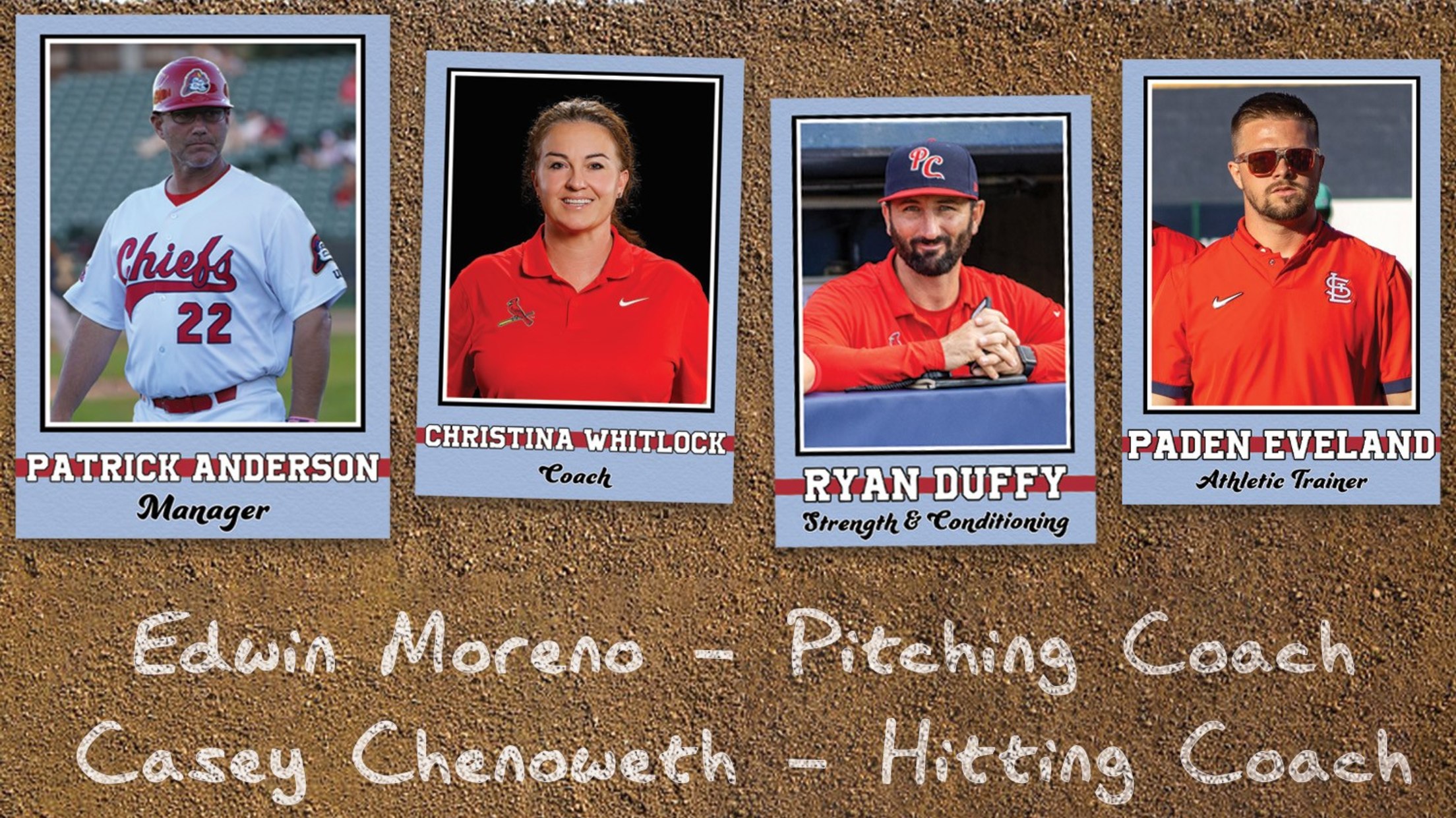 Peoria, IL – The Peoria Chiefs and parent club St. Louis Cardinals announced the Chiefs field staff for the 2023 season on Thursday. Returning for his second season in Peoria, skipper Patrick Anderson is back at the helm for the Chiefs. In 2022, Anderson recorded his 500th managerial win on
Peoria, IL – The Peoria Chiefs and parent club St. Louis Cardinals announced the Chiefs field staff for the 2023 season on Thursday.
Returning for his second season in Peoria, skipper Patrick Anderson is back at the helm for the Chiefs. In 2022, Anderson recorded his 500th managerial win on June 9 against Quad Cities. Under Anderson's tutelage a season ago, 14 different Chiefs players earned a promotion to Double-A Springfield. Prior to joining the Cardinals organization, Anderson spent seven years in the Washington Nationals organization from 2013-2019. He also worked in the Kansas City Royals system from 2001-2008.
Pitching Coach Edwin Moreno will also return for a second season in 2023. Moreno played 11 professional seasons and made his Major League debut with the San Diego Padres in 2009. Over the course of his career, Moreno made 19 big league appearances. Moreno oversaw a pitching staff that featured Michael McGreevy and Gordon Graceffo, two of the organization's top prospects in 2022. Graceffo departed Peoria with a 0.99 ERA and was named the Cardinals Minor League Pitcher of the Year in December. Additionally, the Chiefs pitching staff finished 2022 as one of the Midwest League's best. Over the season's final 37 games, no pitching staff struck out more hitters than the Chiefs did (384).
Casey Chenoweth joined the Cardinals organization in December and will serve as the Chiefs hitting coach. Chenoweth previously spent three seasons as a coach in the Arizona Diamondbacks organization, as well as two years in the San Francisco Giants system. Chenoweth played collegiately at East Central (OK).
Christina Whitlock will serve as Peoria's fourth coach. Whitlock spent the 2022 season serving as a tech fellow and was based at the Cardinals complex in Jupiter. Whitlock brings more than two decades of coaching experience to the table. As a softball player at the University of South Carolina, Whitlock was a two-time All-American and helped lead the Gamecocks to the Women's College World Series in 1997. She also spent time as a member of the U.S. national team.
Additionally, Paden Eveland will return to serve as the team's athletic trainer. Eveland will be joined by fellow returnee Ryan Duffy, who returns to his role as strength and conditioning coach. Both men are entering their second season with the Chiefs. Colin Campbell rounds out the staff as the affiliate fellow.
TICKETS: The Chiefs open their 40th season of professional baseball on Thursday, April 6 against the Cedar Rapids Kernels. First pitch is set for 6:35 p.m. from Dozer Park. Single-game tickets will go on sale at a later date. Season ticket packages are currently available online at peoriachiefs.com.