Top of the Order Propels Chiefs to 5-3 Victory
Offense leads charge to win Thursday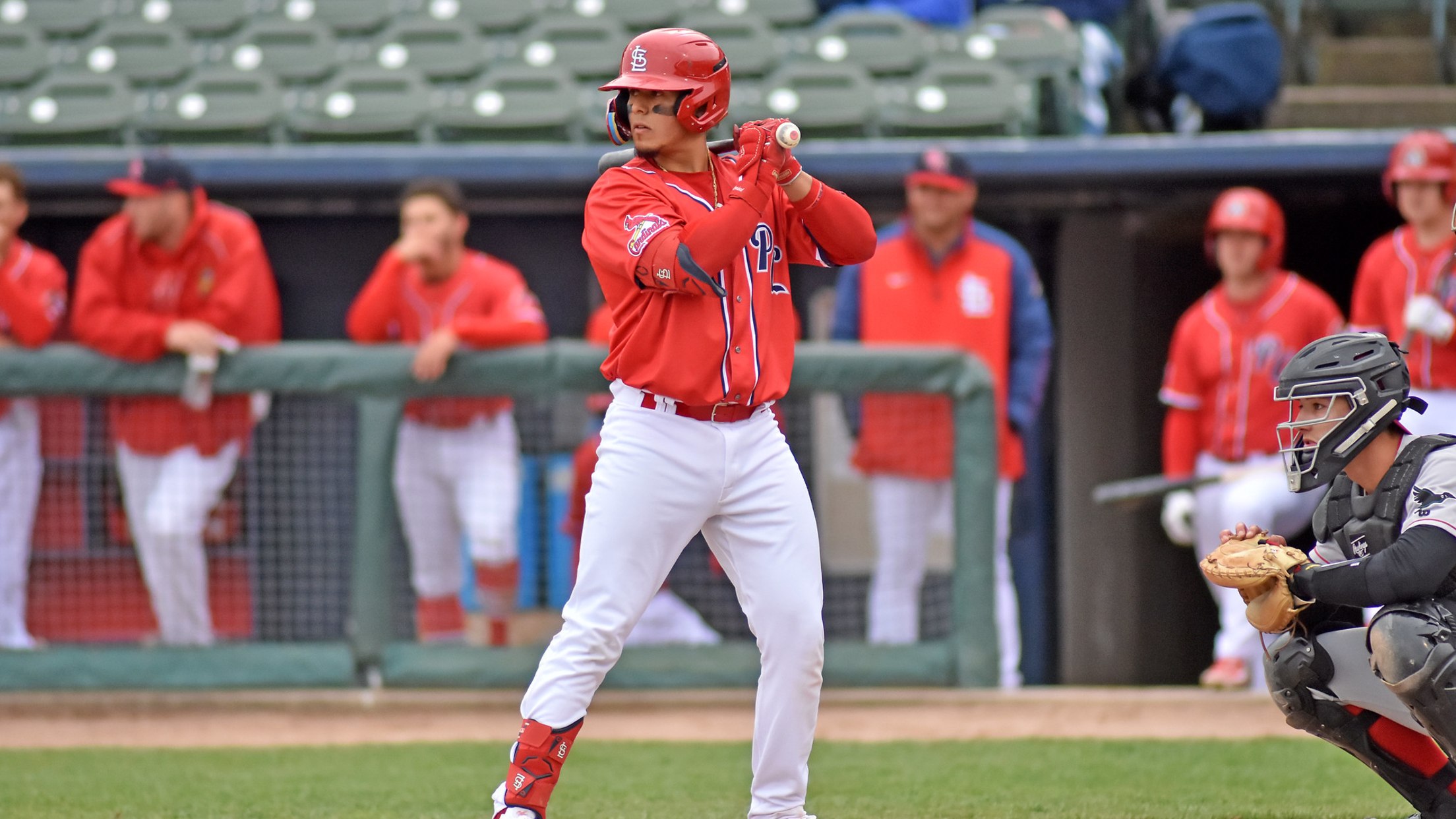 (Paul R. Gierhart/MiLB.com)
Beloit, WI – The trio of Masyn Winn, Mike Antico and Aaron Antonini combined for seven hits and scored four runs as the Chiefs hit their way past the Beloit Sky Carp 5-3 on Thursday. Peoria has now taken two of the first three in the series. The Chiefs never
Beloit, WI – The trio of Masyn Winn, Mike Antico and Aaron Antonini combined for seven hits and scored four runs as the Chiefs hit their way past the Beloit Sky Carp 5-3 on Thursday. Peoria has now taken two of the first three in the series.
The Chiefs never trailed on Thursday, as they broke through for a pair of runs in the first. Winn, Antico and Antonini all singled, with the third knock an RBI hit from Antonini to plate Winn. Peoria tacked on a second run thanks to a sac fly from Francisco Hernandez.
Beloit appeared poised to answer in the home half of the first but Chiefs starter Michael McGreevy stood tall. After the Sky Carp loaded the bases with one out, McGreevy recorded back-to-back strikeouts to get out of the frame unscathed.
Beloit did get to McGreevy in the third, however. A two-out double cut the Peoria lead to 2-1.
In the fifth, the top of the order again delivered against Sky Carp starter Dax Fulton, who recorded 10 strikeouts in defeat. A one-out double was quickly cashed in as Antico singled to right, giving Peoria a two-run lead once again. After an Antonini single, LJ Jones drove in a run for the second night in a row on a single into center.
McGreevy continued his fine work and took a 4-1 cushion into the sixth. Despite surrendering a second run-scoring double, McGreevy exited with a quality start, as the right-hander allowed just two runs over six innings of work.
With a 4-2 lead in the eighth, Hernandez manufactured a key insurance run for Peoria. The second baseman doubled to move into scoring position. The next batter, Mack Chambers, poked a sharply hit ground ball to the right side of the diamond. Beloit's second baseman Cody Morissette flagged down the ball in shallow right field, but had no play to retire Chambers. Hernandez, with two outs in the inning, never stopped running, and scored all the way from second to make it 5-2.
The 5-2 advantage made its way to the ninth before Beloit made things interesting. The Sky Carp cut the deficit to 5-3 and sent the winning-run to the plate against Peoria reliever John Beller, who struck out Bennett Hostetler to end it. Beller earned his third save of the season, while Michael YaSenka earned a hold for his 2.1 innings of work.
The series continues Friday from Beloit. With a win, the Chiefs can secure at least a split of the series. Gordon Graceffo is set to start for Peoria.