Gonzalez's Six RBI Day Leads Bandits' Rout of Rattlers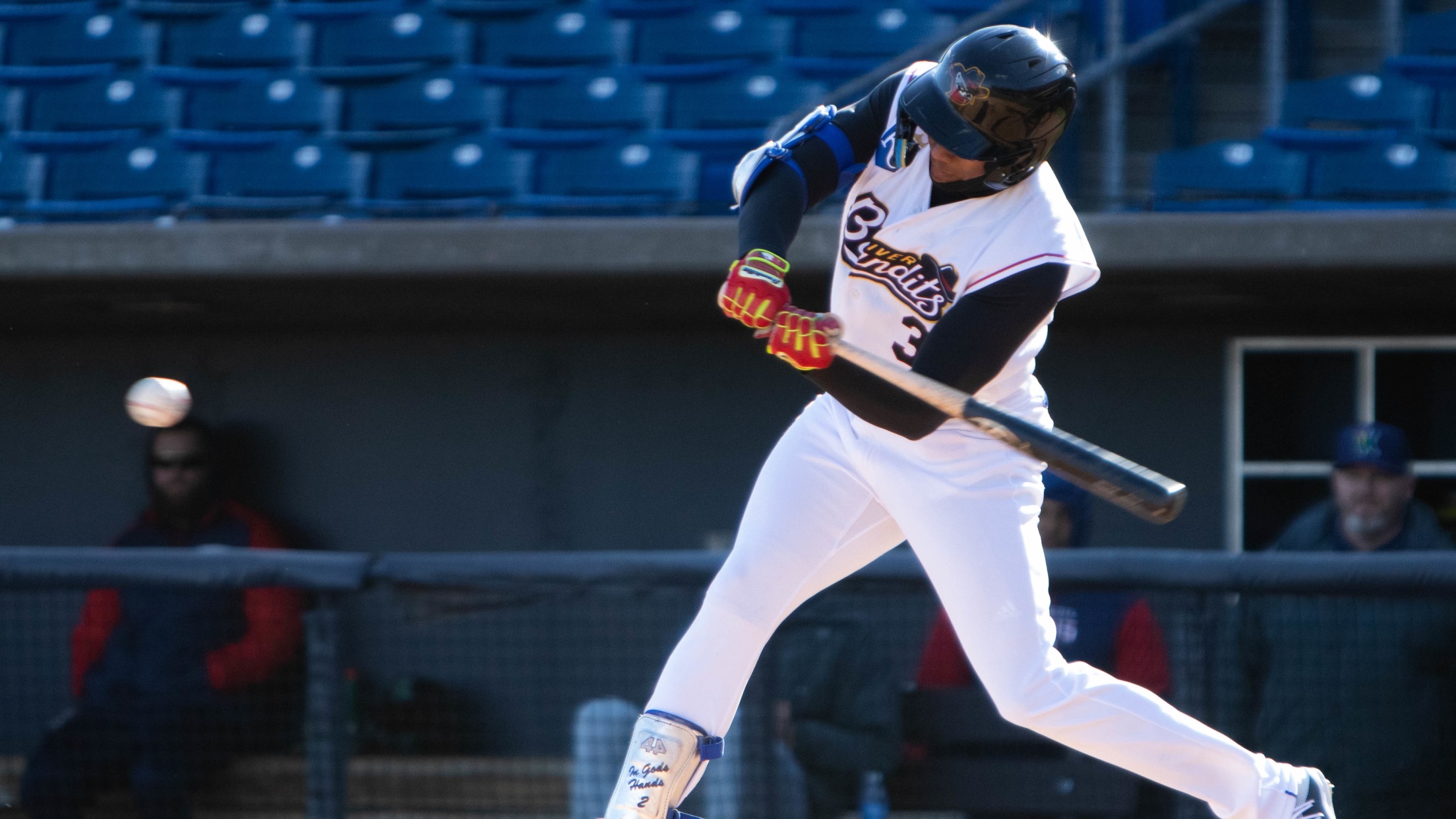 Photo by Josh Franzen
Appleton, Wisconsin – The Quad Cities River Bandits exploded for 12 extra base hits including five home runs in their series finale against Wisconsin on Sunday at Neuroscience Group Field and snapped a seven-game losing streak with an 18-1 win over the Timber Rattlers. Herard Gonzalez extended his on-base streak
Appleton, Wisconsin – The Quad Cities River Bandits exploded for 12 extra base hits including five home runs in their series finale against Wisconsin on Sunday at Neuroscience Group Field and snapped a seven-game losing streak with an 18-1 win over the Timber Rattlers.
Herard Gonzalez extended his on-base streak to 13 games in the thumping and reached base in all six plate appearances, going 3-for-3 with two home runs, a triple and three walks while driving in six RBIs.
Quad Cities scored runs in all but one inning, and chased Rattlers' starter Justin Jarvis after just two frames, taking a 5-0 lead into the third as both Luca Tresh and Parker Bates went yard against the right-hander.
Diego Hernandez's RBI triple and Gonzalez's two long-balls, his second and third of the year, highlighted the middle innings as Quad Cities owned a 12-0 lead going into the bottom of the sixth, where starter Charlie Neuweiler became the first River Bandits pitcher to work beyond five innings this season.
In his third start of this season, Neuweiler faced the minimum through 4.1 innings before allowing an RBI double to Ethan Murray in the bottom of the sixth to give Wisconsin its lone run.
Quad Cities wasted no time getting the run back in the top of the seventh, as Diego Hernandez's second hit of the game was a solo blast off of Cristian Sierra.
Parker Bates picked up a pair of RBIs in the final frames along with Gonzalez's run-scoring triple and Morgan McCullough's RBI groundout to push Quad Cities to its season-high 18 runs, while left-hander Caden Monke closed out the game on the hill for the Bandits, tossing 3.0 scoreless frames out of the bullpen en route to his first save of the year.
After the league-wide off day on Monday, the River Bandits will return home to Modern Woodmen Park to host the South Bend Cubs for six in Davenport starting Tuesday. First pitch is scheduled for 6:30pm.