South Bend Snaps Bandits' Three-Game Win Streak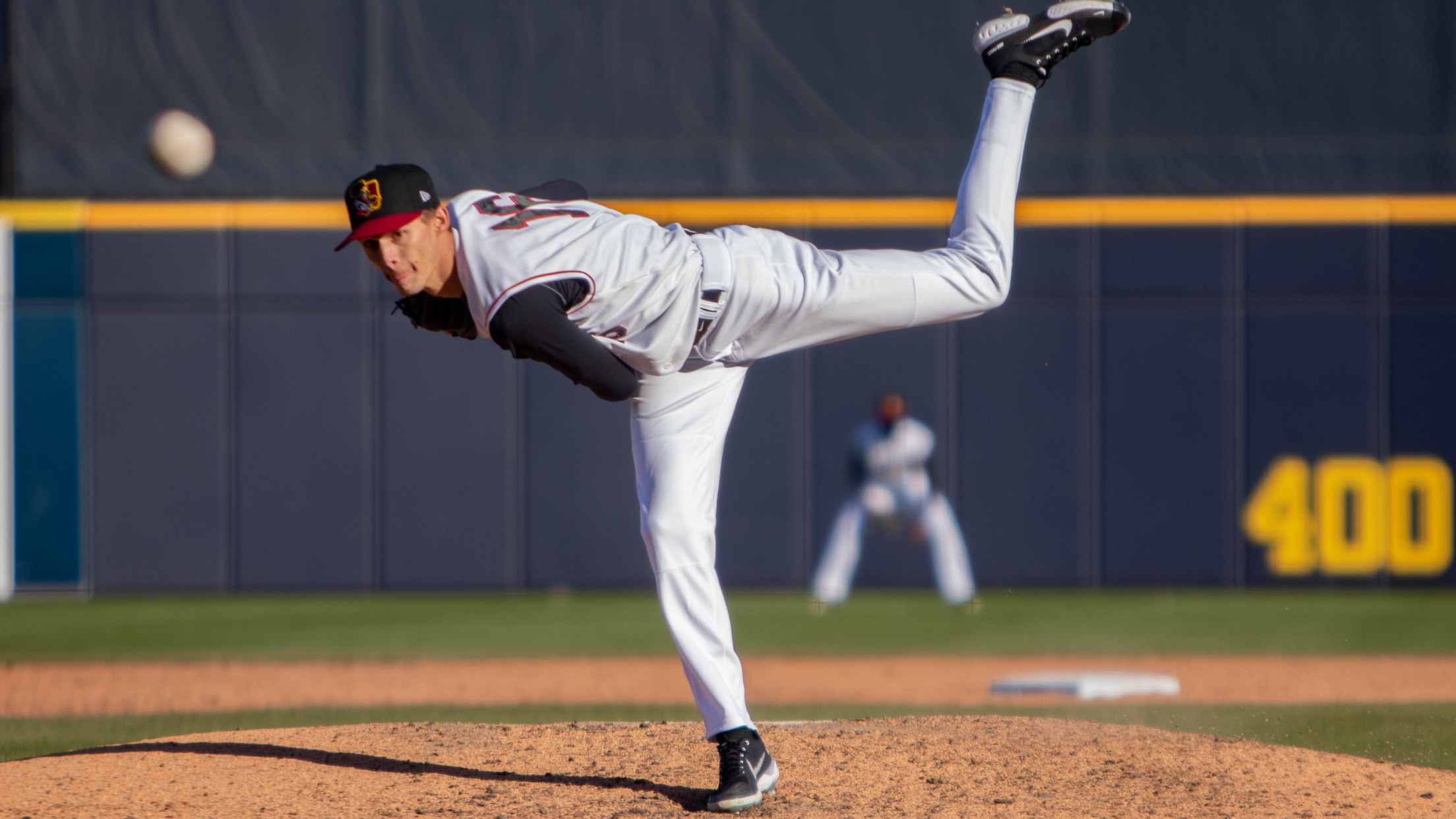 Photo by Josh Franzen
Davenport, Iowa – The Quad Cities River Bandits' three-game win streak came to an end Saturday night following a 7-2 loss to the South Bend Cubs at Modern Woodmen Park. The first three innings featured a pitcher's duel between Bandits' right-hander Charlie Neuweiler and Cubs' righty Chris Clarke. Neuweiler dodged
Davenport, Iowa – The Quad Cities River Bandits' three-game win streak came to an end Saturday night following a 7-2 loss to the South Bend Cubs at Modern Woodmen Park.
The first three innings featured a pitcher's duel between Bandits' right-hander Charlie Neuweiler and Cubs' righty Chris Clarke. Neuweiler dodged trouble in the first inning after a two-out walk and a single and caught South Bend second baseman Fabian Pertuz with a pick-off throw to first base to end the inning.
The Quad Cities' righty tossed a scoreless second inning and set down South Bend one-two-three in the third before running into trouble. South Bend's bats came alive in the top of the fourth with a leadoff single from right fielder Alexander Canario followed by an RBI double from first baseman Matt Mervis to put the Cubs on the board, 1-0. With Mervis on, Neuweiler allowed a walk to Jordan Nwogu and back-to-back hits—a two-run triple by Ed Howard and an RBI single from Pablo Aliendo to push the Cubs' lead to 4-0.
Still with no outs, Neuweiler gave up consecutive singles to Verdugo and Bradlee Beesley to load the bases before Quad Cities manager Brooks Conrad brought in lefty Caden Monke. Neuweiler finished his night going 3.0 innings and allowing four earned runs on eight hits while walking three and striking out three batters.
Monke escaped the no-out, bases-loaded jam with a strikeout and back-to-back flyouts to hold the Cubs to a 4-0 lead heading into the bottom of the fourth.
The Bandits went down in order and were still looking for their first base runner heading into the fifth inning when they finally got to the Cubs' starter with a solo home run from designated hitter Kale Emshoff to break up Clarke's perfect game and put the Bandits on the board, still trailing 4-1. Clark allowed a one-out single to Quad Cities first baseman Dillon Strum before getting shortstop Morgan McCullough to ground out and end the inning. Clark finished his night going 5.0 innings and allowing one earned run on two hits while striking out six and walking none.
Monk set down the side in order in the top of the 6th inning, and the Bandits cut the deficit in half against Cubs' reliever Max Bain, 4-2 courtesy of a sacrifice fly from second baseman Peyton Wilson to drive in center fielder Diego Hernandez, who reached third after a lead-off walk and consecutive stolen bases.
The Cubs quickly got the run back and then some in the top of the seventh, as Canario and Mervis hit back-to-back solo home runs off Monke to extend South Bend's lead to 6-2.
The game stayed that way heading into the bottom of the eighth when the Bandits managed a two-out rally against Bain after catcher Kyle Hayes was hit by a pitch and Hernandez reached on a fielding error, but the Cubs righty struck out Wilson to end the frame.
South Bend tacked on another run with a solo homer by Nwogu off Quad Cities' lefty Christian Chamberlain to extend their lead to 7-2 entering the bottom of the ninth. Bandits second baseman Herard Gonzalez led off the inning with a ground rule double, but was stranded following an Emshoff strikeout as Cubs' reliever Eduarniel Nunez retired Burle Dixon with a ground ball and Juan Carlos Negret with a check-swing strikeout to end the game.
The River Bandits look to bounce back in the six-game series finale on Sunday and will send right-hander Anthony Simonelli (1-0, 6.00 ERA) to make his first start of the season against Cubs lefty Jordan Wicks (0-0, 3.68 ERA). First pitch is scheduled for 1 p.m. at Modern Woodmen Park.