Leslie Baker Meet & Greet, Special Ticket Packages Include Limited Edition Bobblehead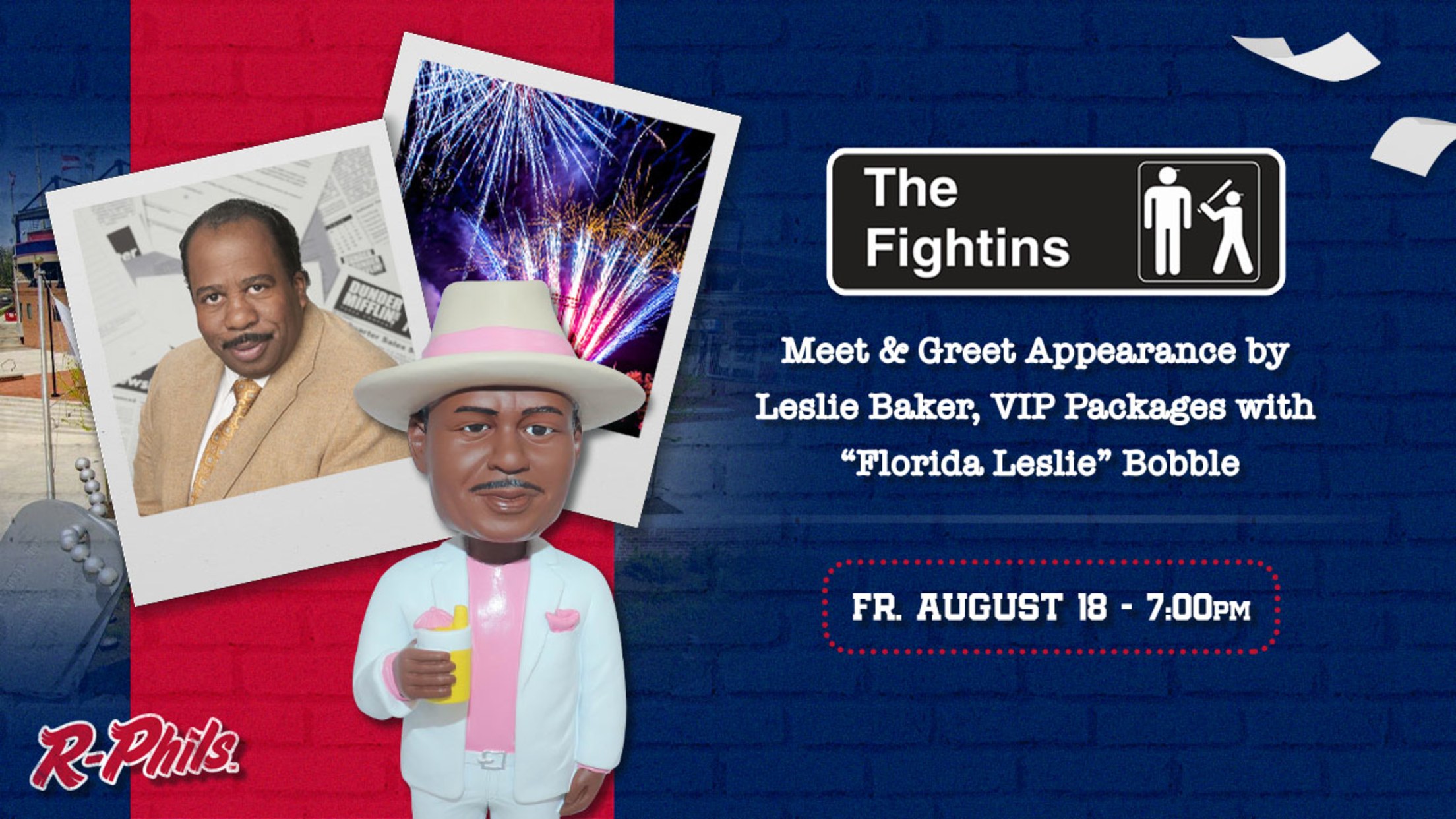 (Reading, PA) - Television actor Leslie Baker is appearing at the Reading Fightin Phils game on Friday, August 18th against the Somerset Patriots. For the third time, a character from the popular sitcom show portraying a paper company in Scranton, Pennsylvania will appear at FirstEnergy Stadium when Baker will be
(Reading, PA) - Television actor Leslie Baker is appearing at the Reading Fightin Phils game on Friday, August 18th against the Somerset Patriots. For the third time, a character from the popular sitcom show portraying a paper company in Scranton, Pennsylvania will appear at FirstEnergy Stadium when Baker will be on hand to meet R-Phils fans during the game. Baker became famous for portraying a character that worked in an office that sold paper products, the TV series aired from 2005-2013.
Special Pre-Game VIP Meet & Greet tickets with Leslie Baker are available for $100. This package includes a limited-edition "Florida Leslie" bobblehead taking after his Florida persona, guaranteed opportunity to meet Leslie Baker prior to the start of the game, an autograph and photo with Leslie, and reserved seat to the August 18th R-Phils game featuring post-game fireworks. The pre-game VIP session will be held from 5:15 – 6:00 pm.
Fans also have the option of purchasing a limited-edition "Florida Leslie" bobblehead plus a ticket to the August 18th Fightin Phils game starting at $36.
A free autograph session for fans in attendance is scheduled take place from 7:00 until 8:15 p.m.
Tickets can be purchased online through the following link: Click Here To Buy Tickets
Previous appearances in Reading included Brian Baumgartner (2019) & Kate Flannery (2021).
Season Ticket & Mini-Plan holders can pre-purchase meet and greet packages now by calling the Weidenhammer Ticket Office at FirstEnergy Stadium at 610-370-BALL.
Packages for all fans may be purchased beginning Wednesday, December 21 at rphils.com or by calling 610-370-BALL