R-Phils Announce 2023 Broadcast Team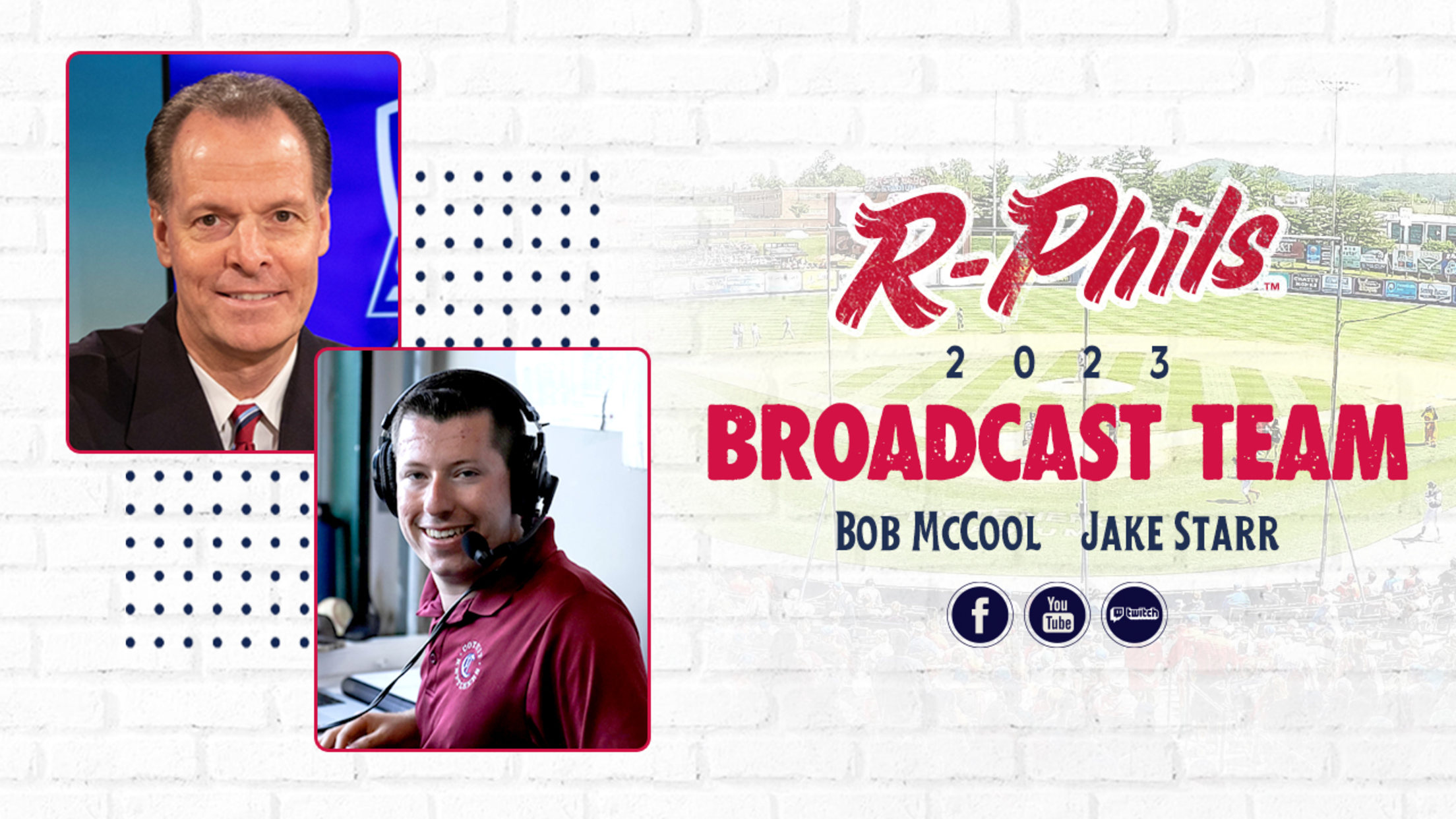 (Reading, PA) – The Reading Fightin Phils are excited to announce additions to their broadcast team for the 2023 season. Well-known Berks County broadcaster Bob McCool will lead the broadcasts this year. McCool has grown popular in the Reading area for his work with broadcasting high school sports on 830
(Reading, PA) – The Reading Fightin Phils are excited to announce additions to their broadcast team for the 2023 season. Well-known Berks County broadcaster Bob McCool will lead the broadcasts this year.
McCool has grown popular in the Reading area for his work with broadcasting high school sports on 830 AM WEEU. He has called high school football, basketball and other sports for the station. Additionally, McCool provides commentary for various Albright College athletic events on the school's streaming platform. Previously, McCool broadcasted high school state championships for 15 years.
Most notably, McCool has recently been nominated into the Pennsylvania Sports Hall of Fame's Berks County Chapter. He was recognized for his outstanding work in broadcasting for various schools across the county. McCool is looking forward to taking his talents to the R-Phils' radio booth this season.
"I'm excited to have the opportunity to work for the best run minor league sports organization in the country every day," McCool said. "To be able to learn new things after all these years in the business is a unique and fun opportunity for me."
Joining McCool on the broadcasts will be Jake Starr. Starr, a recent graduate from Penn State University, brings experience with multiple years of radio and media work in college, while also working in summer collegiate baseball. Additionally, Starr will contribute a variety of multimedia content for the R-Phils, while also serving as the press box manager and media contact for the Fightins. Any questions or media inquiries can be directed to [email protected].
"Bob McCool is an icon in the area of sports broadcasting," said Scott Hunsicker, R-Phils General Manager. "People throughout Greater Reading, and all of Pennsylvania, certainly recognize Bob as the long-time, highly respected voice of high school and collegiate sports. We are so excited to add this broadcasting legend to our R-Phils family. We are also very excited to add Jake Starr to the broadcast team. Together, we know that Bob and Jake will do an outstanding job of sharing the R-Phils story with our passionate fan base."
Watch our sit down interview with McCool!
Reading fans can hear our newly-announced broadcast team for all 69 home games in 2023. Audio broadcasts can be streamed on the Fightin Phils YouTube, Facebook or Twitch pages, in addition to on our website. You can catch all the action at https://www.milb.com/reading/team/broadcast.
For video streaming of R-Phils games, you can subscribe to MiLB TV to catch our home broadcasts as well.
Fightin Phils gameday coverage will begin with a pregame show hosted by McCool and Starr prior to first pitch. Then, following the final out, postgame coverage will wrap up the action. The Reading Fightin Phils are excited for their new on-air team in 2023. Listen along all season long starting on Tuesday, April 11, when the Fightin Phils welcome the Hartford Yard Goats to kick off the 2023 home campaign.