Beer and Wine Fest 2023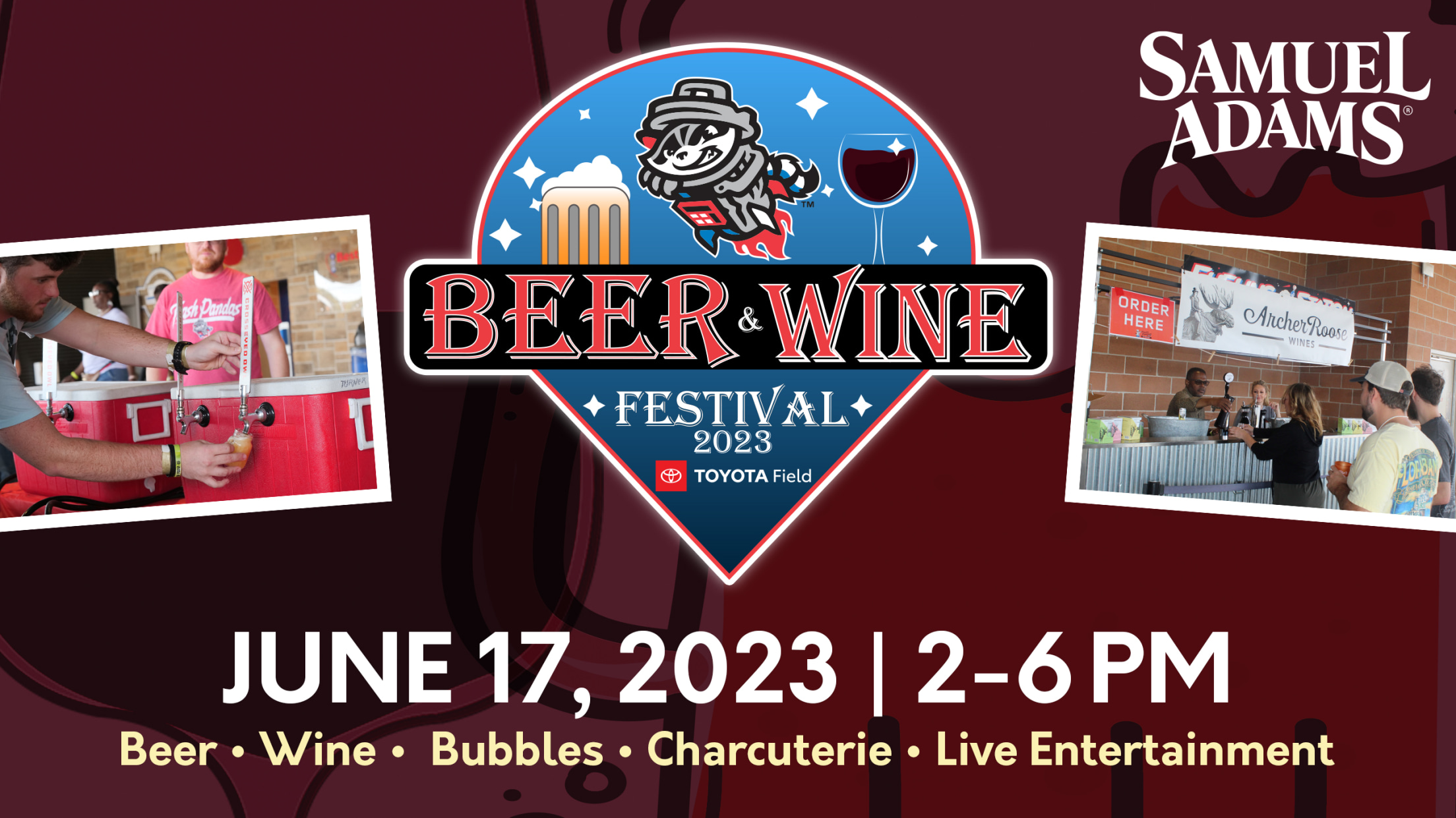 VIP Tickets - SOLD OUT
-VIP tickets $75 per person
-Private event in SportsMED Stadium Club
-Early entry into event
-Sample tasting of select beer, wine, and spirits (Limited to 2.5 hours)
-Chef's interactive buffet
-Souvenir tasting glass
-Exclusive Swag Bag
-Access to specialty areas
-Group packages are available for $700 and include 10 VIP tickets
General Admission
General Admission - $40 Per Person
-Sample tasting beer and wine on concourse
-Access to specialty areas
-Souvenir Tasting Glass
Designated Driver - $10 Per Person
-Unlimited soda and water
Beer Selections
Fat Bottom
Knockout IPA
Teddy Love Pilsner
Ruby Red
Daisy White IPA
Hi Wire
Lo Pitch
Hi Pitch
Bed of Nails Brown
Leisure Time Lager
Yazoo
Pale Ale
Hopry Hazy IPA
Gerst Amber
Hefe
Oak Mountain
Blone
IPA
Peachmaker Hefe
Pelham Pilsner
Boston Lager
Ditch Days Summer Ale
Mandarin and Mango Crush Fuit Ale
Nordic Sprink Pale Ale
Hey Girl Hey Blackberry Sour Ale
Cave City Lager
Peach and Apricot Sout Ale
Black Currant Wheat Ale
205 Pale Ale
Cabana Animal Sour Ale
High and Hazy IPA
T-Time Wheat ale
Goatopia Juicy IPA
Sipsey River Red Ale
Citracabra Sour Ale
The Swamper Porter
Diskin Cider Tiki Tonik
Avondale Brunch Punch Shandy
STA Rikki Tikki Tavi Mango IPA
Yellow Hamer T-Minus Kolsh
Yellow Hammer Cheatin Heart
Linguitas Island Beats Tropical IPA
Good People Snake Handler
Good People Cosmic Trucker Hazy IPA
Good People Cherry Almond Sour
Fractal Time Guava Mango Sour
M.I.A. Beer Co Miami Weiss
Westbrook White Thai
Victory Motel Paloma (Grapefruit Ale)
Against the Grain A Beer
Sixpoint The Crisp
Rikki Tikki - STA
Lily Flag Mint Milk Stout - STA
Brunch Punch - Avondale
Bobs Your Uncle - Diskin
Gold Lagger - Yellowhammer
Mic Czech Pils - Yellowhammer
Island Beats - Lagunitas
Neon Moon - Druid City
Hazy Snake - Good People
Snake Hadler - Good People
Invarient Amber - Fractal
Dragon Curve - Fractal
Wine Selections
Red Wine
La Nymphina Monastrell
Zinio Rioja Crianza
Zinio Rioja Reserva
Goldschmidt Hilary (Cabernet)
Roth (Merlot)
Tribute (Pinot Noir)
Unshackled (Red Blend)
Sokol Evolution (Pinot Noir)
Simi (Cabernet)
Prisoner (Pinot Noir)
Peachy Canyon Incredible Red Blend
Perrone Barbera D'Alba
Breca El Nacido
Lovely Creatures Cabernet Sauvignon
MDZ Malbec
Muri Gries - Alto Adige Pinot Nero
Scarpetta - Cabernet Franc
In Sheeps Clothing - Cabernet Sauvignon
White Wine
Oliver Lemon (Moscato)
Stoneleigh (Sav. Blanc)
Diora (Chardonnay)
Z Alexander Brown (Chardonnay)
Goldschmidt Boulder Bank (Sav. Blanc)
Goldschmidt Singing Tree (Chardonnay)
Roth (Sav. Blanc)
Tribute (Sav. Blanc)
Tribute (Chardonnay)
Talbott (Chardonnay)
Kung Fu Girl (Riesling)
Whitehaven (Sav. Blanc)
Stemmari (Pinot Grigio)
H & H (White Blend)
Cueva Peccato Vino Spumante (Moscato)
Southern Right Sav Blanc
Lovely Creatures Chardonnay
Felines Jourdan - Picpoul de Pinet
Railsback Freres - Vermentino
Sandhi - Central Coast Chardonnay
Bubbles/Sparkling
Roscato Peach Dolce
Roscato Blueberry Dolce
Acentuado Rose
Diora (Rose)
Faire Le Fete Sparkling
Faire Le Fete Sparkling Rose
Santa Marina Prosecco
Santa Marina Prosecco Rose
Unshackled Sparkling
Unshackled Sparkling Rose
Calafuria Rose
Lunato Lambrusco
Breca Rosado
Issac Fernandez - Biutiful Cava Brut Rose
Pomalo - Debit Pet Nat
Printemps - Rose de Provence
Pullus - Rose
Specialty Food Items
Bangers and Mash Sandwich- Grilled Bratwurst with hash browns, smashed peas, topped with beer gravy.
Fish & Chips- Beer battered white fish served with crispy fries.
Beer House Chili Fries- Fries topped with beer chili, cheese, and cheese curds.
Pretzel & Sausage Charcuterie Box- Assorted Cheese, sausages, mustard, local jams, pickled summer vegetables, crackers, and berries
Bacon Wrapped Pretzel Sticks- Glazed with local hot pepper jelly
Chicken Schinzel- Roasted garlic aioli, pickled cabbage, bacon & arugula
Apple Strudel Funnel Cake- Funnel Cake topped with caramel apples, vanilla ice cream and chopped pretzels.