Isotopes Snap Express Winning Streak With 10-7 Win
Albuquerque Hits Five Home Runs in Friday Night's Victory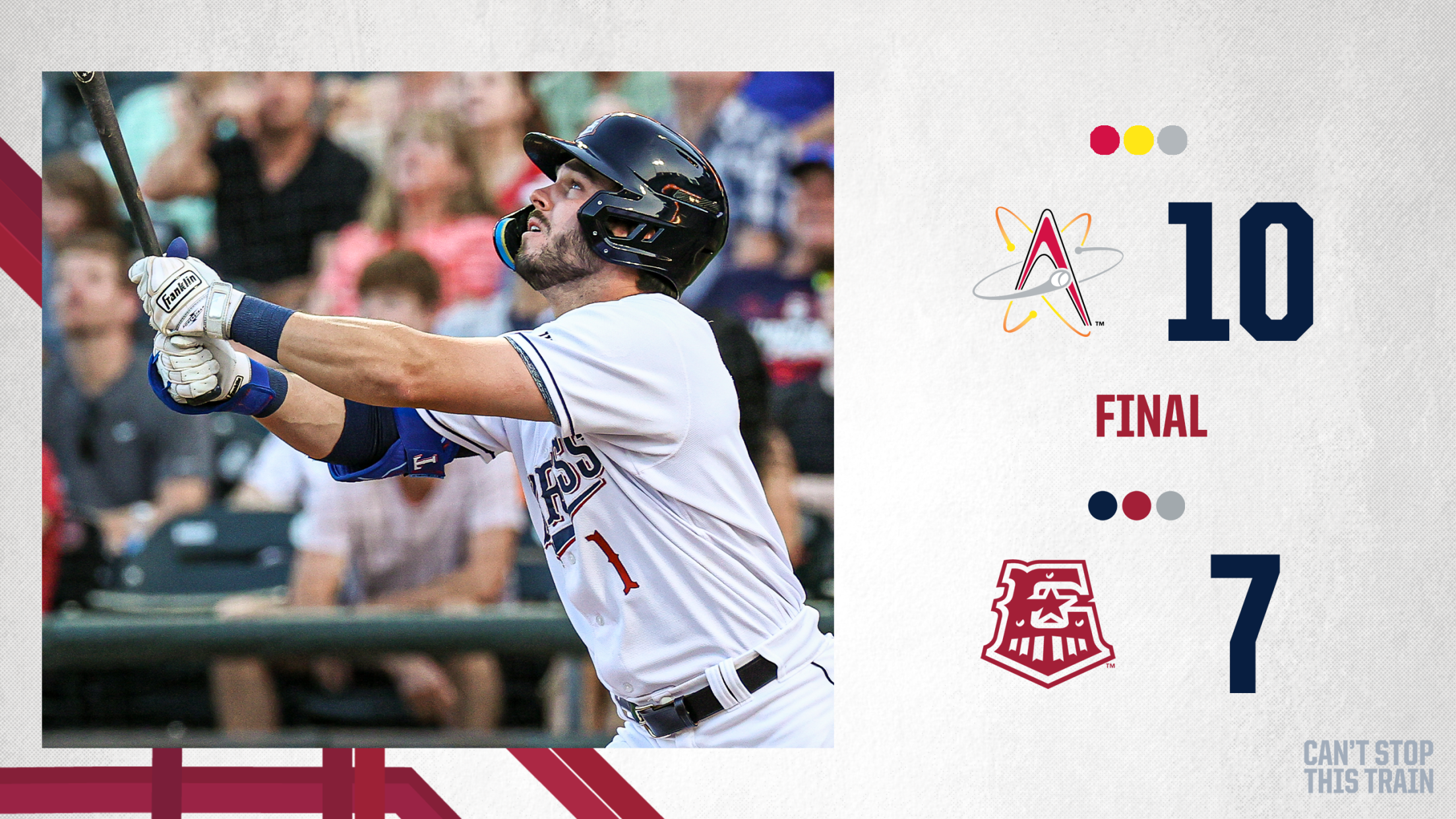 (Andy Nietupski / TTL Sports Media)
ROUND ROCK, Texas – The Round Rock Express (11-5) had their seven-game winning streak snapped on Friday night at Dell Diamond as the Albuquerque Isotopes (6-10) earned their first win of the six-game series by a final score of 10-5. Albuquerque starter RHP Ryan Feltner (2-0, 3.10) went five innings
ROUND ROCK, Texas – The Round Rock Express (11-5) had their seven-game winning streak snapped on Friday night at Dell Diamond as the Albuquerque Isotopes (6-10) earned their first win of the six-game series by a final score of 10-5.
Albuquerque starter RHP Ryan Feltner (2-0, 3.10) went five innings and allowed only one run on two hits for his second win of the year. Feltner had 10 strikeouts and didn't allow a hit until the fifth inning. Round Rock starter LHP Jake Latz (2-2, 4.74) allowed six runs on nine hits and allowed four home runs during 4.0 frames.
Along the Train Tracks:
After scoring only four total runs in the first three games of the series, the Isotopes offense broke loose early. Albuquerque 2B Tim Lopes singled and swiped a base to lead off the game. RF Ryan Vilade came up next and doubled to give the Isotopes an immediate 1-0 lead.
After Express LHP Jake Latz allowed the first run of the game, he responded by retiring the next two batters he faced. 1B D.J. Peterson followed with a two-run home run to extend the Isotopes lead to 3-0.
The scoring continued in the second inning for Albuquerque when CF Wynton Bernard hit his first home run of the season, giving the visitors a 4-0 advantage.
More home runs in the third inning fueled the Isotopes. A leadoff dinger for DH Carlos Perez was his fourth of the season. After two groundouts, C Brian Serven came up and fell behind 1-2 against Latz, but went on to hit his first home run of the year to extend the lead to 6-0.
Round Rock scratched a run across Feltner in the sixth inning when SS Josh Smith singled with two outs to score 3B Davis Wendzel as the Express trailed 6-1.
Round Rock dug in during the sixth when C Zach Reks doubled to start the inning off. With one out, 1B Sherten Apostel walked then a single from Wendzel cut the Albuquerque lead to 6-2. C Yohel Pozo came up next and hit a three-run home run to pull Round Rock within one at 6-5.
Bernard hit his second home run of the night for Albuquerque in the eighth then came back up in the ninth and added his fourth and fifth RBI of the night on a triple for a 10-5 lead.
The bottom of the ninth saw Express CF Bubba Thompson single to drive in two runs and put the E-Train within striking distance. With the bases loaded and one out, Albuquerque RHP JD Hammer snagged two strikeouts to leave the winning run in the batter's box.
** E-Train Excerpts:**
Friday night marked the first time in two weeks that the Express did not score first. The last time that the opponent struck first was April 8 at Dell Diamond against El Paso. Round Rock is now 1-3 in games where the opposition scores first.
SS Josh Smith extended his hitting streak to seven games on Friday night with his RBI single in the fifth inning. He finished 1-for-3 with an RBI, two walks and two strikeouts.
Albuquerque starter RHP Ryan Feltner tallied 10 strikeouts, marking the first time a pitcher has recorded 10 or more strikeouts against Round Rock since on April 25, 2019, when RHP Hector Noesi totaled 12 for the New Orleans Baby Cakes.
Express CF Bubba Thompson went 2-for-5 with an RBI and extended his hitting streak to 11 games. The streak is currently the longest in the Pacific Coast League and is tied for the third longest across all of Minor League Baseball.
Round Rock has six or more hits in 14 consecutive games and they have homered in nine straight games.
C Yohel Pozo hit 17 of his 23 home runs in 2021 off right-handed pitching. His first this year came in the sixth inning against RHP Nate Griep. The catcher went 2-for-3 with two runs scored and three RBI.
Round Rock entered Friday allowing less than three runs in each of their previous eight games. The 10 runs for Albuquerque were the most since El Paso hung 16 runs on Round Rock on Opening Night.
Next up: Round Rock and Albuquerque will kick off game five of the series on Saturday night at Dell Diamond starting at 6:05 p.m. Express RHP Kohei Arihara (0-1, 5.25) will get the start while Isotopes RHP Frank Duncan (0-0, 18.78) takes the mound.
Single game tickets as well as full season and mini season membership plans are on sale now. For more information about the Express, visit RRExpress.com or call (512) 255-2255. Subscribe to the E-Train email newsletter and keep up with the Express on Facebook, Instagram and Twitter!