Round Rock Claims 5-2 Series-Opening Victory in Sugar Land
Early Runs Help Push Express Over Space Cowboys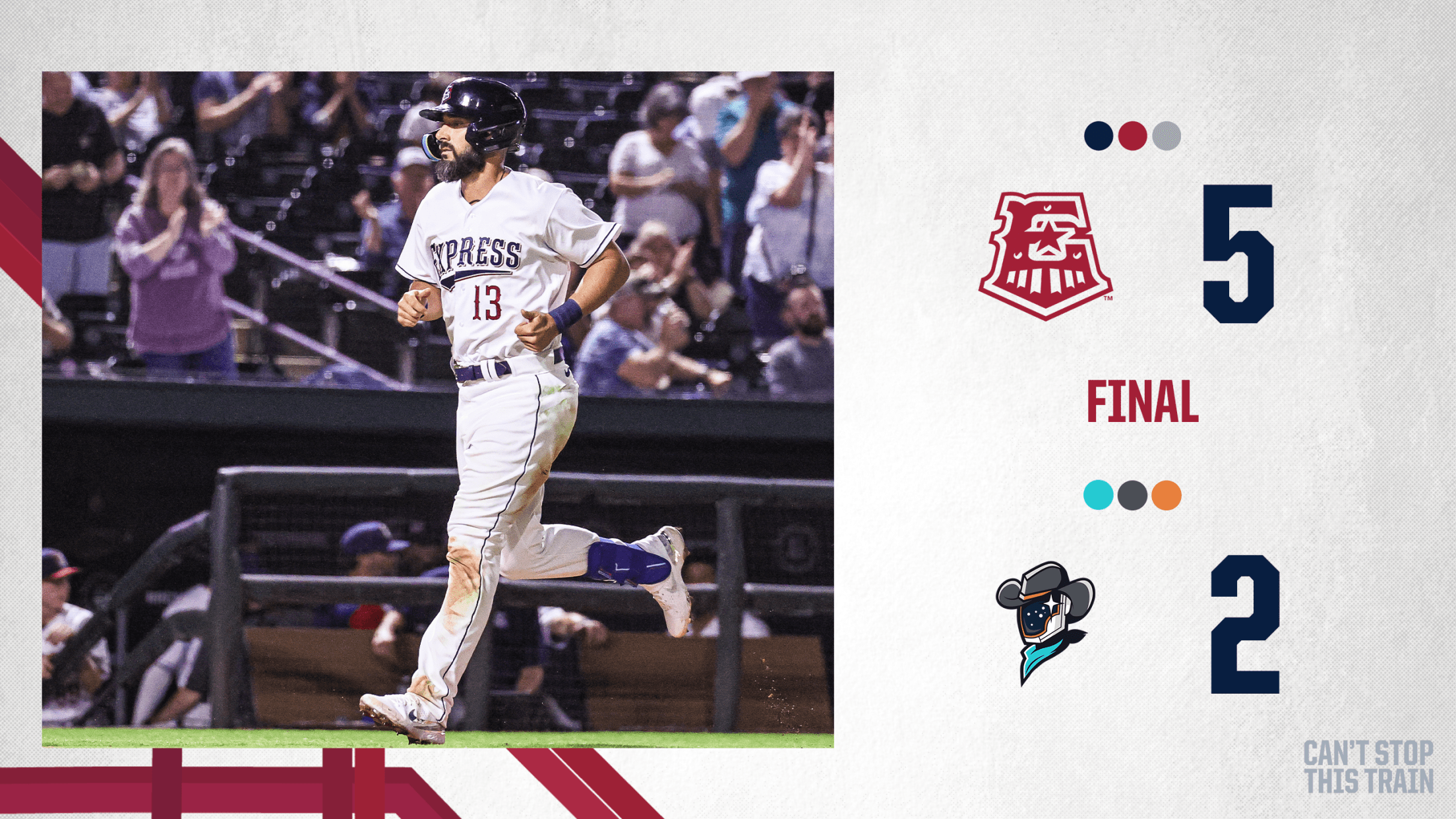 (Andy Nietupski / TTL Sports Media)
SUGAR LAND, Texas – The Round Rock Express (22-15) earned a win in game one of the three-game series against the Sugar Land Space Cowboys (15-22) by a final score of 5-2 on Tuesday night at Constellation Field. Round Rock starter RHP A.J. Alexy (1-1, 6.48) claimed the win after
SUGAR LAND, Texas – The Round Rock Express (22-15) earned a win in game one of the three-game series against the Sugar Land Space Cowboys (15-22) by a final score of 5-2 on Tuesday night at Constellation Field.
Round Rock starter RHP A.J. Alexy (1-1, 6.48) claimed the win after tossing 5.2 innings that saw two runs, four hits, one walk and five strikeouts. Sugar Land starter RHP Peter Solomon (1-3, 5.04) was tagged with the loss after allowing five runs, three of which were earned, on seven hits and one walk with three punchouts during 4.0 frames.
Along the Train Tracks:
Round Rock jumped out to a 2-0 lead in the first inning. After knocking a leadoff single, 3B Josh Smith moved to second on a wild pitch then third as RF Bubba Thompson hit a single of his own before 1B Matt Carpenter sent both runners home with a double.
The Express doubled their lead in the second as LF Steele Walker scored thanks to a Meibrys Viloria double and Viloria rounded the bases on groundouts from Smith and Thompson.
One more run came in for Round Rock as the E-Train brought their total to five during the third. Carpenter added to his RBI total with a solo home run, allowing the good guys to extend their advantage to 5-0.
Sugar Land plated their first run in the bottom of the third frame when 3B Alex De Goti blasted a solo homer of his own to make it a 5-1 contest.
The second Space Cowboys run came in the fifth inning as LF Corey Julks knocked a dinger to left field.
The final four frames saw no runs from either side and nine total strikeouts as the 5-2 score held to be final. RHP Dan Winkler earned his third save of the season with a scoreless ninth inning of relief.
E-Train Excerpts:
Express 3B Josh Smith and 1B Matt Carpenter tallied two hits apiece during Tuesday's contest. Carpenter was the only Round Rock hitter to record a multiple-RBI game, driving in three runs.
The Round Rock bullpen combined for 3.1 scoreless innings as RHP Nick Snyder (0.1 IP), LHP Jake Latz (2.0 IP) and RHP Dan Winkler (1.0 IP) allowed just one hit and one walk in relief. Snyder recorded one strikeout while Winkler tallied two.
Next up: Round Rock and Sugar Land face off for game two at Constellation Field on Wednesday night. Express LHP Kolby Allard (0-1, 9.00) is slated to take the mound up against Space Cowboys LHP Jonathan Bermudez (1-0, 6.28). First pitch is scheduled for 7:05 p.m.
Single game tickets as well as full season and mini season membership plans are on sale now. For more information about the Express, visit RRExpress.com or call (512) 255-2255. Subscribe to the E-Train email newsletter and keep up with the Express on Facebook, Instagram and Twitter!