Round Rock Tops Sugar Land 11-3 on Wednesday Night
Express Win Third Consecutive Game and Take the Series From the Space Cowboys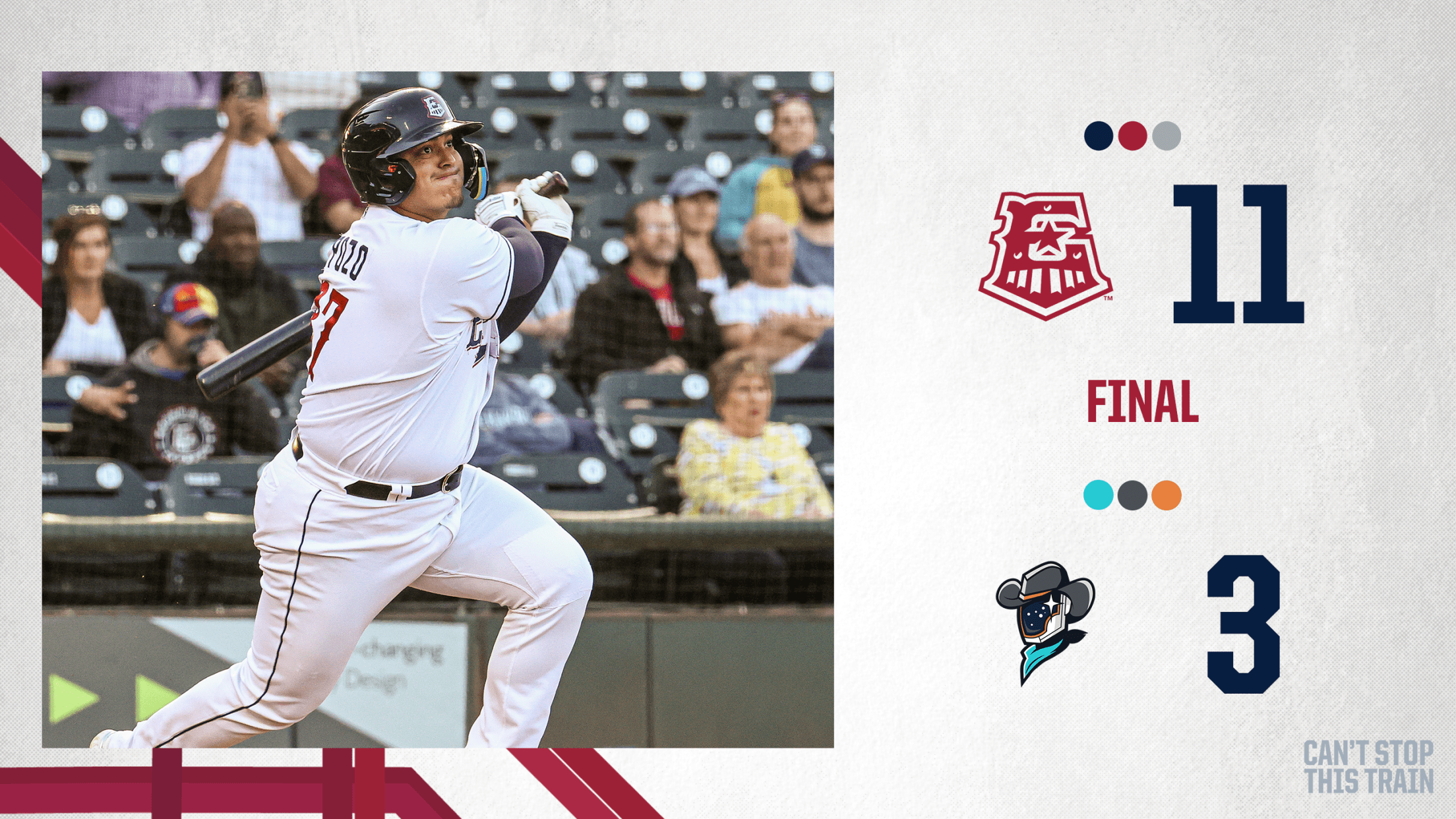 SUGAR LAND, Texas – The Round Rock Express (23-15) extended their winning streak to three games after an 11-3 win over the Sugar Land Space Cowboys (15-23) on Wednesday night at Constellation Field. Round Rock reliever RHP Ryder Ryan (1-2, 2.29) claimed the win after tossing 1.2 innings of scoreless
SUGAR LAND, Texas – The Round Rock Express (23-15) extended their winning streak to three games after an 11-3 win over the Sugar Land Space Cowboys (15-23) on Wednesday night at Constellation Field.
Round Rock reliever RHP Ryder Ryan (1-2, 2.29) claimed the win after tossing 1.2 innings of scoreless baseball. Ryan struck out three, walked two and allowed only one hit. Sugar Land starter LHP Jonathan Bermudez (1-1, 7.28) was tagged with the loss after allowing four earned runs on three hits and two walks after just one inning.
Along the Train Tracks:
The Express offense scored four runs in the first inning. After 3B Josh Smith was hit by a pitch, CF Leody Taveras doubled to score Smith. DH Mitch Garver and LF Willie Calhoun walked to load the bases. SS Davis Wendzel hit a sacrifice fly to extend the lead to 2-0. Round Rock added two more runs on RBI singles from C Yohel Pozo and 1B Sherten Apostel.
Round Rock tacked on another run in the second inning thanks to the speed of RF Bubba Thompson. He led the inning off with a single and then stole second base. After Smith grounded out to advance Thompson to third base, a wild pitch scored the speedster and made it a 5-0 Express advantage.
The E-Train offense found their stride again in the fourth inning. Garver singled with two outs to extend the frame. Back-to-back walks for Calhoun and Wendzel loaded the bases. Pozo lined a single up the middle to score two and an error from CF Lewis Brinson allowed Wendzel to score from first base. The Express led 8-0.
Sugar Land scratched a run across in the home-half of the sixth inning. 1B J.J. Matijevic singled to start the frame. A fielding error from Apostel allowed Brinson to reach base and Sugar Land had runners on first and second. LF Corey Julks grounded out to advance both runners. SS Alex De Goti plated a run on a groundout and trimmed the Round Rock lead to 8-1.
In the eighth inning, Sugar Land closed the gap to 8-3. Following a fielder's choice from Matijevic, Brinson decided to smash his sixth home run of the season.
The Round Rock offense earned back three runs in the ninth inning. 3B Josh Smith walked with the bases loaded and Apostel scored from third base. Taveras singled to score 2B Nash Knight and RF Elier Hernandez. The Express led comfortably at 11-3. RHP Spencer Patton came in to throw a scoreless ninth inning and give Round Rock the victory.
E-Train Excerpts:
The Express have scored 46 runs in the first inning this year. In their last five games, Round Rock has scored a total of 13 runs in the first frame.
RF Bubba Thompson stole his 20th base of the season on Wednesday. He is the seventh player to reach 20 stolen bases in Minor League Baseball and he leads the Pacific Coast League in stolen bags.
C Yohel Pozo added another three-hit game to his resume. Pozo went 3-for-5 on Wednesday with three RBI. It was his eighth multi-hit game of the season and the third time he has tallied three hits in a game.
Round Rock is now 7-1 against Sugar Land this season and the Express have won six consecutive games against the Space Cowboys.
Next up: Round Rock and Sugar Land face off in the series finale at Constellation Field on Thursday night. Express RHP Cole Winn (2-0, 6.03) is slated to take the mound up against Space Cowboys RHP J.P. France (1-3, 4.81). First pitch is scheduled for 6:05 p.m.
Single game tickets as well as full season and mini season membership plans are on sale now. For more information about the Express, visit RRExpress.com or call (512) 255-2255. Subscribe to the E-Train email newsletter and keep up with the Express on Facebook, Instagram and Twitter!