E-Train Bounces Back From Early Deficit, Defeats Chihuahuas 8-3
Round Rock Scores Six Unanswered Runs to Top Early 3-0 El Paso Lead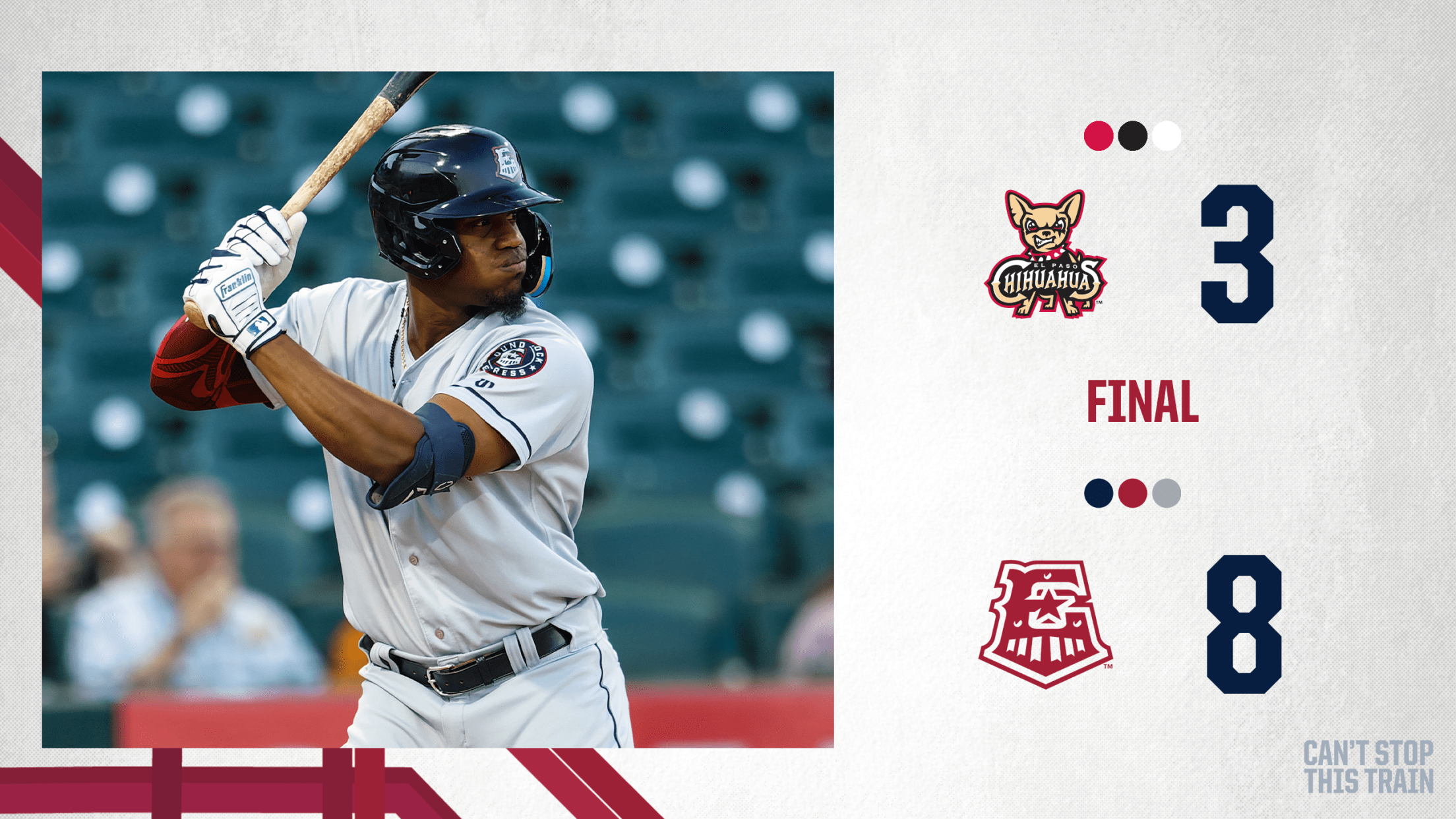 (Andy Nietupski / TTL Sports Media)
ROUND ROCK, Texas – The Round Rock Express (25-15) took home a series-opening win against the El Paso Chihuahuas (21-19) with an 8-3 victory on Friday night at Dell Diamond. The victory extended the E-Train's current winning streak to five games. Round Rock reliever RHP Jason Bahr (3-0, 5.94) earned
ROUND ROCK, Texas – The Round Rock Express (25-15) took home a series-opening win against the El Paso Chihuahuas (21-19) with an 8-3 victory on Friday night at Dell Diamond. The victory extended the E-Train's current winning streak to five games.
Round Rock reliever RHP Jason Bahr (3-0, 5.94) earned the win after 3.0 innings of scoreless baseball. He struck out two and walked only one while allowing one hit. El Paso reliever RHP Evan Miller (1-2, 6.38) was tagged with the loss after allowing two earned runs on three hits. He walked two and struck out one over a 1.1-inning outing.
Along the Train Tracks:
El Paso plated two runs in the first inning when 3B Matthew Batten earned a leadoff walk and SS C.J. Abrams reached first base on a fielding error. DH Nomar Mazara singled to score one run before a ground out for RF Taylor Kohlwey scored Abrams and the Chihuahuas led 2-0.
The lead grew to 3-0 for El Paso in the third as LF Brent Rooker hit his fifth home run of the year to extend the Chihuahuas lead to 3-0.
The Express did their damage in the fourth inning. 3B Ryan Dorow came to the plate with the bases loaded and was hit by a pitch to send home the first Round Rock run. C Yohel Pozo reached on a fielding error, sending 2B Nash Knight home to score as the E-Train trimmed El Paso's lead to 3-2.
With the bases still loaded, DH Zach Reks hit into a fielder's choice that scored CF Bubba Thompson from third base and tied the game at three. SS Davis Wendzel capped off the scoring with an RBI single as the E-Train claimed their first lead at 4-3.
In the fifth, Reks roped a double to start the inning before a walk for Wendzel and 1B Elier Hernandez loaded the bases. 2B Nash Knight singled to score two runners and extend the Round Rock lead to 6-3.
The seventh inning saw RF Steele Walker work a leadoff walk. Hernandez then hit a two-run 451-foot moonshot to score the pair. His fourth home run of the season lifted the Express to an 8-3 advantage that held to be final.
E-Train Excerpts:
The Express have allowed their opponents to score 34 runs during the first inning this season, which is more than any other frame this year.
Round Rock RHP Jason Bahr tied his season high with three innings on the bump. The righty lowered his ERA from 7.71 to 6.65 with the scoreless outing.
2B Nash Knight finished 2-for-4 with a run scored and two RBI. He was also 2-for-2 with a single and a double whenever he had a 3-2 count against him.
All nine Round Rock starters collected a hit while Knight and 1B Elier Hernandez each had two-hit performances. Hernandez hit 2-for-3 with two runs scored and two RBI.
Texas Rangers RHP Albert Abreu saw his second Major League rehab outing on Friday night. The righty tossed one scoreless frame and struck out one of the three batters he faced.
Next up: Round Rock will return to Dell Diamond on Saturday night for game two of the series with El Paso. Express LHP Jake Latz (3-4, 4.96) is slated to take the mound up against Chihuahuas RHP Jesse Scholtens (3-0, 2.65). First pitch is scheduled for 6:05 p.m.
Single game tickets as well as full season and mini season membership plans are on sale now. For more information about the Express, visit RRExpress.com or call (512) 255-2255. Subscribe to the E-Train email newsletter and keep up with the Express on Facebook, Instagram and Twitter!