San Antonio Splits Wednesday Night Doubleheader in Frisco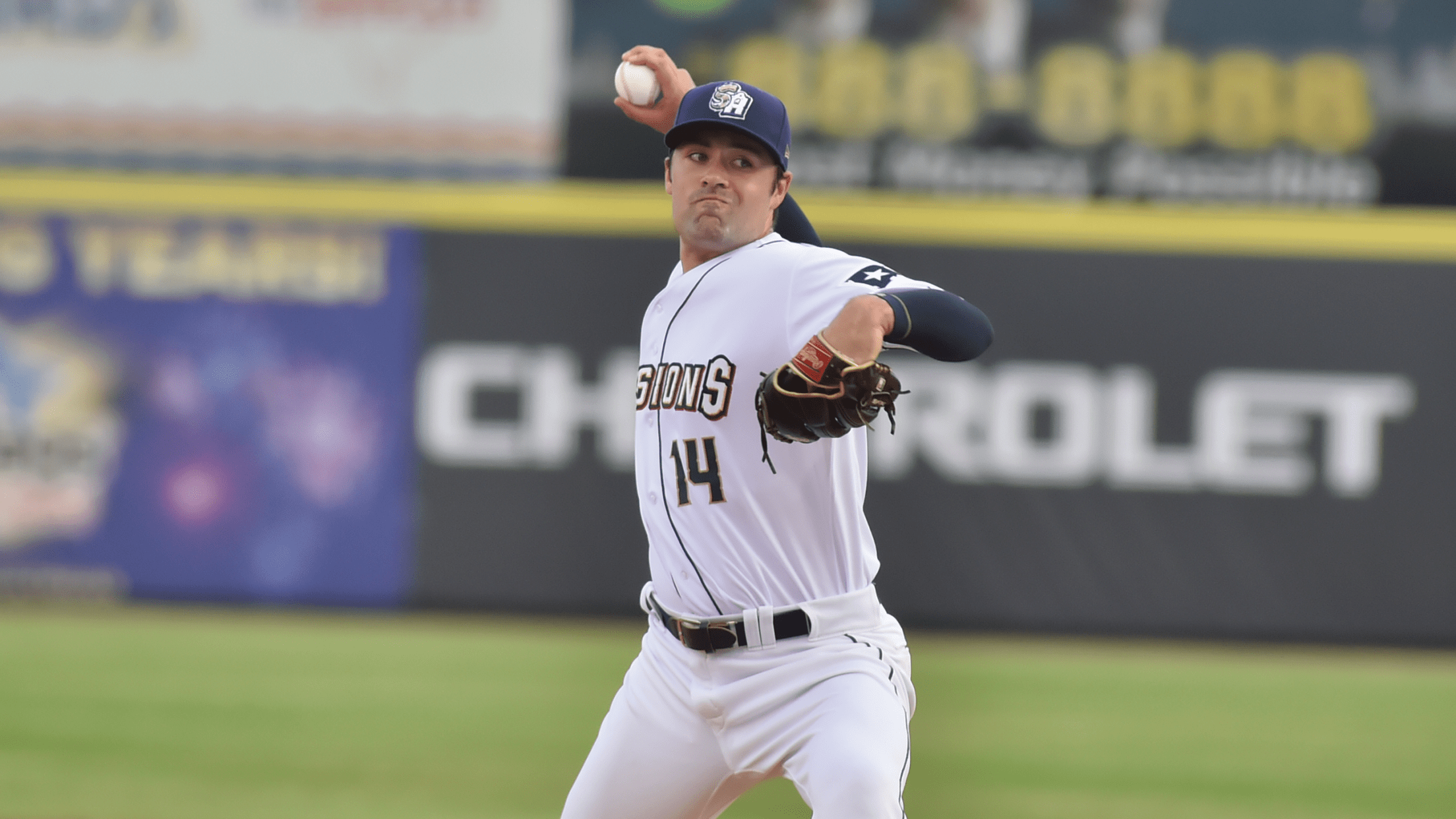 SAN ANTONIO – The San Antonio Missions and Frisco RoughRiders participated in a doubleheader Wednesday night from Riders Field. The Missions dominated the first game, scoring eight runs and slugging back-to-back-to-back homers. In game two, Reggie Lawson fell victim to the long ball as he allowed six runs and surrendered
SAN ANTONIO – The San Antonio Missions and Frisco RoughRiders participated in a doubleheader Wednesday night from Riders Field. The Missions dominated the first game, scoring eight runs and slugging back-to-back-to-back homers. In game two, Reggie Lawson fell victim to the long ball as he allowed six runs and surrendered two home runs. The Missions win game one 8-1, but lose game two 6-1.
Following Tuesday night's rainout, the Missions and RoughRiders participated in a Wednesday night doubleheader. In game one, Avery Weems got the start for Frisco. Matt Waldron received the game one start for the Missions.
The Missions offense wasted little time in getting on the scoreboard. Esteury Ruiz, whose 38-game on-base streak came to an end on Sunday, doubled to start the game and then stole third base. He scored easily as Connor Hollis nearly left the yard. Hollis hit a fly ball off the top of the center field wall, and it was ruled that it stayed in the yard. Hollis was safe with an RBI triple. Domingo Leyba drove in Hollis with a groundout. San Antonio took an early 2-0 lead.
San Antonio showed off their power in the top of the third inning to improve their lead. Ruiz, Hollis, and Yorman Rodriguez hit back-to-back-to-back home runs of Weems. This is the first time the Missions have hit three consecutive home runs since 2014 (Austin Hedges, Cody Overbeck, Diego Goris). San Antonio improved their lead to 5-0.
Waldron, who missed his last scheduled start after dealing with an illness, did not allow a hit through the first three innings. The RoughRiders spoiled the no-hitter attempt and the shutout attempt in the bottom of the fourth inning. With two outs, Blaine Crim hit a single to right field. Ezequiel Duran reached base on a fielding error from Connor Kaiser. Crim advanced to third base on the play. As Duran stole second base, a throwing error from Chandler Seagle allowed Crim to score from third. The Missions held a 5-1 advantage.
The Missions added a run in the top of the sixth inning. With Jose Leclerc on the mound, Jorge Ona hit a one-out double. After a Korry Howell strikeout, Seagle drove in Ona with a single to center field. San Antonio improved their lead to 8-1 after scoring twice in the top of the seventh inning. Hollis and Rodriguez reached base on back-to-back singles. A wild pitch from Grant Wolfram moved them both into scoring positions. Leyba singled into left field to score both runners.
Michel Baez records his third win since joining the Missions on a rehab assignment. The tall right-hander tossed two scoreless innings while allowing two hits. Dinelson Lamet struck out the side in the bottom of the seventh inning.
For game two, it was Reggie Lawson for the Missions against Cody Bradford for the Frisco RoughRiders. Unlike in game one, it was the RoughRiders offense that took an early lead. With two outs in the bottom of the first inning, Blaine Crim took Lawson deep. His ninth long ball of the season made it a 1-0 Frisco lead.
The RoughRiders added two more runs in the bottom of the second inning. David Garcia hit a one-out single. Garcia quickly came around to score after Josh Stowers hit a double to the left field wall. After a wild pitch allowed Stowers to advance to third base, Jonathan Ornelas singled to drive him in. Frisco improved to a 3-0 lead.
Frisco added three more runs in the bottom of the third inning to improve their lead to 6-0. With one out in the inning, Ezequiel Duran lifted a solo home run over the right field wall. After Lawson walked Dustin Harris, Garcia hit a two-run home run. For Duran, it was his seventh homer of the season and the fourth for Garcia.
San Antonio scored their first run of game two in the top of the fourth inning. Rodriguez and Leyba hit back-to-back singles. Juan Fernandez hit a single to drive in Rodriguez. The Missions trailed 6-1.
Post-Game Notes
With the doubleheader split, San Antonio is now 21-20 on the season
First time hitting back-to-back-to-back home runs since 2014
Korry Howell (#14 Padres prospect): 1-7, 4 K
Kevin Kopps (#15 Padres prospect): Struck out only batter faced in Game Two
Reggie Lawson (#18 Padres prospect): L, 2.2 IP, 6 H, 6 ER, 3 BB, 3 K, 2 HR allowed
Tirso Ornelas (#24 Padres prospect): 1-3
Matt Waldron (#28 Padres prospect): 4.0 IP, H, R, K (Game One)
Esteury Ruiz (#30 Padres prospect): 3-7, HR, 2B, 2 R, RBI, SB
Michel Baez (Rehab Assignment): W (3-0), 2.0 IP, 2 H, BB, K (32 Pitches, 18 Strikes)
The San Antonio Missions will continue their six-game series with the Frisco RoughRiders on Thursday, May 26th. Right-hander Thomas Eshelman (2-2, 5.13) is scheduled to start for the Missions. Right-hander Jack Leiter (1-4, 6.38) is scheduled to start for the RoughRiders. First pitch is expected at 6:35 p.m.
The San Antonio Missions are the Double-A affiliate for the San Diego Padres. This is the 120th professional season for the San Antonio Missions. Single game tickets are available now and can be purchased online or at the 1st Base Box Office. Season seat memberships are available now. For more information call 210-675-PARK (7275) or visit samissions.com.