Gearing Up: Single-Game Tickets on sale March 4
Beat-the-Clock special returns during Preseason Preview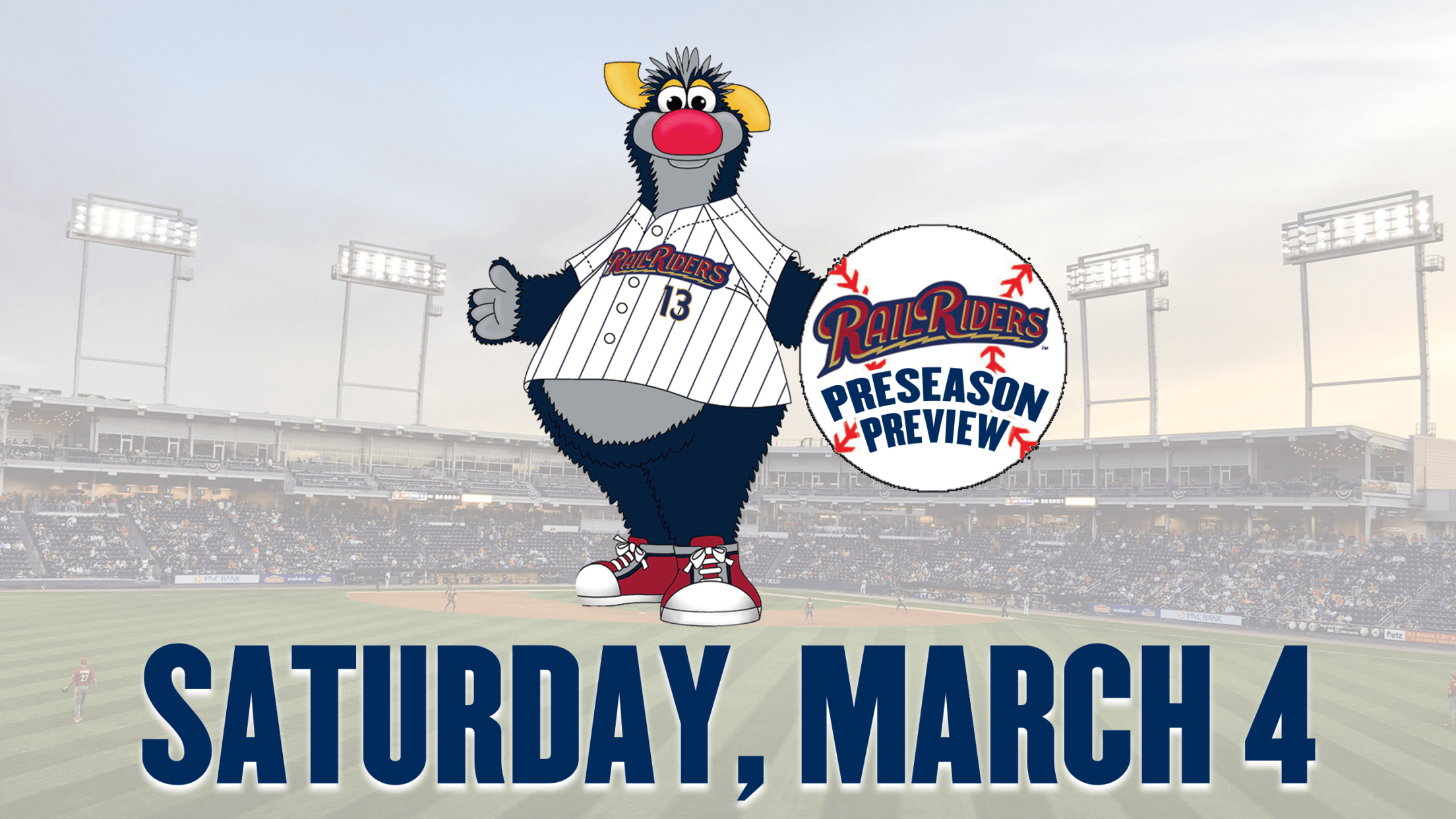 MOOSIC, PA (February 16, 2023) – The Scranton/Wilkes-Barre RailRiders, Triple-A affiliate of the New York Yankees, will put single-game tickets for the 2023 season on sale Saturday, March 4, beginning at 11 A.M. The RailRiders will commemorate this first chance to buy individual game tickets with a Preseason Preview at
MOOSIC, PA (February 16, 2023) – The Scranton/Wilkes-Barre RailRiders, Triple-A affiliate of the New York Yankees, will put single-game tickets for the 2023 season on sale Saturday, March 4, beginning at 11 A.M. The RailRiders will commemorate this first chance to buy individual game tickets with a Preseason Preview at PNC Field from 11 A.M. until 2 P.M.
Individual tickets for any game will be available online only beginning at 11 A.M. at swbrailriders.com.
The RailRiders start their season at home on March 31 against the Buffalo Bisons and host 75 games at PNC Field this season, including games on Mother's Day, Memorial Day weekend and July 4!
Make plans to prepare for 2023 with chances to win big discounts and prizes during the Preseason Preview!
Beat-the-Clock
Starting at 11 A.M. on March 4, fans can once again Beat-the-Clock and save big on Opening Day tickets at the PNC Field Box Office.
Starting at 11, get Field Reserved tickets for Opening Day for $1.00 at the box office until 11:59:59 A.M.
From noon until 1 P.M., Opening Day Field Reserved tickets are just $2.00. From 1-2, those same tickets will be $3.00 each! This ticket offer is only valid in-person at the box office and the ticket discount is limited to eight tickets per person. Ticketing at PNC Field is all digital.
Treasure Hunt
Navigate PNC Field searching for clues to find treasure! This can't-miss scavenger hunt will take you around the park and could lead to prizes, memorabilia and special offers if you find your way.
BP & Swing for Savings!
Take your Spring Training cuts with a round of batting practice. All ages are welcome to take some practice hacks in the RailRiders home batting cages.
This year, fans can Swing for Savings with a great offer on a new full season ticket membership. Take three swings and your highest velocity will be your discount on a full season membership. Hit a home run and you'll get $150 off a full season ticket plan plus a free 2023 membership for the Toyota Power Zone (the new game day HitTrax club at PNC Field).
A $50 ticket membership deposit is required to Swing for Savings.
*CHAMP'S Kids Club Membership Pick-up *
CHAMP's Kids Club members can pick up their official membership cards and gifts in the Geisinger Champions Club between 11-2. If you aren't a member of CHAMP'S Kids Club, presented by Casey Dental, click here or sign your kids up during this preseason preview!
Trivia Challenge
Stop by the Geisinger Champions Club at 11:30 or 12:30 and test your knowledge will the RailRiders Trivia Challenge. Each game will last about 15 minutes, making sure you have time to enjoy everything going on at the ballpark. You'll have the chance to win great prizes, like an Aaron Judge RSVLTS shirt, gift cards and autographed memorabilia.
Each game will consist of three rounds of trivial questions: SWB Baseball, Classic MLB and Name that Tune!
VIP Tours
Get a personal tour and see what we have to offer at PNC Field!
The RailRiders Team Store will be open from 11-2. Plus… Some new 2023 ballpark food options and beverages will be available for purchase.
Make plans to join us on Saturday, March 4, for the RailRiders Preseason Preview at PNC Field!