Had a Blast! Looking back at 2022
The 2022 season was full of lows to highs with some incredible talent and moments for the RailRiders.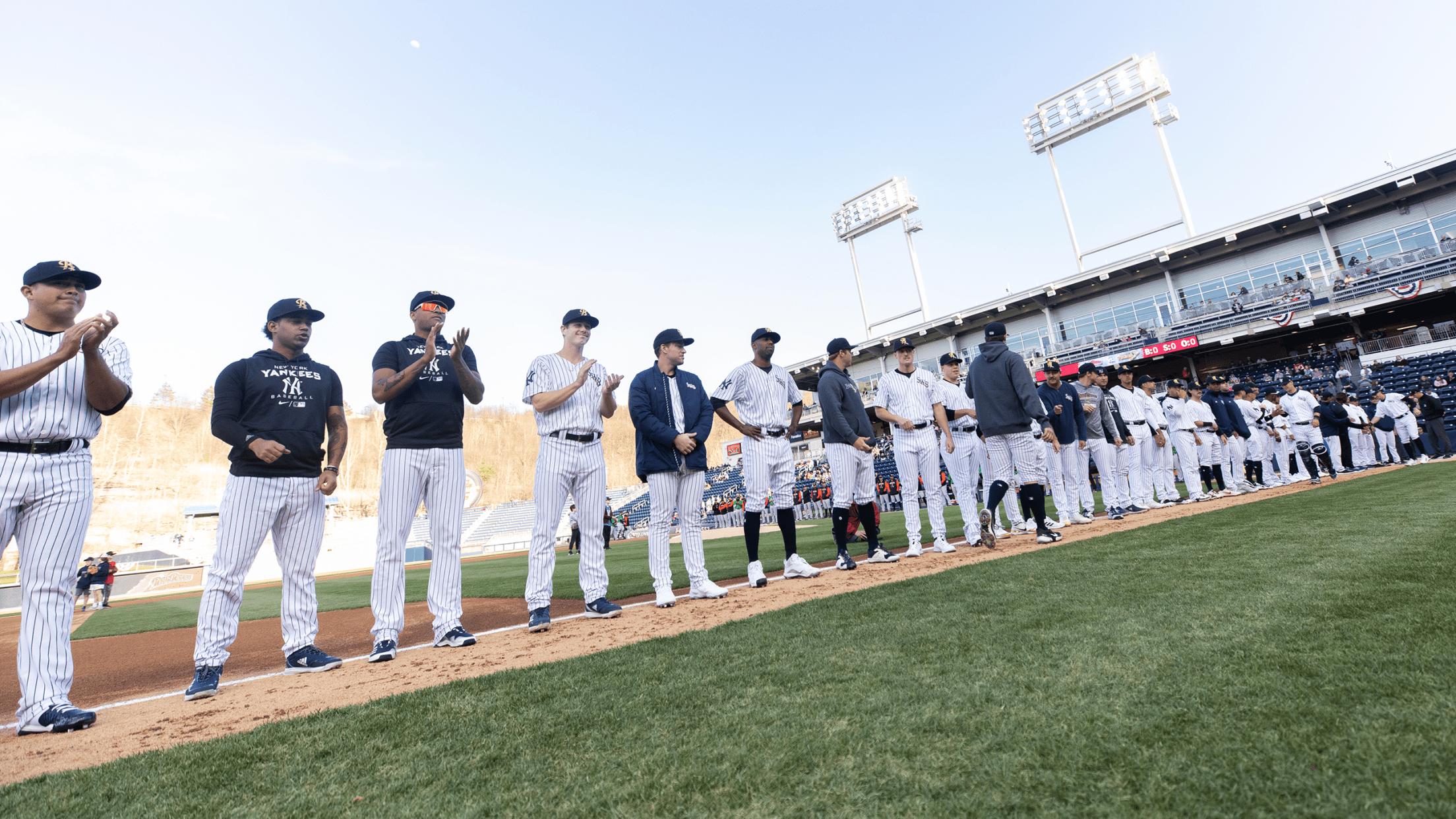 (Todd Hiller)
The Scranton/Wilkes-Barre RailRiders entered this season with customary high expectations after a 75-52 finish in 2021. Manager Doug Davis's Opening Day roster featured several promising prospects in Oswaldo Cabrera, Luis Gil and Oswald Peraza. There were also numerous players with previous Big League experience, including former All-Stars Ender Inciarte and
The Scranton/Wilkes-Barre RailRiders entered this season with customary high expectations after a 75-52 finish in 2021. Manager Doug Davis's Opening Day roster featured several promising prospects in Oswaldo Cabrera, Luis Gil and Oswald Peraza. There were also numerous players with previous Big League experience, including former All-Stars Ender Inciarte and Shelby Miller, as well as Miguel Andújar, Estevan Florial and Greg Bird.
The season began with an encouraging five-game series against the Syracuse Mets. The RailRiders won four times in their opening set and outscored Syracuse 30-14. Scranton/Wilkes-Barre then headed home to face the Norfolk Tides for the first series of the season at PNC Field with positive vibes abound. In a year filled with so many peaks and valleys and twists and turns, we would soon hit our first low point.
Norfolk dominated SWB, taking five of six and limiting the RailRiders' offense to one run or less in four games. That trouble with the bats would continue for much of the first two months. Scranton/Wilkes-Barre ended the month of April with a 9-13 record, going 5-12 after the opening-series victory over the Mets. Virtually nothing went right as the team posted a 4.62 team ERA and collectively hit .227 with just 22 home runs. In the last series of the month, Lehigh Valley slugger Darick Hall hit .360 with five home runs and 10 RBI as the IronPigs took four of six from the RailRiders at PNC Field.
Starting pitchers Manny Bañuelos, Matt Krook and Hayden Wesneski stood out positively for their contributions in April. The three arms combined to allow 12 earned runs over 54.2 frames (1.98 ERA) in the season's first month of action. Bañuelos was one of the team's best early-season storylines, as the 31-year-old left-hander attempted to make his New York Yankees debut 14 years after originally signing with the club. He completed his goal when he was promoted on May 26 and pitched in four games with the Yankees before being acquired by the Pittsburgh Pirates.
"My dream is pitching in New York, pitching for the Yankees," Bañuelos explained during a pregame interview on April 15. "It's one of my dreams because this is where I started…I signed here when I was 16, almost 17 years old. This organization has treated me great…and then for seven years I pitched for different teams and organizations in different countries and now I'm back. I take it like this is my second opportunity and I want to take advantage. I want to do my best."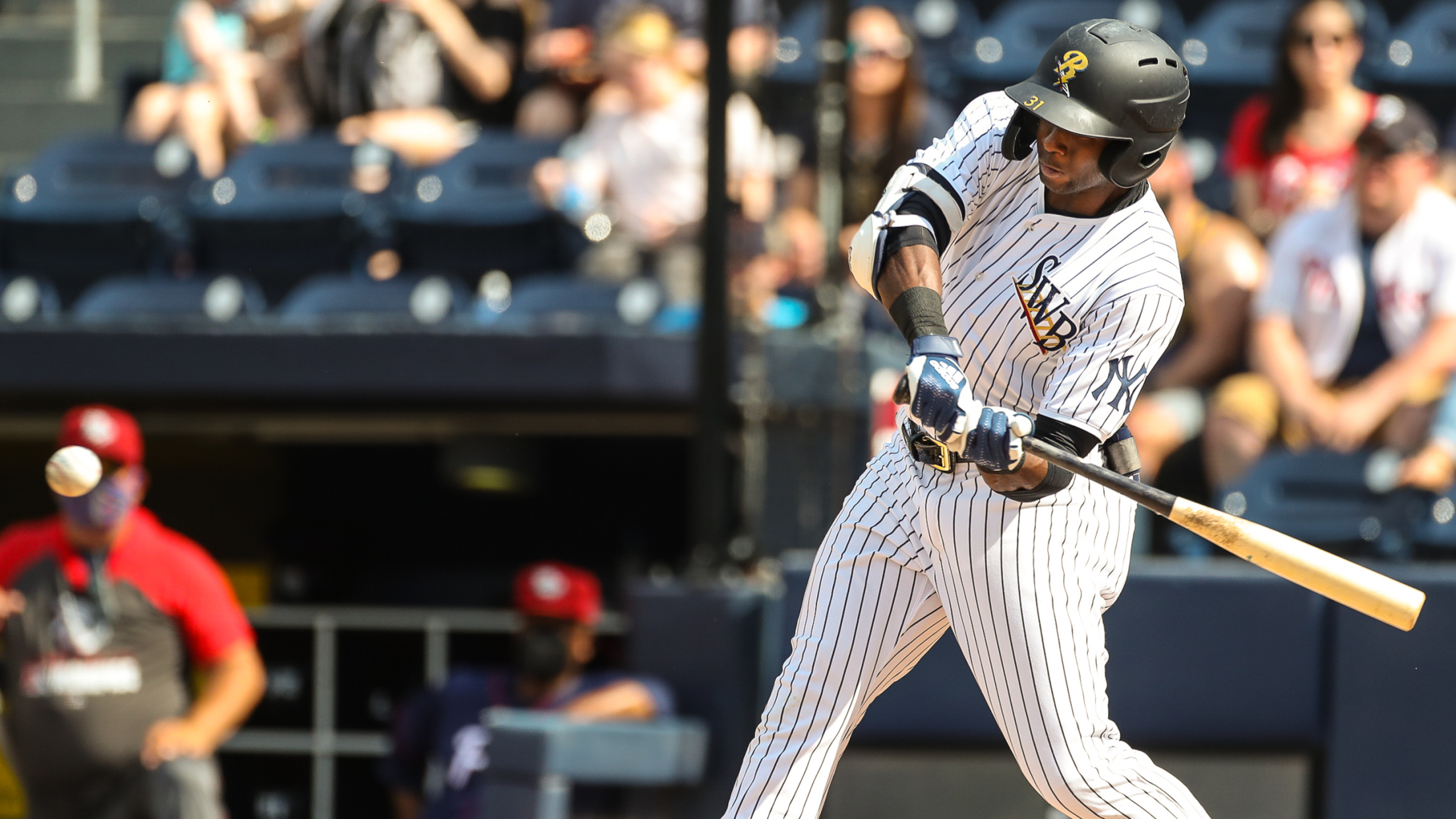 As the calendar flipped to May, the RailRiders were still mired in the same offensive slump. In total, Scranton/Wilkes-Barre's production at the plate decreased from the first month of the season, as the team hit just .207 with 17 home runs in 26 May contests. Florial served as the team leader in batting average (.277) and stolen bases (13) through two months, and veteran Derek Dietrich went 4-for-5 with a walk-off double against Jacksonville on May 26. However, there was little else to speak of. Cabrera and Peraza couldn't find any consistency at the dish. The two top-ten organizational prospects were batting a mere .200 combined (47-for-235) with six home runs and 21 RBI at that point in the year. Cabrera also suffered a shoulder injury in early May that cost him nearly two months of game action.
On the other hand, the pitching staff posted a solid monthly ERA of 3.90. Wesneski continued his excellence on the mound, while JP Sears joined the staff after a season-opening stint with New York. Between April 22 and May 20, Sears appeared in six games with the RailRiders and dazzled with a 0.83 ERA and 30 strikeouts in 21.2 innings. However, it wasn't enough to overcome the aforementioned offensive woes as SWB went 9-17 in May and owned an 18-30 overall record through two months. The team was 12.5 games out of first place in the International League East.
The RailRiders bottomed out in early June. After a doubleheader sweep at the hands of Syracuse on June 8, the club fell to a season-worst 17 games under .500 at 19-36. Sitting in last place in the division and 15.5 games out of first, the season seemed all but lost.
"It's been a struggle all year long, with runners on base and runners in scoring position, to come up with big hits," Davis said during a postgame press conference on June 4. "We have to find ways to – when we get pitches – to do some damage with them. When you're struggling as a team, it's hard to dig yourself out of that, but we're going to continue to keep working at it and hope that we catch a game or two where guys start to get hot and then everybody kind of joins in and gets a little momentum going."
Then, something changed. Scranton/Wilkes-Barre rattled off four wins in its next five games against Syracuse to claim a series victory for the first time since their season-opening set with the Mets. They were still just 23-37 on the season, but it was a start.
When the RailRiders returned home for a mid-June series with first-place Rochester, it felt like a brand-new team. Scranton/Wilkes-Barre took four of six that week and had a winning week at home for the first time in the 2022 season. The offense was finally starting to pick up with Andújar, Florial and Peraza leading the way. Those three bats atop the lineup each hit north of .300 in June and combined to contribute 10 home runs, 37 RBI and 18 stolen bases. On the pitching front, Jhony Brito and Ken Waldichuk joined the fold and added two more weapons to an already loaded starting rotation. Brito and Waldichuk owned a combined 2.56 ERA over their first 63.1 Triple-A innings through June.
Altogether, the RailRiders notched their first winning month of the season with a 15-12 record in June on the backs of an impressive 3.48 team ERA, a .265 batting average and 29 home runs. The turnaround had started and there was still much more to come.
How do you follow up 5 perfect frames?

By carrying a perfecto into the 8th.#Yankees prospect Matt Krook retired 39 straight batters across three outings for the @swbrailriders! pic.twitter.com/lP6u4aknMz

— Minor League Baseball (@MiLB) July 2, 2022
The magic carried over into the first night of July. Amid a six-game home series with division-leading Buffalo, Matt Krook delivered one of the signature moments of the 2022 season. The RailRiders had already taken the first three games in the set to improve to 33-42 on the season and pull within 8.5 games of first place for the first time since mid-May. Krook, who entered as the team leader with 80 strikeouts, pitched the game of his life. The 27-year-old lefty mowed down Buffalo's lineup and took a perfect game into the eighth inning with 10 strikeouts. He was on the precipice of history when an infield single broke up his bid at perfection with four outs remaining. The hit snapped a streak of 12.2 perfect frames dating back to his previous outing. This came after a four-game stretch in late May through mid-June where Krook struggled to an 8.20 ERA over 18.2 frames on the mound.
"It means a lot," Krook said after the performance. "I had a couple of frustrating weeks there and you start to question yourself and the work you're putting in. I haven't really changed much of the work I'm doing, it's just starting to show up on the field a little bit more. That's great to see and you can start building that confidence slowly and it kind of manifested itself into today and the last couple of outings."
Scranton/Wilkes-Barre won that game as well as the next two against Buffalo to complete the first six-game series sweep in franchise history.
"That's hard to do," Davis explained after the six-game sweep of Buffalo on July 3. "I think, obviously, we're playing well. We're pitching well, we're playing well defensively and we're scoring runs, so that's a good combination right now. When you start stringing things together and confidence builds, the guys are going out there right now thinking they're going to win games. It's a good feeling and we're going to try to maintain it."
The RailRiders won eight of their next 12 games to head into the All-Star break with a 44-46 record. The team was on a 25-10 run dating back to that infamous day in Syracuse in early June and they had trimmed 10.5 games off their divisional deficit to get within five of the IL East lead. Winning the division, and earning the trip to Las Vegas that comes with it, seemed very possible for the first time since before the season began.
"We are dead set on getting to Vegas," Catcher Rob Brantly said during a postgame press conference on July 15. "This is the road to Vegas. We want to win that championship here and it's something that we shout out every day before we take that field. There is a laser focus on going out there and winning games. We're going to have our foot on the gas pedal, we're going to have it fifth, sixth gear I think for the rest of the season…we're just going to be hungry out there and play really good baseball."
In the first series after the break, SWB lost two out of three against Lehigh Valley. However, this resilient group had yet another answer, sweeping six games on the road against Rochester. This includes a five-run comeback on July 29. The RailRiders finished July with a sparkling 18-6 record and mashed 40 home runs with a team batting average of .269. The pitching staff held up their end as well with a 3.96 ERA. Overall, the team had a winning record at 51-48, but as you might expect, there was another emotional low right around the corner.
August brought with it immense change to the RailRiders' roster. The Major League trade deadline was August 2, and with the Yankees atop the American League East standings, they utilized their talented Minor League system to acquire MLB-ready talent and bolster an already strong roster. The RailRiders were not immune to these moves as the team lost three-fifths of its stellar starting rotation. Sears, Waldichuk and Wesneski were dealt in two separate trades that brought back Frankie Montas and Lou Trevino from the Oakland Athletics, and Scott Effross from the Chicago Cubs. Scranton/Wilkes-Barre had lost three pitchers that ranked top-ten on the team in innings pitched and had a combined 3.09 ERA. When the RailRiders took the field for the first time without those stalwarts, you could tell they were deflated, as they were shutout 4-0 by Buffalo.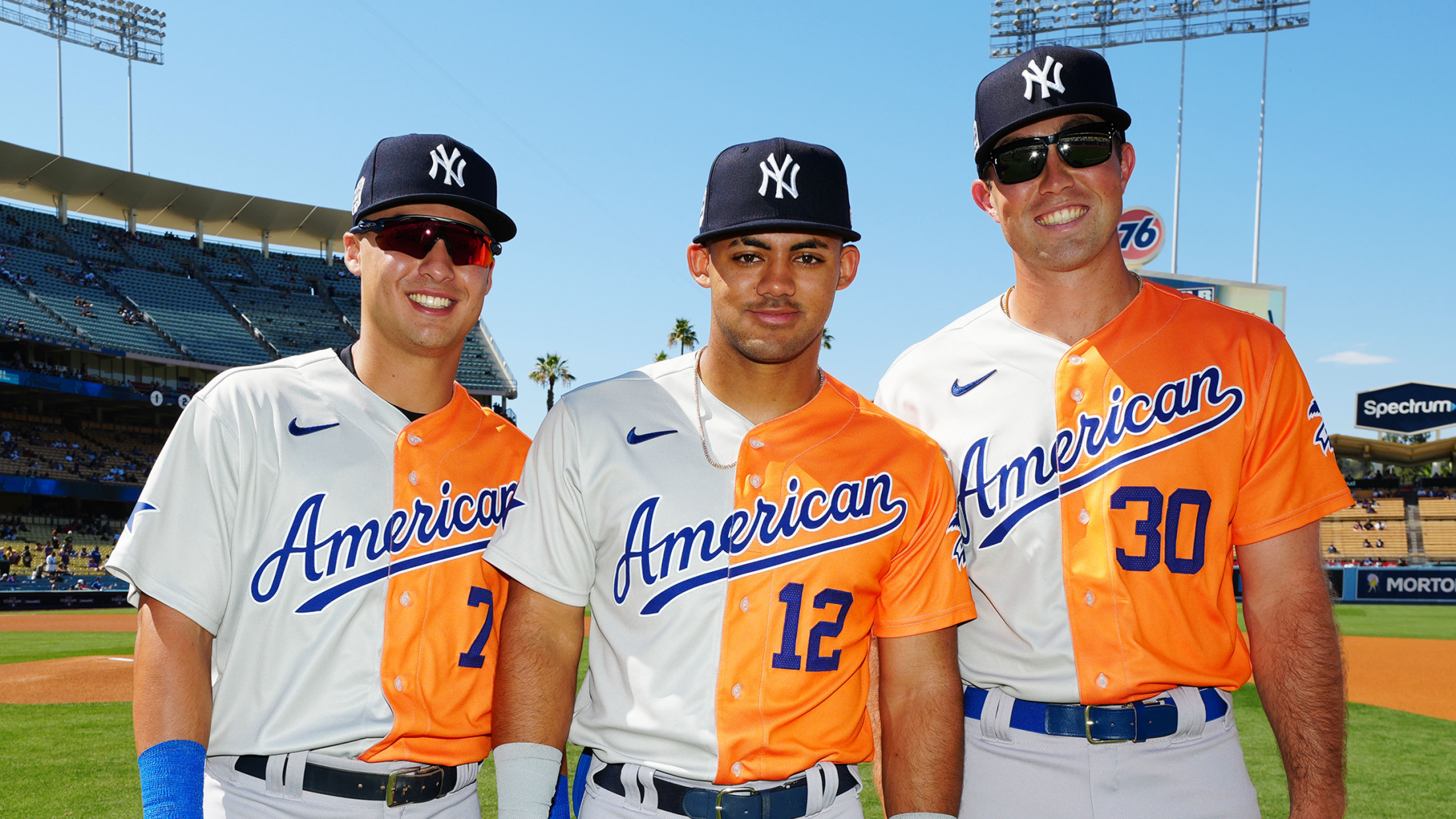 "The natural reaction…is kind of that bittersweet feeling," Pitching Coach Graham Johnson explained during an August 2 interview. "You're extremely excited for the young man (Wesneski), because obviously, he put himself in the position to be included in a trade like that—same thing for the other two guys (Sears and Waldichuk). At the same time, they've made a positive impact on me, I think I've made a positive impact on them and we've seen each other every day for the last handful of months. And then just like that—boom—they're no longer with you and they're on a flight headed somewhere else to another organization."
It was fair to wonder if this was the beginning of the end for the RailRiders' remarkable rally. But this scrappy group had more fight in the tank. While the pitching staff was gutted, the offense stayed largely intact and carried Scranton/Wilkes-Barre over the next few weeks. At no point was this more evident than the night of August 16. Playing the first of 12 games during a rare Midwest road trip, SWB fell behind St. Paul 9-0 after two innings. Then, the unthinkable happened. The RailRiders scored 10 unanswered runs, with Peraza supplying the go-ahead two-run home run in the eighth. It was the largest comeback victory in franchise history.
Cabrera and Florial were called up by New York following the historic victory and it was once again a question of who would step up and fill the void. Cabrera batted .330 with seven home runs over a 25-game stretch following his return from injury. Ronald Guzmán was one of several players who answered the call. The 27-year-old first baseman had been with the team all year, and after some early-season struggles, became one of the team's top offensive contributors. During July and August, Guzmán owned a .347 batting average with eight home runs and 21 RBI. In the absence of consistent starting pitching, more responsibility fell on the relievers as well. Greg Weissert and Jimmy Cordero dominated from the back-end of the bullpen, giving up zero earned runs over a combined 13 innings in August. The RailRiders closed out the month with a 14-10 record aided by a season-best .272 team average and 35 home runs. Overall, SWB was 65-58 and just 3.5 games out of first.
The season's final month began under seemingly normal circumstances. The RailRiders were set to face off against the Mets for a double-header after a series-opening rainout the night before. Peraza hit his team-leading 19th home run in the first game. Aside from being his 100th hit of the season, it was a rather ordinary moment. However, it would end up being his final at-bat with the club in 2022. Peraza was pulled from the game in the fifth inning and was grinning from ear-to-ear in the home dugout. His teammates mobbed him with hugs and handshakes. Peraza had gotten the call and would be joining the Yankees.
"It was incredible," Infield Coach Lino Díaz explained of the moment Peraza got called up. "I was very, very happy and very proud of him. Very happy for him because he worked hard for it…I think he's all in, I think he's got tremendous ability and tremendous potential, so hopefully, he can capitalize on all of that."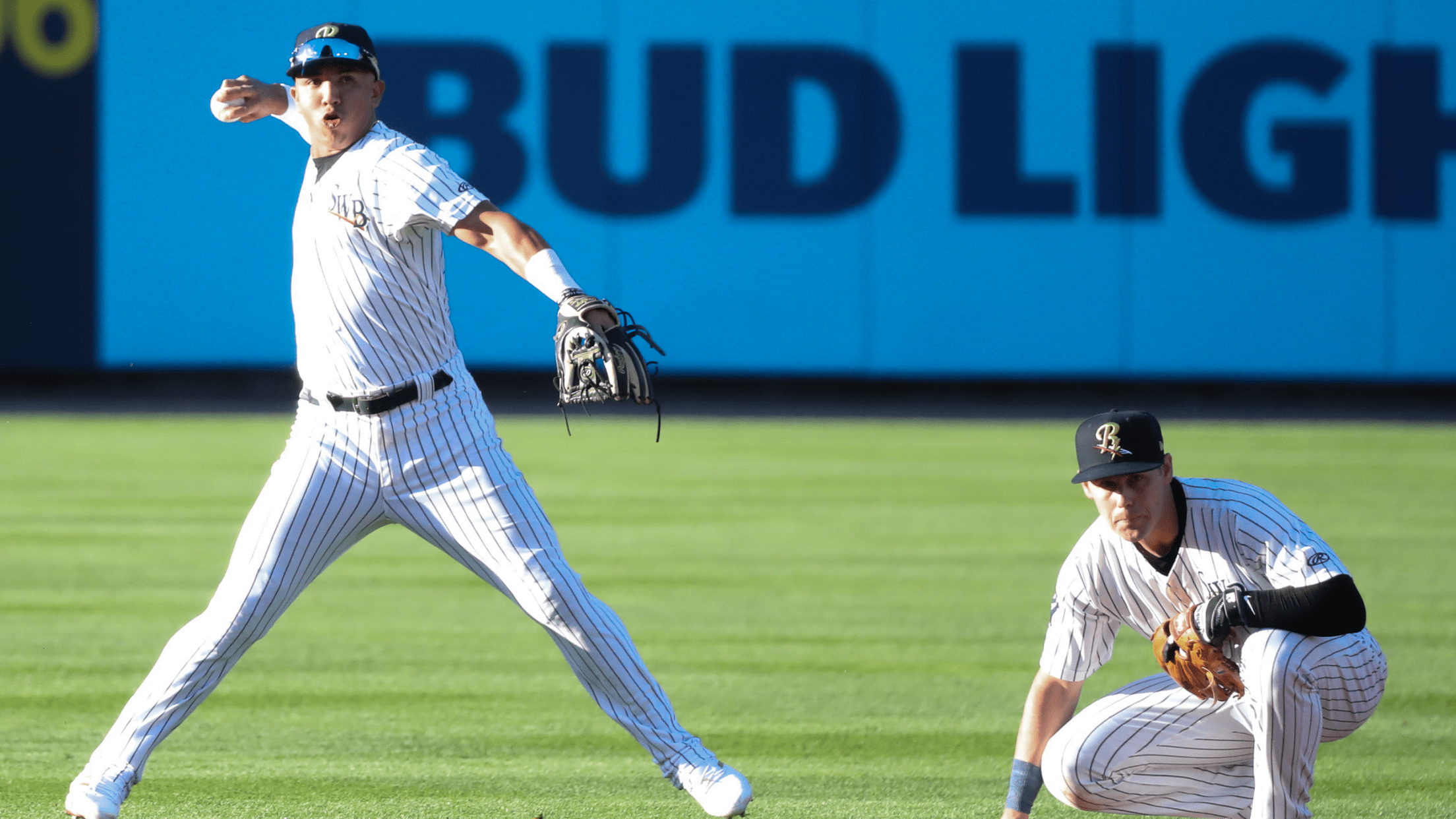 Another catalyst of the 2022 RailRiders had received his well-earned promotion. From June 10 through Peraza's final day with the team on September 1, the RailRiders had a 46-23 record, moving up to fourth in their ten-team division in the process. During that stretch, Scranton/Wilkes-Barre's shortstop appeared in 54 games and launched 14 home runs, while batting .311 with a .932 OPS. Peraza also made countless highlight-worthy plays with his glove and stole 33 bases. Altogether, the promising prospect posted a team-high 19 home runs and 50 RBI in 99 games. With one top shortstop prospect getting the call to the Big Leagues, another would soon be joining Scranton/Wilkes-Barre from Double-A Somerset.
Yankees' top prospect Anthony Volpe was promoted to Triple-A that same day to take Peraza's place. The 21-year-old brought with him incredible pedigree as a top-ten ranked prospect in all of baseball according to several outlets. He starred for Somerset with 18 home runs and 44 stolen bases in 2022. The young infielder made an instant impact in his first two weeks with the RailRiders as well. Through his first eight games at the Triple-A level, Volpe was batting .314 with two home runs and three stolen bases.
"It's kind of been a whirlwind," Volpe explained on September 7. "Just getting called up and kind of leaving the group of guys I was playing with the whole season and then getting acclimated (here) so late in the season with pretty much a new clubhouse, new living situation, new everything. I think the best part has just been going out there and playing and getting to compete with this new set of guys."
Volpe played a key role in Scranton/Wilkes-Barre's pivotal road series with first-place Durham earlier this month. He had two multi-hit games as the RailRiders took four of six in the set to pull within a game and a half of first-place. It was the closest SWB had been to the division lead since April 12. Following the Durham series, Scranton/Wilkes-Barre returned to Moosic for their final full week at home in 2022.
After a 4-1 win over Worcester in game two of the series on September 14, the RailRiders sat atop the International League East standings. They had finally done it. From 15.5 games back just over three months earlier, the gritty, resilient RailRiders made it all the way back to the top for the first time since April 9.
"It's been amazing honestly," reliever Michael Gomez said pregame on September 15. "I think it's just a consistent focus a lot of the guys have had. We've had a lot of guys move up, guys come down, so there's been a lot of people coming in and out, but I think everyone just had that consistent focus of playing to win and just making sure we're staying focused the whole way and that's the biggest thing."
Durham reclaimed the lead spot in the division a few nights later, but SWB has continued fighting in the season's stretch run. The RailRiders took four-out-of-six from Lehigh Valley on the road and entered the final three days of the regular season 1.5 games out of first.
Ultimately, the Bulls clinched the division crown on September 27, but that will not diminish the efforts of Scranton/Wilkes-Barre over the course of the 2022 season; a year that sent the team from the bottom to the top with one of the most incredible runs in franchise history.