Another 6-run 8th Sparks South Bend Blowout Victory
Kevin Alcántara returns and picks up 3 hits as Cubs trounce TinCaps 11-4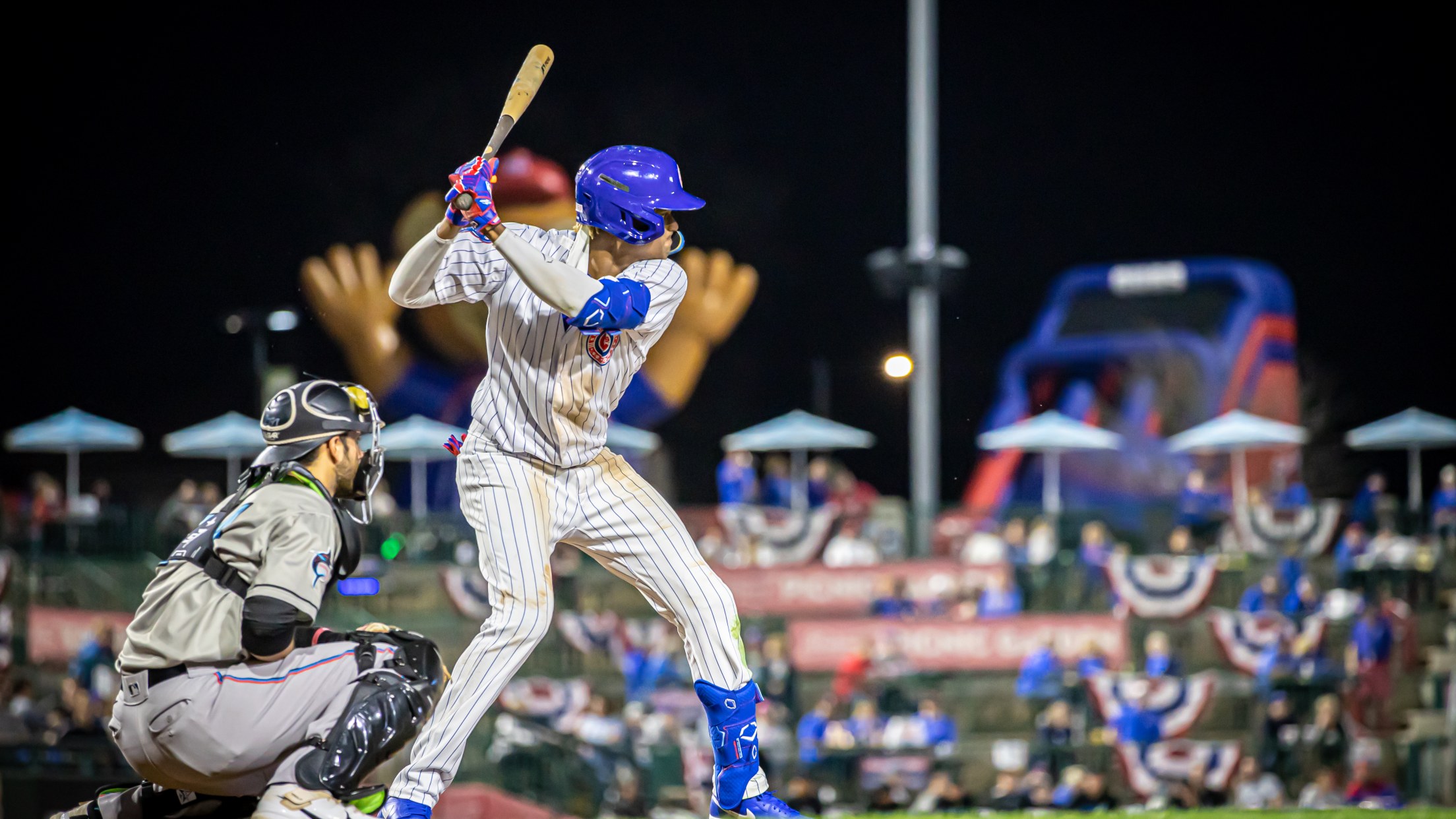 FORT WAYNE, IN - Entering the night the Cubs had gone just 2-7 in their last nine games, scoring 25 runs, 11 of which came in one game on Tuesday. Well they broke out for 11 runs again in a shellacking of their in-state rival Fort Wayne. Kevin Alcántara appeared
FORT WAYNE, IN - Entering the night the Cubs had gone just 2-7 in their last nine games, scoring 25 runs, 11 of which came in one game on Tuesday. Well they broke out for 11 runs again in a shellacking of their in-state rival Fort Wayne.
Kevin Alcántara appeared for the first time since exiting Tuesday's game with an apparent knee injury and picked up his third three-hit game of the season, also picking up an RBI. The top four in the order all busted out. James Triantos hit third and picked up two hits and two RBIs for the second game in a row, Luis Verdugo batted ahead of him and notched two singles, Ezequiel Pagan tallied two hits and an RBI in the leadoff spot, and Alcántara was in the clean-up spot behind that trio.
Fort Wayne had put up a four-run fourth inning against Cubs starter Richard Gallardo to take a 4-2 lead. South Bend would end the game on a 9-0 run.
Just a half inning later the Cubs would tie it up. With two outs and no one aboard Verdugo smacked a single and Triantos coaxed a walk from Edwuin Bencomo. Alcántara singled in a run to bring the Cubs within one and then for the second inning in a row Triantos scored on a wild pitch.
Still tied 4-4 in the seventh, the top of the order would do damage again. This time Pagan began things with a single and moved to third as Verdugo scorched a single past the diving Marcos Castañon at third base. Triantos waa down in the count but brought home the go-ahead run with a chopper to second base. Alcántara hit next and ripped a single to left but Justin Farmer threw out Verdugo at home to end the inning. The Cubs led 5-4 but momentum felt up for grabs.
Then came the eighth, oh another beautiful eighth.
Four days after scoring six runs in the eighth inning to bury Fort Wayne on Tuesday, South Bend repeated that feat again Saturday night in front of nearly 6,500 fans.
Kevin Made, Fabian Pertuz, and Christian Franklin all reached to load the bases with nobody out. Adam Smith had started the inning on the hill and remained in. He walked Casey Opitz to bring in a run and then had Liam Spence in an 0-and-2 hole before the Cubs first baseman hit a sharp single back up the middle to plate a pair. Pagan followed with a bloop single to left to score Opitz and make it 9-4, finally chasing Smith. Nick Thwaits came in and struck out Verdugo but his high pitch got behind the catcher Brandon Valenzuela and scored Spence. That marked the third run the Cubs scored on a wild pitch. Triantos would cap the inning with a double to right that scored the final run of the inning.
When the dust settled the Cubs managed 11 runs on 15 hits, while the TinCaps added to their own demise with three wild pitches that scored runs, and four errors, three of which were throwing errors by outfielders.
South Bend can win the series with a victory on Sunday afternoon. Lance Rymel's team also improved to 9-1 against left-handed starting pitchers.