Cubs Hang On For 11-8 Win, End Losing Streak
South Bend ended their 5-game losing streak Tuesday in game one against Fort Wayne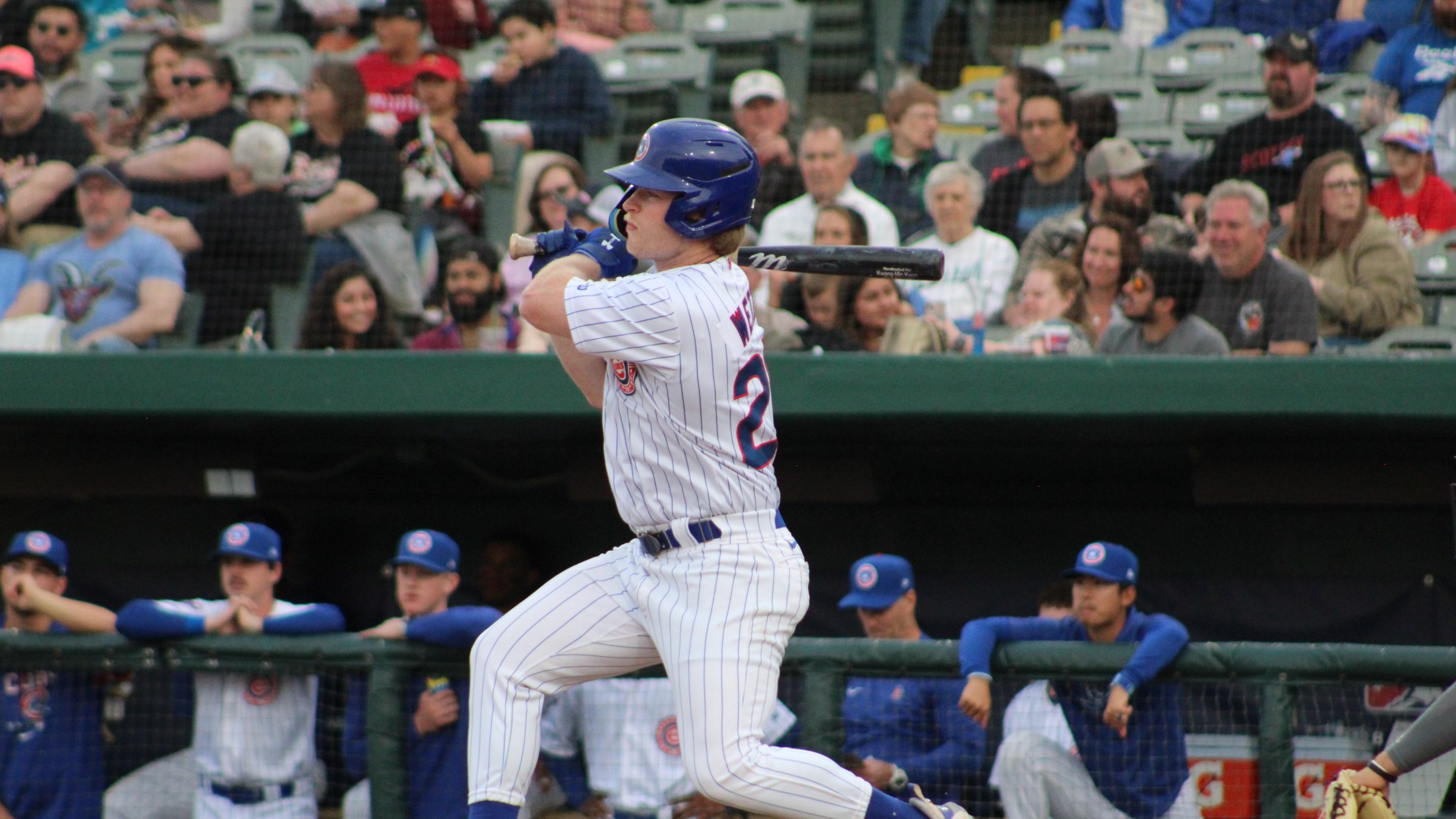 BOX SCORE FORT WAYNE, IN - Tuesday night the Cubs got the exact type of performance they needed from a struggling offense, putting up 11 runs on 12 hits, and holding on late for the victory over the TinCaps. It was a well-balanced attack that saw everyone in the lineup
FORT WAYNE, IN - Tuesday night the Cubs got the exact type of performance they needed from a struggling offense, putting up 11 runs on 12 hits, and holding on late for the victory over the TinCaps.
It was a well-balanced attack that saw everyone in the lineup pick up a hit.
With the Cubs trailing 3-2 in the sixth inning, after leading the game through the first 3.5 innings, the offense kicked into high gear. It all started actually with two outs and nobody on base. Kevin Made (2-4, BB, R) and Casey Opitz (1-3, 2 R, 2 BB) both walked and set up a chance for Jacob Wetzel (1-2, 2 RBI, R). Wetzel had entered the game in the bottom of the fourth after Kevin Alcántara left with an apparent injury. Wetzel, on the ninth pitch of the at-bat, laced a double to left-center that plated both runners and gave the Cubs a 4-3 lead.
The next inning they would continue to surge with Bryce Ball (2-3, 2 R, 2 BB, 2 2B) blasting a double to right and then with two outs Yohendrick Pinango delivered a clutch RBI single.
But the inning that really felt like maybe the Cubs were able to cleanse themselves of their offensive woes was the eighth. South Bend sent ten to the plate and put up a six-spot to bury the TinCaps, or so if felt.
Lance Rymel's group faced Edwuin Bencomo for the second inning and with one out three-straight batters reached to load the bases and chase the right-hander. Alan Mundo came on from there and looked shaken and uncertain. Before throwing a pitch he was issued a clock violation, and before it happened again he was able to step off in time and regroup. He would walk James Triantos (1-4, 2 RBI, R) to bring in a run and then hurled a wild pitch to score another. Ball crushed his second double of the night to score two runs and Christian Franklin (1-5, RBI, R) followed suit with a double of his own. Mundo would only last three batters and be followed by Adam Smith. South Bend would get to him too as Luis Verdugo, in his first game with the team since game 3 of the MWL Championship, doubled down the line in left to cap the six-run inning that featured four two-baggers.
South Bend had scored eight runs across their last five games and last week went 6-for-43 with RISP. Tuesday night they plated 11 runs and picked up seven hits with RISP alone.
After a shutdown week for the bullpen, it was a struggle in game one at Parkview Field. Tyler Santana gave up two runs in four innings in a solid outing but gave up the lead, then the wheels would really spin on Adam Laskey in the ninth.
With two outs in the final inning, Fort Wayne trailed 11-4, having scored one run in the frame on Jackson Merrill's third hit of the night. But the game felt decided long before. The TinCaps though had other ideas. Nathan Martorella cleared the bags with a double scoring two, Brandon Valenzuela scored him with a double, and a Carlos Luis single would force the Cubs to bring in Sheldon Reed. Jakob Marsee doubled off Reed to shallow left-center scoring one more. Now the game was 11-8 and the tying run was coming to the plate in the form of Justin Farmer. Reed induced a weak fly ball to center and the game was over.
A marathon game that took nearly three hours and included 19 runs total on 25 hits, ended with the Cubs ending their longest losing streak of the season. South Bend is now tied in second place entering Wednesday, with 20 games left in the first half.