Cubs Walk It Off For Second Time in 3 Games
South Bend starts the second half 2-0 with a 1-0 victory on a Fabian Pertuz walk-off single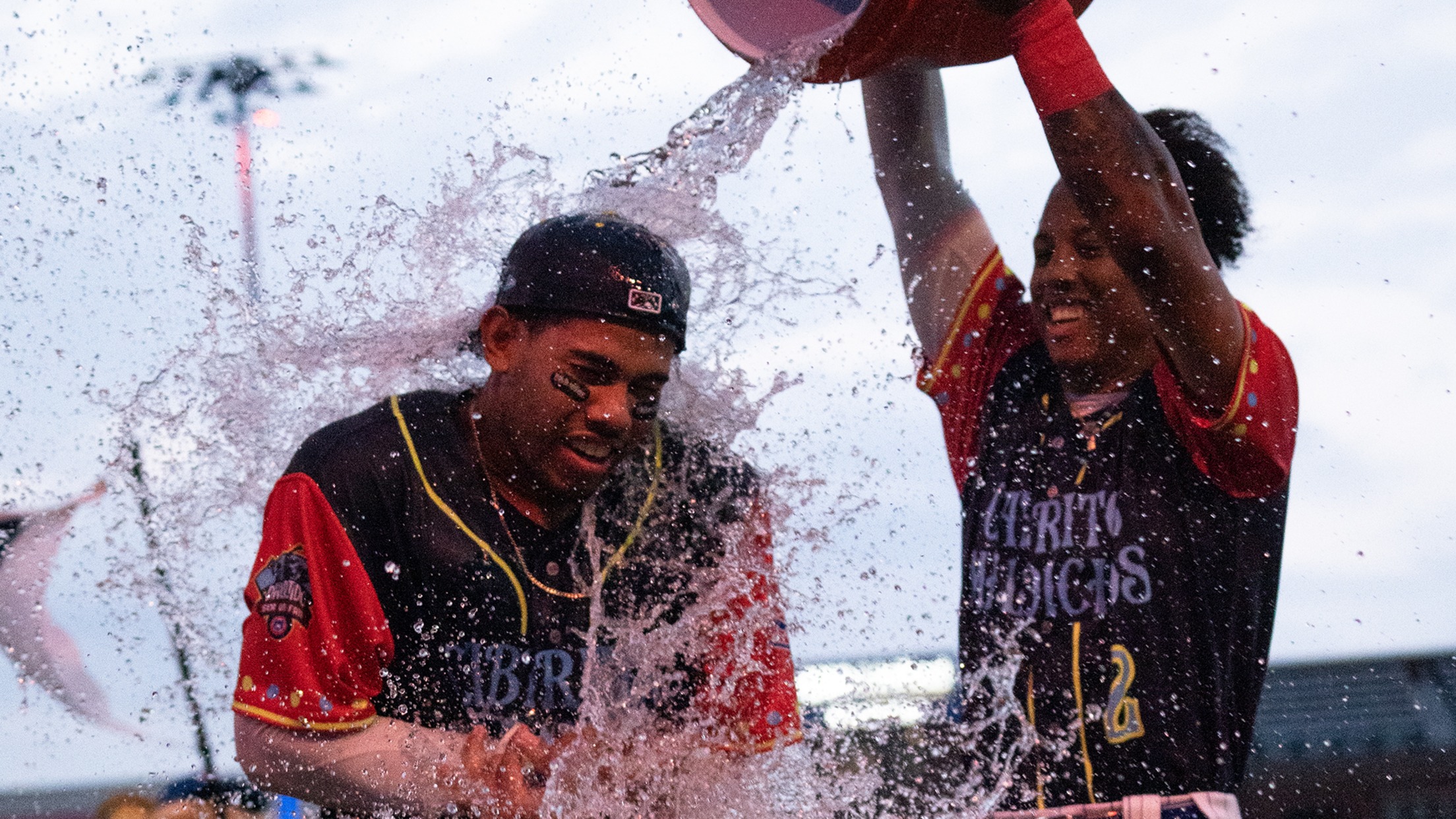 (Langston Johnson)
El colombiano Fabian Pertúz fue la gran figura en el tercer triunfo de Los Cabritos Maldichos frente a los Jefes de Peoria, tras irse de 4-3 con dos dobletes incluídos y con un sencillo remolcador en la parte baja de la novena entrada para que los de South Bend dejaran
El colombiano Fabian Pertúz fue la gran figura en el tercer triunfo de Los Cabritos Maldichos frente a los Jefes de Peoria, tras irse de 4-3 con dos dobletes incluídos y con un sencillo remolcador en la parte baja de la novena entrada para que los de South Bend dejaran tendidos en el terreno de juego a la sucursal en Clase A-Fuerte de los Cardenales de San Luis con marcador de 1-0.
El sencillo de Pertúz fue el bálsamo para respaldar al bullpen de los Cabritos Maldichos que se combinaron para acumular un total de trece ponches en contra de unos jefes que no pudieron maximizar un total de ocho hombres sobre las bases, incluyendo el único momento de presión que experimentó el abridor DJ Herz que vio las bases llenas de Jefes en la tercera entrada cuando Mike Antico llegó a primera base producto de un sencillo y avanzó a la segunda base por bases por bolas a Tyler Reichenborn y a LJ Jones, pero Herz consiguió meter el brazo para retirar por ponche a Francisco Hernández.
Herz caminó con tranquilidad el resto del partido hasta ser sustituido por Adam Laskey tras alcanzar los ochenta lanzamientos en la parte alta del quinto episodio. Laskey, Michael McAvene y Hunter Biege se combinaron por 4.1 innings para maniatar a los Jefes que volvieron a amenazar en la parte alta de la novena cuando Ramón Mendoza conectó un sencillo y avanzó a la segunda base por base por bola a Wade Stauss, pero McAvene dominó en rodado a Luis Rodríguez.
Del otro lado los Cabritos también sufrieron para descifrar los envíos del abridor Logan Gragg que lanzó 5.0 innings en donde limitó a los locales a cinco imparables pero, también, los obligó a batear en cuatro ocasiones para jugadas de doble play. Mientras Gragg estuvo en la colina, South Bend consiguió un bases por medio de los sencillos de Yeison Santana, Yohendrick Piñango y Owen Cassie y por los dobletes de Fabian Pertúz.
Los Cabritos volvieron a amenazar en la parte baja del octavo inning cuando BJ Murray recibió una base por bolas y avanzó a la intermedia por otro boleto negociado por Pablo Aliendo, lamentablemente para South Bend, Jonathan Sierra, bateando como emergente, y Yeison Santana se poncharon frente a los envíos del relevista Nathanael Heredia.
Pero la victoria estaba reservada para que los Cabritos eliminaran la maldición y mantuvieran su invicto durante la temporada en el último suspiro del partido. Yohendrick Piñango falló en rodado a la segunda base y Caleb Knight falló en un elevado al jardín izquierdo pero Owen Cassie mantuvo la esperanza viva con un sencillo que envió a las duchas al dominicano Heredia, Cassie se robó la segunda base y Jake Washer consiguió un boleto gratis frente al relevista Gianluca Dalarti. Entonces llegó Pertúz a reclamar su estatus de MVP del partido y consiguió vestirse de héroe al conectar un sencillo entre el campo corto y la segunda base que empujó a Cassie desde la segunda para hacernos ondear la bandera blanca de la victoria.
Hunter Beige se llevó la victoria, su cuarta de la temporada, tras lanzar una entrada completa y la derrota corrió por cuenta de Nathanael Heredia. Los Cabritos Maldichos regresarán a la acción el 24 de julio para enfrentar a los Bandidos del Río del Quad City.
English story by Max Thoma
SOUTH BEND – The Cubs got their fourth straight win in yet another shutout and dramatic victory over the Chiefs. This winning streak began with a 1-0 victory on Wednesday and continued with a 1-0 victory Saturday night.
Fabian Pertuz was the hero with two runners on and two outs in the ninth, serving a liner into center to score Owen Caissie as the Cubs picked up their seventh shutout victory of the season. Four of their seven shutouts have come against Peoria, who the Cubs are now 10-1 against this season.
With two outs and no one on base in the ninth Caissie singled to keep the Cubs shot at a 9th inning walk-off alive. After a pitching change brought in Gianluca Dalatri, Caissie swiped second on the first pitch. Jake Washer put forth one of the best plate appearances of the day drawing a walk after falling down 0-2 to give Pertuz a shot.
D.J. Herz got the start for South Bend and absolutely dealt. Last year's Chicago Cubs Pitcher of the Year went out and recorded 10 strikeouts in just 4.2 innings, while allowing only two hits.
From there Adam Laskey got through the next 1.1 innings scoreless in his South Bend Cubs debut, he was promoted from low-A on Friday. Michael McAvene relieved him with a scoreless seventh and eighth and Hunter Bigge came on for the ninth, allowing two baserunnners with two outs but stranding them and picking up the win.
South Bend is 2-0 to start the second half of the season and looks to continue their winning streak Sunday with first pitch scheduled for 2:05 p.m.