Ruoff Mortgage Homestand Preview: July 4-10
Cubs and Timber Rattlers Tied Atop West Division, Set to Clash in South Bend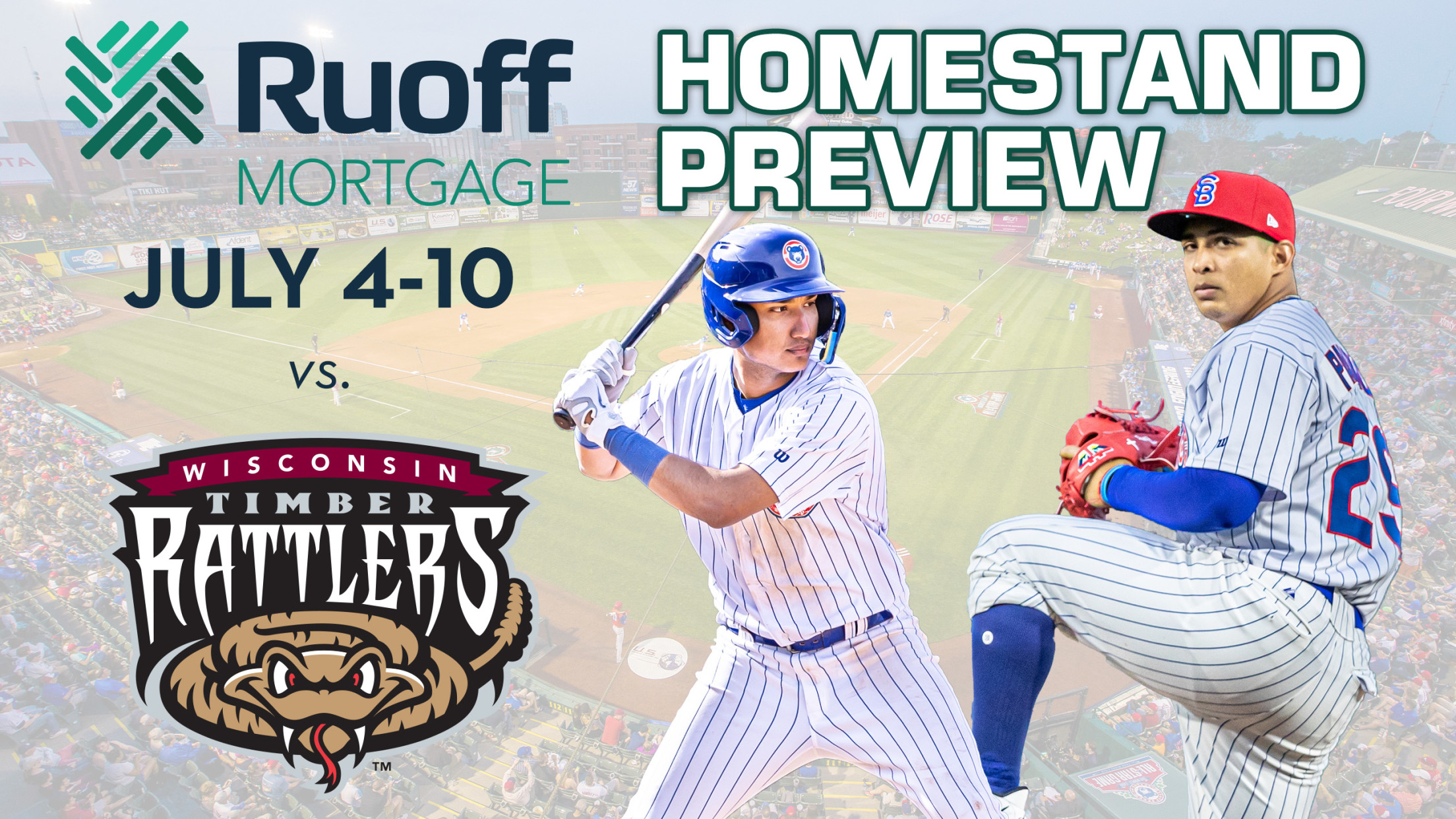 Through the first nine games of the Midwest League's second half, the South Bend Cubs have been on one of the more impressive runs in all of Minor League Baseball. They just won five of six games at Beloit on the road, had a 10 game winning streak until Sunday,
Through the first nine games of the Midwest League's second half, the South Bend Cubs have been on one of the more impressive runs in all of Minor League Baseball. They just won five of six games at Beloit on the road, had a 10 game winning streak until Sunday, and were the last remaining undefeated second half team in the circuit.
The Wisconsin Timber Rattlers have now matched South Bend. Both teams are 8-1, and Wisconsin just played a solid series at home where they took five of six from the first half champion Cedar Rapids Kernels.
Wisconsin and South Bend have already matched up once this year, during the month of May in Appleton. At that point, each roster looked a lot different. The Cubs and Timber Rattlers split the six-gamer at three games apiece.
Sole possession of first place is on the line this week at Four Winds Field. There's only one more playoff spot up for grabs the rest of the way, and since the Cubs have set the Beloit Sky Carp back in the division from the last series, right now it's a two team race. Let's see if the Cubs can continue the league's best home record and take care of Wisconsin this week.
Players to watch on Wisconsin…
Tristan Peters, OF: The native of Manitoba, Canada immediately stands out when you look at any prospect rankings in the Midwest League. Earlier in the year, Peters had a consecutive games on-base streak that hit 25 games. The Brewers selected Peters in the seventh round of the 2021 MLB Draft. After a stint last season in rookie ball, Peters was sent to High-A Wisconsin as a part of their opening day roster in 2022. He is hitting .281 with five homers and 32 RBI in 69 games. The former Southern Illinois - Carbondale collegiate player finished his NCAA career by hitting .355 in his lone season in college.
Zach Mort, RHP: *The last remaining player on the South Bend Cubs roster at this moment who was also on the team's active roster when they won the Midwest League Championship in 2019 is Caleb Knight. But there will be two 2019 league champs on hand this week at Four Winds Field. The righty Mort is now a member of the Brewers organization, and he'll come back to play at his former home in this series. So far in 2022 back in High-A, Mort has posted a 5.65 ERA in 14 total appearances, which includes four starts. Mort pitched in one playoff game in 2019, and relieved Major Leaguer Kendall Graveman in Game 1 of the Midwest League Championship Series. He tossed three scoreless innings to help lead the Cubs to a win.
Tyler Black, INF: It's a Canadian powered offense for Wisconsin as the Toronto native Tyler Black is hitting .296 with four home runs and 34 RBI. He's a tough guy to get out at the plate too, as his walk to strikeout ratio is 37 to 39. The former comp pick in the second round of the Brewers plays all over the diamond as well. He has played second, third, and center field on the year. In his last series, he had a four hit game on Saturday night, and helped lead the Timber Rattlers to their big series win over first half champ Cedar Rapids.
Players to watch on South Bend…
Luis Verdugo, 3B: What a run it was for Verdugo over the final days of June. The 21-year-old South Bend third baseman hit .350 in the month of June and had a fabulous series in Beloit, picking up eight hits. In the first two days of the series, Verdugo had a combined four doubles. As usual, he continues to play his dynamite defense at the hot corner, as the native of Mexico possesses one of the most sure-handed gloves in the Cubs system.
Daniel Palencia, RHP: Palencia is set to throw twice in this home series against Wisconsin, as the first will come on Independence Day night in relief of the rehabbing Drew Smyly. In Beloit on Tuesday, Palencia was fantastic in 4.2 shutout innings. The flame-throwing right-hander has not only figured out the control aspect on the mound, but he has been able to show command of multiple pitches, while also being able to work around jams. He came up just one out short of being in line for the win last week, and he'll have a few opportunities here this series to grab a couple W's.
Jarod Wright, RHP: Speaking of brilliance, since being called up to South Bend from Low-A Myrtle Beach, Jarod Wright has been fantastic for the Cubs out of the bullpen. He earned the victory on Saturday night with three shutout innings against the Sky Carp. And now in five outings with the Cubs, batters are hitting just .158 and he has allowed only two runs. Wright shows a deep understanding of the strike zone and can paint the corners with the best of them. Depending on how long his stay in South Bend is, he can become a major component of the bullpen.
Schedule…
Monday, July 4 - 7:05 PM ET: LHP Drew Smyly (MLB Rehab) vs. RHP Justin Jarvis
Wednesday, July 6 - 7:05 PM ET: LHP Jordan Wicks vs. TBD
Thursday, July 7 - 7:05 PM ET: RHP Kohl Franklin vs. TBD
Friday, July 8 - 7:05 PM ET: LHP DJ Herz vs. TBD
Saturday, July 9 - 7:05 PM ET: RHP Manuel Espinoza vs. TBD
Sunday, July 10 - 2:05 PM ET: RHP Daniel Palencia vs TBD
Catch the entire six-game series on Sports Radio 960 AM WSBT, online at wsbtradio.com, or on MiLB.com with Max Thoma and Brendan King on the call. Wednesday night's game will be televised on the home of the Chicago Cubs, Marquee Sports Network.