The Perfect B-Day - Luke Little Deals in Cubs 4-3 Victory
South Bend kicks off final homestand with another one-run triumph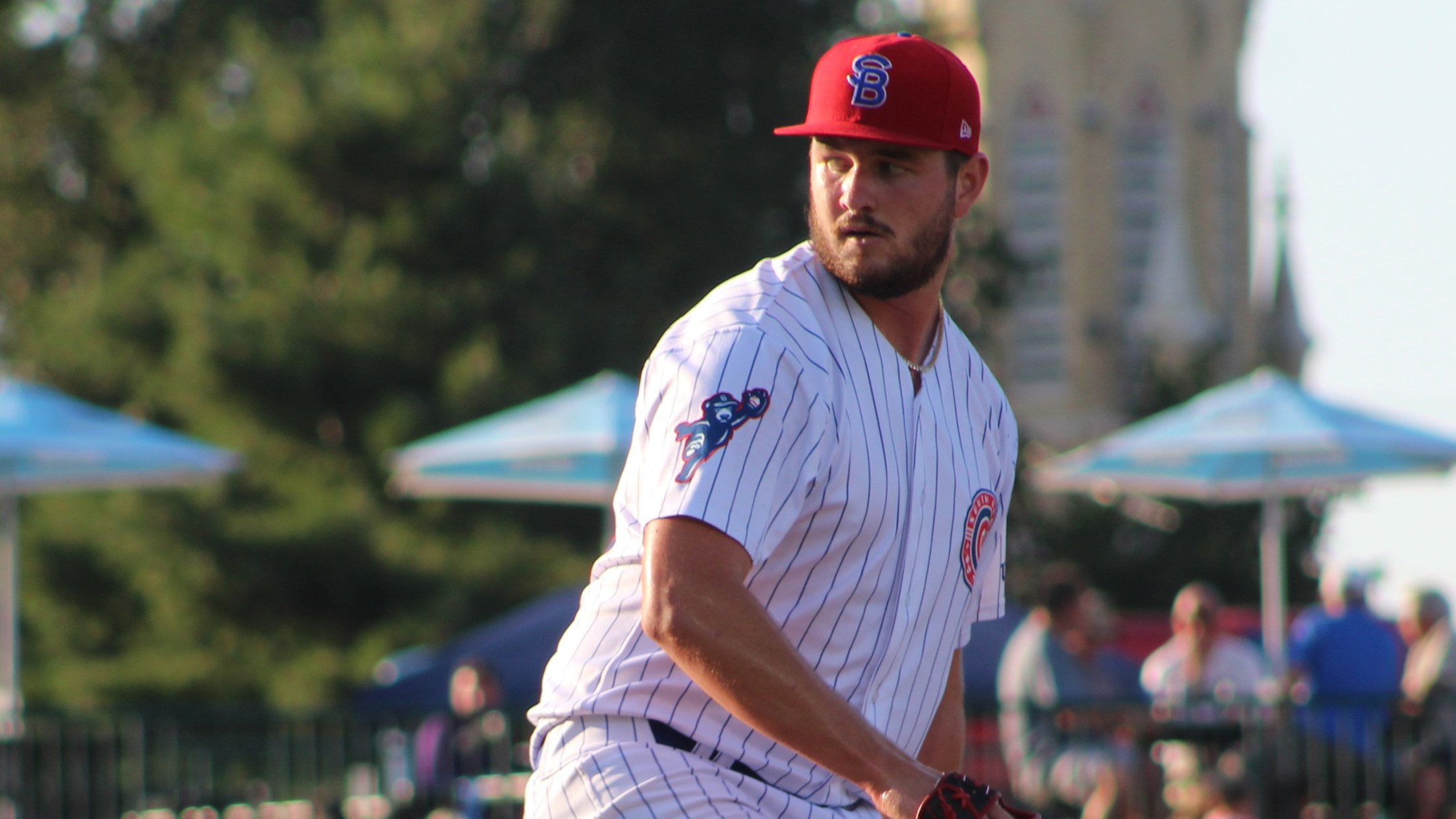 (Kayleigh Sudlacek)
SOUTH BEND, IN – The Cubs won their sixth home game in a row on Tuesday night, 4-3, and strengthened their grip on the West Division to six games over Beloit with just 11 games left. Luke Little's first pitch of the day hit the backstop on the fly, but
SOUTH BEND, IN – The Cubs won their sixth home game in a row on Tuesday night, 4-3, and strengthened their grip on the West Division to six games over Beloit with just 11 games left.
Luke Little's first pitch of the day hit the backstop on the fly, but he was perfect from there. Literally. Little retired all 12 batters he faced and punched out five in his third start with South Bend. The tall lefty who was celebrating his 22nd birthday got the chance to pitch in front of his family and shined. Cubs starting pitching has been unbelievable the last two plus weeks, with their six starters combining for a 1.86 ERA over the last 13 games. South Bend is 9-4 over that stretch.
Offensively the Cubs picked up where they left off on Sunday scoring four runs in the first five innings. Jordan Nwogu tripled to right on a three-quarter swing in the first inning and came home on a Luis Verdugo ground out to second base. In the third inning Casey Opitz chopped a grounder up the first base line and raced for second, the throw in from Lawrence Butler sailed past third and Opitz moved up another 90 feet. With one out Pete Crow-Armstrong ripped a single to right to double the lead.
PCA finished with three hits and two RBI's, including one on an RBI double in the fifth. The Cubs number one prospect tallied his 23rd hit in his last 13 games and improved his batting average in August to .340.
Meanwhile Opitz finished with two doubles and extended his on-base streak to 21, tying Luis Verdugo for the longest streak this season for any South Bend Cub.
Going into the ninth inning the Cubs led 4-1 and combined between Little, Chris Kachmar, Riley Martin and Jake Reindl, had only allowed three hits. With Bradford Deppermann on for the ninth the home team seemed well on their way to another victory. Lansing decided to make things interesting.
Butler and Jared McDonald walked and Sahid Valenzuela, pinch-hitting, singled in a run to bring the tying run to the plate. That brought up the top of the order and top-10 A's prospect Max Muncy. The first-rounder smashed a ground ball up the middle to plate another run. Lance Rymel made another move to bullpen and called upon Jarod Wirght.
Wright threw one to the back stop and walked Joshwan Wright to load the bases. But Jarod Wright grinded out the saved by getting Shane Mcguire to tap a comebacker to the mound. South Bend has now won five games in a row at home by one run.
Game two of the series is set for Wednesday at 7:05 ET and the first 1,000 fans through the gates get a Nico Hoerner bobblehead.