Toyota Road Report: May 30 - June 4
Old Rivals South Bend and Fort Wayne Clash in Important First Half Series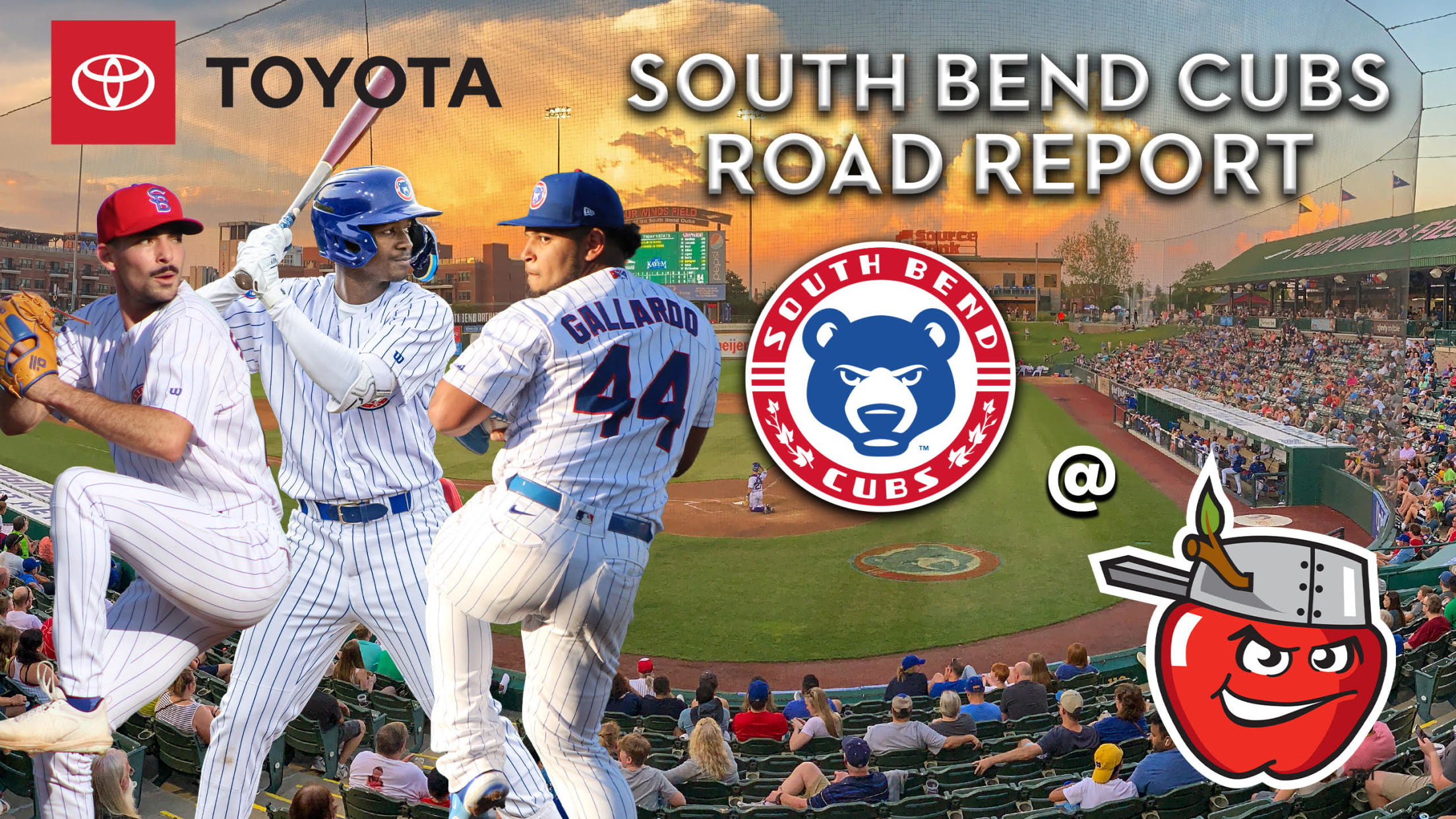 It's always a great week in the Midwest League when you get to the Battle of Indiana. South Bend vs Fort Wayne, a High-A rivalry that has stretched for decades. Whether you're at Parkview Field, or Four Winds Field, this is always a highly competitive series because bragging rights are
It's always a great week in the Midwest League when you get to the Battle of Indiana. South Bend vs Fort Wayne, a High-A rivalry that has stretched for decades. Whether you're at Parkview Field, or Four Winds Field, this is always a highly competitive series because bragging rights are on the line. Two of the best ballparks in Minor League Baseball, along with some of the best Front Offices you will find. Now all there is left to do is take care of business on the field.
To say the least, for the South Bend Cubs and Fort Wayne TinCaps, it has been two clubs going in opposite directions this year. South Bend is competing for a first-half West Division title in a tight race, while Fort Wayne had the worst start of any Midwest League team. They find themselves in the caboose of the East Division at 19-26 and 11 games back of the Great Lakes Loons.
The TinCaps were in similar territory last year too, and they're counting the days to the second half of the season. But they have a chance to play the role of a major spoiler here. South Bend needs this series after falling in the last at home against Dayton. If the TinCaps are able to play well at their place, that will give a window to other West Division teams to leapfrog the Cubs.
But as we have constantly seen, Lance Rymel teams find ways to get the job done when facing adversity. The Cubs are an excellent 13-8 on the road this year for the most road wins in the West Division.
Plus, the pitching staff has been remarkable. Clayton Mortensen's bunch has the best team ERA in the Midwest League at just 3.41. It was around this time last year when the bats really started to heat up, and as summer approaches, hopefully this series in Fort Wayne is the one where the Cubs get back on track.
Players to watch on Fort Wayne…
Jackson Merrill, SS: If you're talking about the TinCaps, you have to begin this with the San Diego Padres number-one prospect. That's certainly something Fort Wayne fans have been accustomed to seeing in the 260 though, high level talent. But things have changed over the last couple years. As the Padres have gone all-in at the Big League level to win a World Series, they have gotten rid of a ton of their top prospect talent in trades. Good examples last year included Robert Hassell and Corey Rosier. San Diego has not been afraid to take big swings in trades, look at the Cubs acquiring Owen Caissie in the Yu Darvish deal. OC would have been a TinCap at some point. Imagine how different the history of the South Bend Cubs would look without him. Point being, San Diego has let go of a lot of young talent. The same cannot be said about Merrill. He was the Padres first-round pick in 2021 and is the highest high school player selected out of the state of Maryland in over 30 years. It's his first taste of High-A baseball this year, and he's hitting .246 with three homers and 13 RBI. MLB.com writes, "San Diego made an aggressive move in sending the 19-year-old to the Arizona Fall League, and Merrill responded by being one of the most talked about prospects in the advanced loop, despite modest numbers."
Ryan Bergert, RHP: It's been a winding road for the former Padres sixth-round pick Ryan Bergert. The former West Virginia Mountaineer man did not have things go according to plan last year in Fort Wayne. He faced South Bend a couple times and was pretty good, but still finished the year with an ERA nearly touching 6.00 in 24 starts. His strikeout numbers were for sure impressive at 129 in 103.1 innings, but batters hit .290. Probably higher than he would've liked. The two times he saw South Bend, Bergert went a combined 8.2 innings with three runs allowed and 10 strikeouts. They were two of his better starts on the season. Still, throw away anything from last year, because in 2023 he has been outstanding. Bergert is 2-1 with a 1.69 ERA, and batters are only hitting .180 against him in 32 innings. He has walked 19 batters in that time, which is way up from his season average last year, but all in all he has been getting the results. He's coming off the best start of his career against Lansing where he went seven shutout innings with three hits allowed, only one walk, and eight K's. He has once again cracked San Diego's top-30 prospects list at number 24, and he's set to start in a primetime pitching matchup on Friday against Brandon Birdsell.
Bobby Milacki, RHP: Here's a true blast from the past. You may remember Milacki's name from a prior crucial moment at Four Winds Field. Of course, he is now a TinCap. But he used to be a Cedar Rapids Kernel. The 26-year-old was originally selected by the Washington Nationals in the 38th round of the 2018 MLB Draft. Since then, he got released by Nats, picked up by the Minnesota Twins, pitched for Cedar Rapids, was released by the Twins, and now signed with the Padres. But Milacki pitched in Game 1 of the 2022 Midwest League West Division Championship Series at Four Winds Field. As South Bend won that game 2-1, Jake Reindl struck out the side in the 9th inning to win it. But Milacki gave up the game winning hit. It was a single by Fabian Pertuz that Milacki surrendered that scored Pablo Aliendo after a terrific sac-bunt by Kevin Made. And that was it for Milacki's Twins run. But there is new life. He has been simply incredible with the Padres. Posting a 1.78 ERA and having three wins in 10 outings, Milacki has not given up an earned run since April 18. He may be much older at 26, but he's getting results now, and the Cubs will meet him once again this week.
Players to watch on South Bend…
Richard Gallardo, RHP: The last two starts for Richard Gallardo could end up being what defines his season. Gallardo absolutely torched the Dayton Dragons and started both on Tuesday and Sunday, combining for 11 innings of work, three runs allowed, NO WALKS, and 16 strikeouts. The 11 K's on Sunday was a career high, and the 21-year-old Gallardo is really rounding into form. It was easy forget just how young Gallardo was last year when he came to South Bend, and the strikeout numbers didn't come about. But now he's older, he's fooling hitters, and you can tell start after start what made him the number one pitching prospect on the market in the international signing window when he signed with Chicago. Gallardo will only continue to get stronger with age, and he's also learning in each appearance what works for him in mixing pitches. It's been a treat to watch over the last number of weeks, well, if you're not a hitter. Opposing batters are only hitting .219 against Gallardo. He's slated to start on Saturday night in Fort Wayne, which always brings along a good crowd. That will be a must watch.
Kevin Made, INF: It was nice to see Kevin Made return to the South Bend order after being out of the lineup from the Wisconsin road trip onward. Made picked up a hit and scored a run on Sunday, but before that did not play since May 18. And it's easy to forget just how good he was before he missed time. Made finished off his second four hit game of the year on May 9 against Wisconsin, and was seeing the ball so well. His average scooted up to .259, and he had three RBI on that same night. The South Bend infield is stacked. Fabian Pertuz is splitting time with Made at shortstop, Scott McKeon has had a renaissance year and can play three of the infield spots, James Traintos has been raking since he got here, and now Luis Verdugo is back. Of course, Verdugo was the everyday Cubs third baseman on the championship squad last year, and we all know what he can do. So Lance Rymel will have his work cut out for him simply writing the lineup each day. Who do you play in the field, who do you DH? Decisions like that are a great problem to have for managers, especially now that Made is back too.
Frankie Scalzo Jr, RHP: On the team this year, the South Bend Cubs have plenty of reliable arms. Especially out of the bullpen. The best part is many of those arms are like Swiss army knives. Joe Nahas is a good example of a guy that can start, pitch multi-inning relief, and close games and all you have to do is tell him 20 minutes ahead of time. Frankie Scalzo Jr. Is really similar, he could probably start if you need him to, but Scalzo began the year pitching in long relief and was really good, but lately he has been a short-term late inning reliever. And it has clicked. Scalzo has not given up a run over his last five outings, which includes nine innings with three walks and nine strikeouts. Batters are hitting a measly .067 in his last five games. That's pure nastiness. He isn't necessarily overpowering guys either, but Scalzo knows what he's doing out there. The short-term relief allows him to be really crafty with his stuff and keep hitters off-balanced, and if this is what the Cubs can consistently expect, they're going to have the best bullpen in the Midwest League by the end of the year. After all, they have the best team ERA in the league towards the end of the first half.
Schedule…
Tuesday, May 30 - 6:35 PM ET: RHP Manuel Espinoza vs. RHP Jairo Iriarte
Wednesday, May 31 - 6:35 PM ET: RHP Cade Horton vs. RHP Jared Kollar
Thursday, June 1 - 7:05 PM ET: RHP Connor Noland vs. RHP Adam Mazur
Friday, June 2 - 7:05 PM ET: RHP Brandon Birdsell vs. RHP Ryan Bergert
Saturday, June 3 - 6:35 PM ET: RHP Richard Gallardo vs. LHP Bodi Rascon
Sunday, June 4 - 1:05 PM ET: RHP Manuel Espinoza vs RHP Victor Lizarraga
Catch the entire six-game series in Fort Wayne on Sports Radio 960 AM WSBT, online at wsbtradio.com, or on MiLB.com with Max Thoma on the call.