North by Northwest League: 2022 Season Recap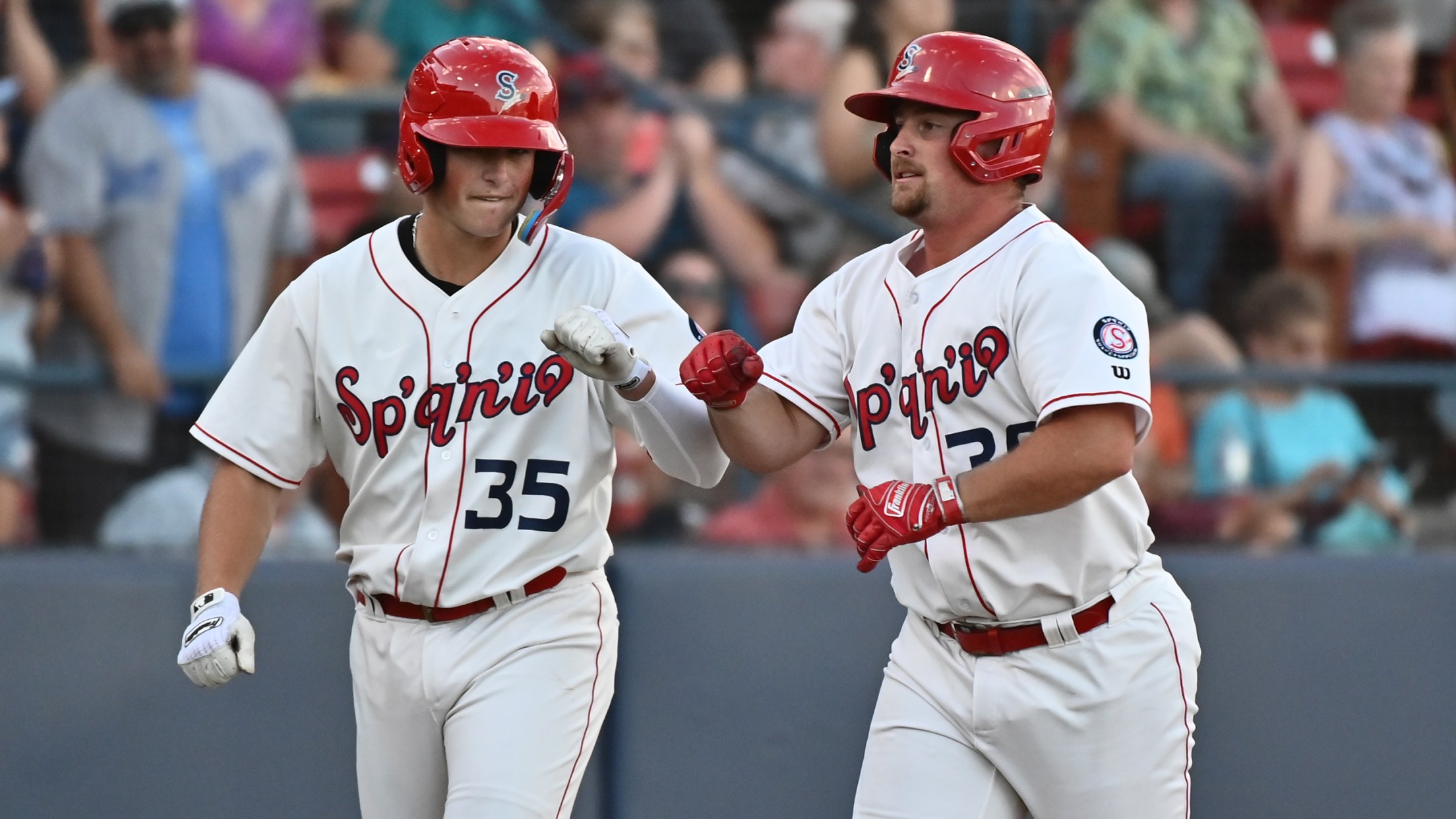 SPOKANE, Wash. - There were plenty of bright spots in Spokane's second year as an affiliate of the Colorado Rockies, including an MVP performance from Zac Veen, backflips aplenty from fan-favorite Colin Simpson, and the debut of a brand-new mascot at Avista Stadium. The Indians began their season in April
SPOKANE, Wash. - There were plenty of bright spots in Spokane's second year as an affiliate of the Colorado Rockies, including an MVP performance from Zac Veen, backflips aplenty from fan-favorite Colin Simpson, and the debut of a brand-new mascot at Avista Stadium.
The Indians began their season in April for the first time since 1982, dropping their home opener against the Vancouver Canadians, 8-6, on April 9th. The team rebounded with their first win of the season the following night and ended the season's first month with a .500 record (10-10). Standout performers in April included switch-hitting catcher Drew Romo, who took home NWL Player of the Month honors after leading the league in average (.342) and total bases (38), starting pitcher Joe Rock (2-1, 3.27 ERA, 11.9 K/9), and reliever Luke Taggart (1-0, 0.00, 14 K/3 BB).
The team played their best baseball of the season in May, finishing the month with a 14-10 ledger including three walk-off wins in the span of four games – highlighted by Robbie Martin Jr.'s pinch-hit, three-run blast on Friday, May 20th. Outfielder Daniel Montaño slashed an incredible .411/.500/.679 during the month to earn a promotion to Hartford, while Austin Kitchen (2-0, 0.59 ERA) and Mike Ruff (2-2, 2.73 ERA) paced the pitching staff.
Spokane struggled through a June swoon (11-14) despite several standout individual performances. First baseman Grant Lavigne hit .326 with 14 RBI while right-hander Andrew Quezada was 3-0 with a sterling 2.25 ERA for the month. The Indians ended the season's first half with a 34-30 mark, including 23-11 at the friendly confines of Avista Stadium, but finished 4.5 games behind the Eugene Emeralds.
July got off to a rip-roaring start as shortstop Julio Carreras provided some early fireworks with a three-run walk-off home run on the 4th of July. Spokane's offense also got a much-needed spark from new arrival Warming Bernabel (.359, 3 HR, 15 RBI) and breakout months from Carreras (.337/.396/.565) and Zac Veen (19 SB, 14 RBI). Veen's strong showing with Spokane earned him a spot in the Futures Game on July 16th as one of two representatives for the Rockies, where he finished 2-for-3 with a pair of stolen bases. The highlight of the month came on Friday, July 22nd when KC the Stratotanker landed at Avista Stadium in support of the Operation Fly Together campaign.
The month of August belonged to Hunter Goodman, and Hunter Goodman only. The 22-year-old Tennessean put together one of the finest stretches in team history, slashing .370/.405/.769 with 10 home runs (including eight in a nine-game span) and 27 RBI, making him an easy choice for NWL Player of the Month. Despite Goodman's heroics, the Indians finished the month just 12-15 as they struggled without the recently promoted Julio Carreras and Zac Veen. Spokane stayed in contention until the final week of the season, but a 4-6 mark in September meant watching the playoffs from home as the team finished with a 30-36 record in the second half (64-66 overall).
Following the season, a total of four Spokane Indians players were selected to the Northwest League All-Star Team—first baseman Colin Simpson, second baseman Eddy Diaz, shortstop Julio Carreras, and outfielder Zac Veen.
Simpson, 26, led the NWL in batting (.300), SLG (.530), and OPS (.900), and ranked among the league's top five in RBI (60), OBP (.370), and total bases (175). Originally a 29th-round pick out of Oklahoma State in 2019, Simpson was a fan favorite in Spokane for his gregarious personality, clutch hitting, and surprising background in gymnastics.
A native of Mantanzas, Cuba, Diaz finished second in the NWL in stolen bases (36) while providing Gold Glove quality defense at second base. After a slow start to the season at the plate, the 22-year-old batted .308 in July and .321 in August to finish among the league's top 10 in batting among qualified hitters.
Carreras, 22, topped the circuit in doubles (37) and extra-base hits (50) while also ranking among the NWL's top five in batting average (.289), slugging (.473), OPS (.825), hits (116), and total bases (190). Carreras led all of MiLB with 42 totals between Spokane and Hartford, and had the league's second longest hitting streak at 15 games, batting .448 (26-for-58) with 12 doubles and 14 RBI from June 28 - July 15.
In addition to earning a spot on the NWL All-Star Team, Veen was recognized as the league's Most Valuable after leading the NWL in steals (50) and runs (72) despite an early-August promotion to the Double-A Hartford Yard Goats. The 20-year-old batted .269 (92-for-342) with Spokane and ranked among the league's top five in RBI (60), on-base percentage (.368), and OPS (.807).
Baseball America recognized Veen as the league's best batting prospect, fastest baserunner, and most exciting player, while Drew Romo (catcher), Eddy Diaz (second base), and Julio Carreras (shortstop) were all tabbed as the best defensive players at their respective positions.
Team Batting Leaders
Batting Average: Colin Simpson (.300)
Home Runs: Colin Simpson (17)
RBI: Colin Simpson & Zac Veen (60)
Stolen Bases: Zac Veen (50)
Runs: Zac Veen (72)
Team Pitching Leaders
ERA: Joe Rock (4.43)
WHIP: Joe Rock (1.23)
Wins: Andrew Quezada (9)
Strikeouts: Joe Rock (109)
Saves: Luke Taggart (5)
Longest Winning Streak – 5 (May 20 – May 25)
Longest Losing Streak – 6 (August 26 – August 31)
Longest Game – 3 Hours, 15 Minutes (April 8th vs Vancouver)
Shortest Game – 1 Hour, 42 Minutes (May 10th at Hillsboro)
ABOUT THE SPOKANE INDIANS
The Spokane Indians are the High-A affiliate of the Colorado Rockies located in Spokane, Washington, and were named 2021 MiLB Organization of the Year. Avista Stadium is home to the MultiCare Kids Bench Seat. Parking at all Spokane Indians games is FREE. The Spokane Indians Office and Team Store are open Monday through Friday from 9:00 AM to 5:00 PM.