The Comeback Trail with Riley Pint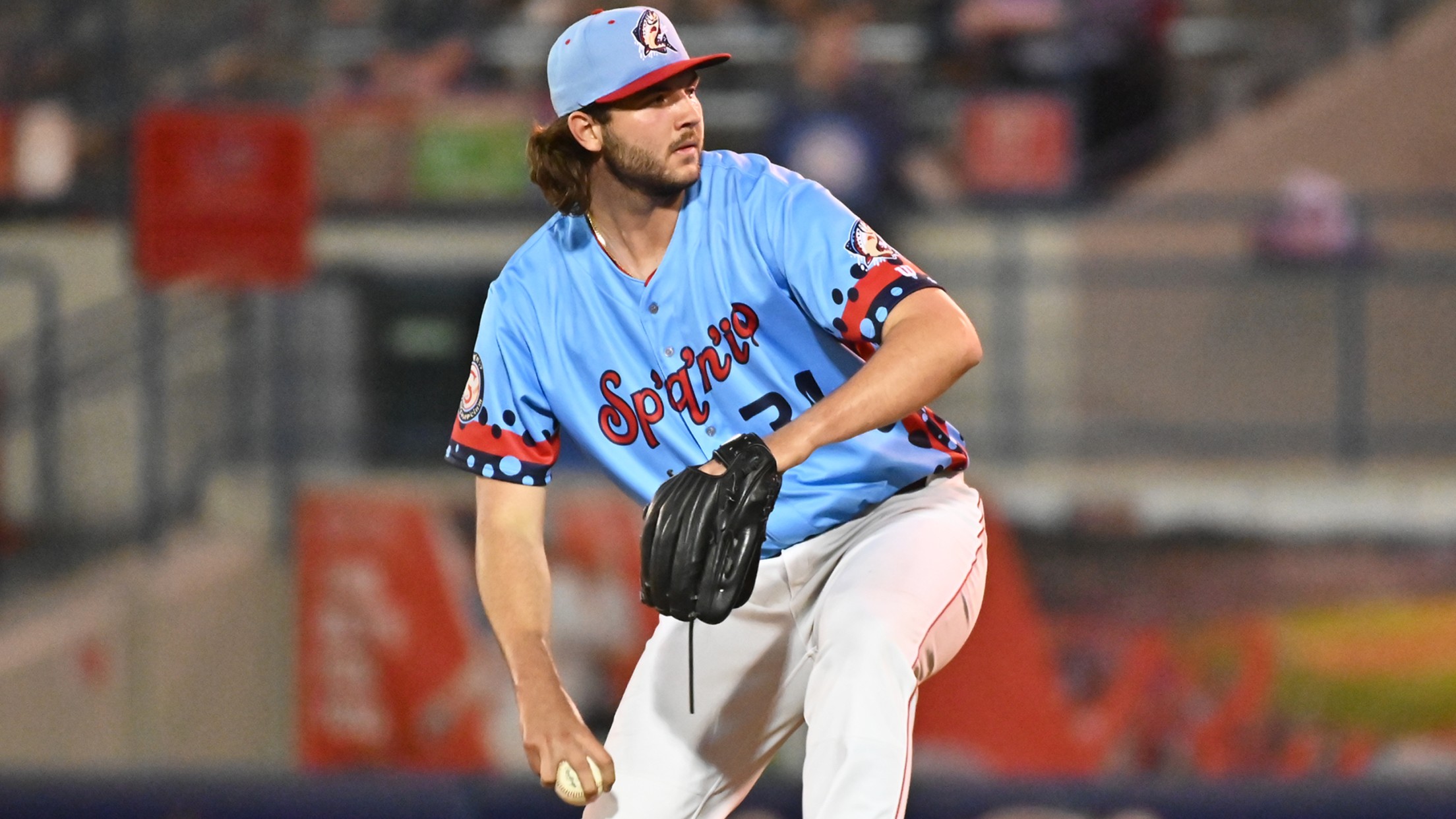 On the first day of Minor League spring training this year, there was a small formality before the workout began. Every player stood up, introduced himself and said where he played last season. Basic stuff. Hardly memorable. All the Rockies Minor Leaguers were there that early March morning at the
On the first day of Minor League spring training this year, there was a small formality before the workout began. Every player stood up, introduced himself and said where he played last season. Basic stuff. Hardly memorable.
All the Rockies Minor Leaguers were there that early March morning at the Salt River Fields complex in Scottsdale, Ariz., along with the Minor League managers and coaches and members of the player development staff. Rockies general manager Bill Schmidt and his front-office staff were watching. So were Rockies manager Bud Black and his coaches, since the lockout that kept the Major League players from reporting to camp was still ongoing.
All told, about 200 members of the Rockies organization were watching when it was reliever Riley Pint's turn. Everyone knew how he had reached a fork in the baseball road in 2021, how he had pitched for the first month of that season at High-A Spokane and then left the team and the organization in early June and soon thereafter had filed retirement papers. The extreme control problems that had haunted Pint throughout his professional career were common knowledge. Pint's exceptional right arm that enabled him to hurl 100 mph fastballs and even reach 102 mph in high school? Also well known.
And everyone there was happy to see the well-liked, good-natured Pint back and ready to resume his career.
"It's hard not to be fond of him," said Spokane pitching coach Ryan Kibler. "It's hard not to get to know him. It's hard not to get really close with him. And I think I speak for most people when I say that."
Pint easily could have stood up, introduced himself and said in 2021 he played with Spokane. That would have been accurate, and no one would have said a thing. But with everyone eyeing him, Pint chose not to ignore any elephant-in-the-room uneasiness. No, Pint instead broke any monotony in these repeated introductions and injected some levity in the day when he stood up and told the group, "I was playing rec league softball."
"The timing, the delivery, the words were absolutely perfect," said Kibler, who coached Pint for the better part of three seasons. "And it was hilarious, and that's Riley.
"It got everybody's attention, and it was dead-on. It couldn't have been done or said any better. It was perfectly self-deprecating. It just showed, 'This is who I am. I'm comfortable in my own skin. This is what went down last year.'"
With a handful of words, Pint basically told the entire organization that he was happy to be back and ready to go forward, that he owned the past but by no means would be defined by it. Pint arrived sporting a mustache, a new look for a new beginning in a new season.
"He's rocking that mustache, which is like a combination of Magnum P.I. and Wyatt Earp," Rockies Director of Player Development Chris Forbes said. "You got to be pretty comfortable to roll that out there every day."
Assistant Director of Player Development Jesse Stender, amused and intrigued, walked up to Pint soon after the introductions were over and wanted more information about the softball team.
"He's like, 'Yeah, I screwed up,' " Stender said. " 'I was going to announce Riley Pint, championship winning rec softball player. But I just said rec softball instead.'
"I guess it was a pretty successful softball team. He played short for them. I can imagine if I'm that first baseman, I'm almost like, 'Hey, don't hit it to our shortstop.' "
The Rockies chose Pint fourth overall in the 2016 First-Year Player Draft out of St. Thomas Aquinas High School in Overland Park, Kan., a Kansas City suburb, and signed him for $4.8 million. They envisioned Pint as a future starter at or near the front of their rotation, a dominant power pitcher when he reached the Majors with no-nonsense stuff.
Extreme control issues plagued Pint early in his career, and he dealt with forearm and oblique injuries. The Rockies didn't draft him to pitch out of the bullpen, but that's where Pint found himself after three starts at Low-A Asheville in 2019. In the latter two outings, Pint pitched a combined total of one inning. He threw a staggering 56 pitches and just 13 strikes in those two games with eight walks and two strikeouts. Relieving could mean short bursts and no worries about pacing himself like a starter. Relieving, hopefully, was going to be a way for Pint to salvage his career and for the Rockies, in turn, to recoup their sizable investment in him. There was little sign of any of that over the balance of the 2019 season. Pint had a 6.75 ERA in 18 relief appearances. He allowed 10 hits in 14 2/3 innings but had more walks (22) than strikeouts (18).
Pint, 24, entered this season with a career record of 4–20 and a 5.56 ERA in 68 games, including 40 starts, over five seasons. His 163 strikeouts in 166 2/3 innings were impressive but were offset by some pronounced statistical shortcomings: 134 walks, 21 hit batters and 58 wild pitches.
Against this backdrop, Pint's 2021 season at Spokane was a relative success. In 10 games, he went 1–0 with a 3.37 ERA, allowing seven hits and 10 walks in 10 2/3 innings with 17 strikeouts, three wild pitches and one hit batter. In his penultimate appearance May 28, Pint threw two hitless innings with one walk and five strikeouts. Twenty of his 36 pitches were strikes. And in his final outing for Spokane on June 2, Pint walked one and struck out one in one scoreless inning, throwing eight of 13 pitches for strikes.
"There were just a lot of other things I was thinking about on the mound beside executing pitches and dominating the guy," Pint said, referring to seasons prior to 2022. "I was thinking about, 'OK, what happens if he gets on? What happens if I throw a bad pitch?' Just so many other things that were going on instead of just nailing down and be like, 'We're going to get the job done right here. We're going to put the ball in the zone We're going to make him hit it.' Or, 'We're going to strike him out.' "
Pint, who is 6-foot-5, 238 pounds, quashed any thoughts in spring training the Rockies had about sending him back to Spokane to start this season. It was during spring training when Stender said Pint stood out and was "beyond exceptional." Stender added it was apparent there was intent to Pint's work in the offseason, his mind set was superb and, best of all, "he's going out and he's dominating hitters. It's fastball, slider and good luck."
His misses were small misses. The decision to have Pint start the season at Double-A Hartford was easy. He throws a 94–97 mph fastball and this season has almost exclusively thrown a two-seamer. Stender said, "It's firm, it's explosive, it's late. Unbelievable sink."
Pint's slider is 87–91 mph, touched 92 mph and averages 90 mph with a sharp, late bite. Watching that pitch from behind home plate, Stender said, "I'm almost flinching in the stands. The way he manipulates the ball, what he can do with that arm stroke — it's special. With the fastball that's late, the slider that's late, if he's in and around the zone, it's something special."
Forbes said, "This is big league stuff in every sense of the word." And he referred to Pint's slider as "black magic" for its ability to break late and long and end up holding the plate, crossing the black.
Rockies pitching coordinator Doug Linton said, "The slider, when he's on, it's late and it's devastating. It's a plus big league pitch." Not an average big league pitch, which is a measure of sufficient quality and perfectly acceptable. But a plus offering, which is to say a cut above.
Pint has been trying to throw his changeup more. It's a bit firm in the low 90s or high 80s. Linton said when thrown right, the changeup has a little fade to it, and if Pint can reduce it to 87–88 mph it will have enough separation from his fastball velocity to be truly effective. The pitch will drop away from left-handed hitters, and at the big league level will be a weapon Pint can use against them.
"If he could throw that (changeup) with consistency," Stender said, "He could get to a place where the hitter has to think about all three (pitches). If he's in and around the zone, the hitter has no shot."
Pint's fastball and slider could give him more than adequate mound weapons even if his changeup never becomes consistent and is rarely used. And given their velocity and late movement, Pint doesn't need to pinpoint his fastball and slider. He has a margin for error when it comes to location that most pitchers with lesser stuff simply lack.
While Pint has made notable progress this season, his results have been mixed. In 20 games, he has no record and a 5.06 ERA. He has allowed 16 hits in 21 1/3 innings with 18 walks and 24 strikeouts, four hit batters and four wild pitches.
Pint had a 1.93 ERA in nine April appearances with three walks and 12 strikeouts in 9 1/3 innings. He held opposing hitters to a .161 average, threw 56.1 percent of his pitches for strikes and averaged 16.6 pitches per inning. He threw a first-pitch strike to 50 percent of the hitters he faced (19 of 38).
In May, Pint had an 8.18 ERA in 11 innings in 10 games with 15 walks and 12 strikeouts. Opponents averaged .270 against Pint, who has averaged 19.6 pitches per inning and thrown 51.6 percent of his pitches for strikes. He threw a first-pitch strike to 22 of 53 batters for a 41.5 percent rate.
"The (May) numbers aren't great, and they're not what they were in April," Stender said. "But he's still progressing, and we feel we're in a good spot with him. The walk numbers are high. The strike percent is lower than we'd probably be hoping for. But given where this kid was last year at this time — the retirement (scenario) — I think we're still very positive about where he's at."
Basically, the Rockies just want Pint to log innings this year; after all, he had pitched just 166 2/3 innings in five professional seasons entering this year. And 93 of those innings came in 2017, which was Pint's first full professional season. Results matter, of course. But Pint needs game experience. And the Rockies want to challenge him as the season moves along. In the process, progress isn't always apparent, but it's there.
"Now he's actually pitching in meaningful games where the team's trying to win or have a chance to win," Linton said, citing a difference from previous seasons.
Pint has made four appearances in one-plus situations. Namely, where he starts and completes an inning and pitches a portion of a second inning. Or he finishes a portion of an inning and then completes the next inning.
Pint had a one-plus outing May 26. He relieved starter Michael Baird to start the fourth at Richmond with Hartford leading 3–0. Pint retired the side in order on three ground balls, throwing six of 10 pitches for strikes. Pint took the mound in the fifth. He struck out the first batter on four pitches, walked the second hitter, albeit on eight pitches, and retired the third Richmond batter on three pitches, getting a ground out that moved the runner to second.
Pint then gave up a run-scoring single on two pitches and issued a five-pitch walk that raised his pitch total for the inning to 22, including 11 strikes, before being taken out. He departed with runners on first and second and was charged with a second run in the inning when reliever Jarrod Biddy walked the first two batters he faced.
Forbes likes to call the Eastern League a man's league. Legitimate prospects can be found on every team. And fewer soft spots exist in the lineups than at the Class A levels because of the culling of the herd done by every organization to set its Double-A rosters. The Eastern League is a sizeable step up and presents a challenge.
Pint faced a notable test on April 24 against Somerset. It was his seventh outing of the year and the first time he did not start an inning and inherited a runner. Indeed, Pint relieved starter Karl Kauffmann in the sixth with no outs, the bases loaded and Hartford trailing 7–0.
Stender and Mark Strittmatter, who is the Rockies field coordinator and catching coordinator, were in Spokane that night. They were watching the Hartford game on their iPads in the Spokane clubhouse.
"I was sitting there with Stritty, and we're going 'Oh boy.' " Stender said. "The very first pitch, he spiked it. Wild pitch."
Suddenly, the worst sort of memories flooded back to Stender. He recalled times going to see Pint pitch during the season or watching him in spring training. What would unfold was an ugly succession of balls bounced in front of home plate, balls thrown off the backstop, misses that just weren't close and a pitching bad dream come to life.
"You just wanted to go behind a tree and kind of squint and look over there (toward Pint)," Stender said. "It was painful to watch at times, because I know how I was feeling, which was terrible for the kid. You just knew it was times a thousand (worse) internally for him, because he just wants to succeed."
So as Stender and Strittmatter, sitting in a clubhouse nearly 2,700 miles from where Pint was pitching in Hartford, watched, a terrible sense of deja vu arose.
"After that first pitch, it was like back being in Scottsdale and trying to hide behind a tree," Stender said. "It's like, 'Oh, do I want to watch this?' Then with each pitch he got more and more confident."
Linton said, "There are not those big misses. He is around the zone now. If it was a year earlier, that outing snowballs."
And Pint remembered when that, indeed, happened last season. On May 9, 2021, Pint made his third appearance of the season with Spokane trailing 8–1. He came in with the bases loaded and one out in the sixth. Very similar to the bases-loaded situation Pint faced nearly one year later for Hartford this season against Somerset
"I think I got the first guy 0–2," Pint said of that bases-loaded appearance with Spokane. "Then I hit him with a back-foot slider. Then I ended up walking the two guys. Then I got pulled."
Pretty good memory. But in the process of issuing those two walks, Pint threw two wild pitches. His 14-pitch outing for Spokane included just five strikes. Spokane's 8–1 deficit had widened to 11–1.
Flash forward to this season. After throwing that wild pitch to send a run home and inauspiciously begin his outing with the bases loaded for Hartford, Pint struck out the first two batters he faced and got the third to line softly to shortstop. He escaped the jam and completed the inning on 16 pitches, eight of them strikes.
"I used to think of it so differently when I was playing before," Pint said. "I was like, 'I can't give up runs. I don't want my ERA to go up.' When I went out there (against Somerset), it's like, 'I got bases loaded, no outs. I need to stop the bleeding. This is what my team needs right now.'
"Last year, if I would've got out of that same situation, I would have been pumped up for myself. This time, obviously I didn't want that first run to score, but I was pumped up for the team because I wanted to get us out of that situation. It just means so much more to me now, because it's like I'm not just doing this for me anymore. This is for the entire team. Like this is for the bullpen. I want to do well, because all of us are busting our (butts) down there. I want to do it for them. I want to do it for everybody, because I want it to be such a team game. That's what baseball is. No one person has ever won a World Series by themselves."
The stark difference between how Pint inherited a bases-loaded jam and approached it this season and last is a sign of marked growth. But that fixation on how he rather than the team would do is understandable. Every time Pint took the mound in high school and early in his professional career, he was expected to dominate and wow onlookers with radar gun readings approaching triple digits. He was drafted very high. He received an enormous sum of money to sign. The expectations brought pressure. Immense pressure.
Pint enjoyed being on the mound. Although he certainly would have enjoyed it more without so much travail. But the time away from the mound became increasingly more fraught and challenging before he stepped away from the game last season.
"I just couldn't separate the two at the time," Pint said. "I remember there was a time I was at dinner with my family, and all I could think about was the pressure of me performing well the next day. I couldn't separate the two. I told myself when I can't even hold a conversation with anybody in my family because I'm already thinking about the next day and I'm already thinking about two weeks from now and just about stuff that I shouldn't be thinking about at the time. That's when I knew I had to take a step back, just kind of reevaluate things."
"And I think once I kind of did that, it kind of put things into place for me. I think it took a little bit more time than I thought it was going to. But I think once I was really, really able to step back, it started to kind of paint a clear picture for me."
When Pint left Spokane, Kibler, the club's pitching coach, was surprised how his job changed. He wasn't surprised Pint decided to leave. No, they had had a few long conversations about it. And Kibler "couldn't disagree" with Pint. What Pint did, Kibler said, was "set the tone and the atmosphere and the culture" for not only the pitching staff but the entire clubhouse.
"Sometimes you have some difficult guys to work with. It happens," Kibler said. "And I know it's my job to overcome that, and I did. But the first day he was gone, I remember looking around. And there were two or three guys — well, I'm standing there by myself and I'm going, 'What am I going to do to keep this guy on the straight and narrow, focused, doing exactly what he needs to do?'
"Because Riley did that. Riley would keeps guys on the straight and narrow. He would police guys. It was outstanding, and I didn't realize it until he was gone. It was fascinating. He knew how it was supposed to go, and he made it happen every single day. Probably one of the few benefits of sticking around in the lower minor leagues too long."
When Pint left Spokane, he and his girlfriend, Jamie Tholen, did some traveling. They went to Pinedale, Wyo., where the parents of his best friend, Karter Odermann, own a resort on a lake. They went to Vail and New York City, and Pint and his father went on a fishing trip to Walker, Minn. Traveling was a nice change, a much-needed getaway and in some ways a welcome alternative since he was no longer staring in for a catcher's signal.
"When I went home," Pint said, "it was a bunch of people asking me, 'Hey, what's going on. Why did you retire?' "
Traveling was fine, up to a point. Ultimately, Pint realized something was amiss. He was in the midst of a strange seasonal jumble.
"I would rather be doing the thing I love and then traveling in the offseason," he said. "I don't need to be traveling in June, July and August."
When Pint left Spokane, no one in the Rockies organization thought he would be gone for good. He stayed in touch with his Spokane teammates, an indication he wasn't severing ties. Stender had a "hunch" Pint would return, in part because he threw well in his final two Spokane outings. It might have been different had Pint been in steady descent and ultimately left after the latest in a string of bad outings.
"I think in his mind he left thinking, 'I can do this,' " Stender said. "It was just a matter of resetting and getting his mind right and going out there and saying, 'I am going to do this.' And that's exactly what the time off did for him."
Brett Baldwin, the Rockies scout who signed Pint and who lives in Liberty, Mo., just outside Kansas City, kept in contact with Pint. And so did Forbes. He said he and Pint had regularly engaged in "banter" about Kansas, where Forbes went to college, and Iowa State, whose teams Pint roots for because his father went there. Forbes said their back-and-forth was such that he couldn't say much until basketball season, the Jayhawks perennially being a football doormat and a basketball power. Good-natured jabs would suffice for a while in lieu of more substantive conversations.
"It was important that I gave him his space," Forbes said. "We did not talk about coming back"
In December, Forbes called Pint, suggesting they have lunch. Forbes flew to Kansas City.
"What I wanted him to do was just kind of unpack some things with me," Forbes said. "Let's get it all out there. The only way we're going to grow is let's be real about everything. Everything he talked about was 'we, us.' At that point, I was kind of, 'Yeah, this isn't over.' "
Pint said in the fall he had begun throwing with left-hander Joey Wentz, who lives in the Kansas City area and is one of Pint's best friends. A Tigers pitching prospect who began the season at Triple-A Toledo, Wentz made his first two Major League starts in May for the Tigers.
Additionally, Pint said he threw about 10 bullpen sessions this past offseason with former big league catcher Jason Kendall, who at one point was a neighbor of one of Pint's best friends.
Before the 2021 season, Kendall told Pint he would gladly catch any bullpen sessions. And Pint said he "ended up throwing probably 10 or so bullpens to him" this past offseason. Kendall, whose career in the Majors spanned 15 seasons and ended in 2008 with Kansas City, told Pint to just go play and have fun. Before the 2021 season, Kendall suggested Pint throw sinkers and modified his grip on that pitch. Pint had been throwing four-seam fastballs and in 2021 continued to throw sinkers and four-seamers in roughly equal amounts. But this season, Pint heeded Kendall's advice and has almost exclusively thrown his sinker along with his slider and changeup.
"I don't think my stuff's any better (this year)," Pint said. "I just think the confidence behind the stuff is better. I think I'm utilizing my pitches more. I'm throwing my sinker a lot more, so that's obviously getting more ground balls. I'm confident I'm going to be in the zone, and I'm confident I'm going to get people out."
Pint went down to Scottsdale around mid-January and began working out and throwing at a Phoenix facility with Rockies pitcher Ryan Feltner, whom Pint calls "one of my best friends in the organization." Because Feltner is on the Rockies' 40-man roster, he was unable to go to the team's Salt River complex. Forbes was there. He contacted Pint and invited him to sign the necessary paperwork to return and to work out at Salt River. Plenty of Pint's minor league pitching friends were already there throwing bullpen sessions and doing fielding drills well before minor league camp opened. Those workouts were overseen by the likes of Linton, Kibler and Rockies pitching coach Darryl Scott, all of whom live in the Phoenix area. Pint fit in easily.
Pint has received guidance from Rockies director of mental skills development Doug Chadwick and Colt Olson, his assistant. And Harvey Martin, a breath and performance coach with the San Francisco Giants whom Pint first began speaking with in 2019 also has been helpful. Baldwin, Pint's signing scout, connected him to Martin. He lives in Minneapolis, and Pint visited him and trained with him for about a week before 2021 spring training.
"He's been very good for me," Pint said. "He helped me see that there's just more to life than baseball. I had a really hard time differentiating those two lives, my actual life and my baseball life. But once I kind of started to see the two separate sides, it started to make things a lot clearer for me."
Pint said Rockies closer Daniel Bard has also helped him. Before Covid-19 shut down spring training in March 2020, they got together at a restaurant. Bard was beginning what would be a successful comeback that spring after being out of the big leagues for seven years and not pitching in the minors since 2017. Subsequently, Pint and Bard have spoken on the phone. Indeed, shortly before spring training this year, Pint called Bard. Pint wanted to be entering spring training in a good frame of mind. He said they spoke for an hour.
Bard, who like Pint was a former first-round draft pick, told Pint "it was freeing to leave the game" after being "stressed and worried about what people think of me and whether I was living up to my expectations."
Bard remembered being with his wife in Europe one August. Instead of being in a playoff race and "stressed out about baseball," Bard was drinking a beer in a European pub where nobody knew or cared who he was. He said, "It was like mentally freeing."
Bard said he discussed at length with Pint the importance being very process oriented. It's something Bard has focused on since completing his comeback with the Rockies. He can control his work leading up to a game and his preparation in the bullpen before entering a game and can have a consistent mind set on the mound. But some days your body simply feels better than others. Scratch hits happen. And so do poorly placed pitches that get hit far.
"It was like I know you feel good now, which is awesome, and that's 90 percent of the battle," Bard said. "But what happens when you go out and have that bad outing? I had to address this stuff with myself two years ago. Like what happens when I go out and walk two guys? Am I going to let all those doubts and all that stuff creep back in? You have to have a process, so when that bad outing does come or you blow a game or whatever, you don't go internal and let the wheels start going again that led to the struggles before. You got to have a process."
Pint seems to have surmounted his pitching past, difficult though it was. The hardest times were at Asheville where Pint spent two seasons and part of a third. He loved Asheville and loved playing there despite recalling "a lot of tough days and a lot of tough nights there." In retrospect, he has come to see what he endured in his career prior to this season "as a huge, huge, huge learning opportunity." The flip side of that perspective? Hardly worth ruminating about at this point.
"I'm not going to regret anything that I did or anything that happened,' Pint said, "because (you) can't live life on regret. So I'm just going to keep looking forward and keep trying to get better."
The Rockies see Pint having the potential to pitch leveraged innings in the big leagues. That's assuming he reaches that height, of course. There are no guarantees. Pint's control must improve. But being around the zone is good enough with his electric stuff. He still has ample ground to travel. But considering where he was a year ago, he has come very far.
"There's no kid that we've rooted for harder, and we love everybody," Stender said. "But just the type of person he is, the things that he has clearly gone through, for him to be back on the path and having fun and around teammates again and loving the game of baseball, from a personal standpoint, I love to see it. It makes me smile just knowing that he's having fun playing the game of baseball."
ABOUT THE SPOKANE INDIANS
The Spokane Indians are the High-A affiliate of the Colorado Rockies located in Spokane, Washington, and were named 2021 MiLB Organization of the Year. Avista Stadium is home to the MultiCare Kids Bench Seat. Parking at all Spokane Indians games is FREE. The Spokane Indians office and team store hours are 10:00 AM - 4:00 PM on Monday through Thursday and 10:00 AM - 12:00 PM on Fridays.