Warming Bernabel Enjoys Breakout 2022 Season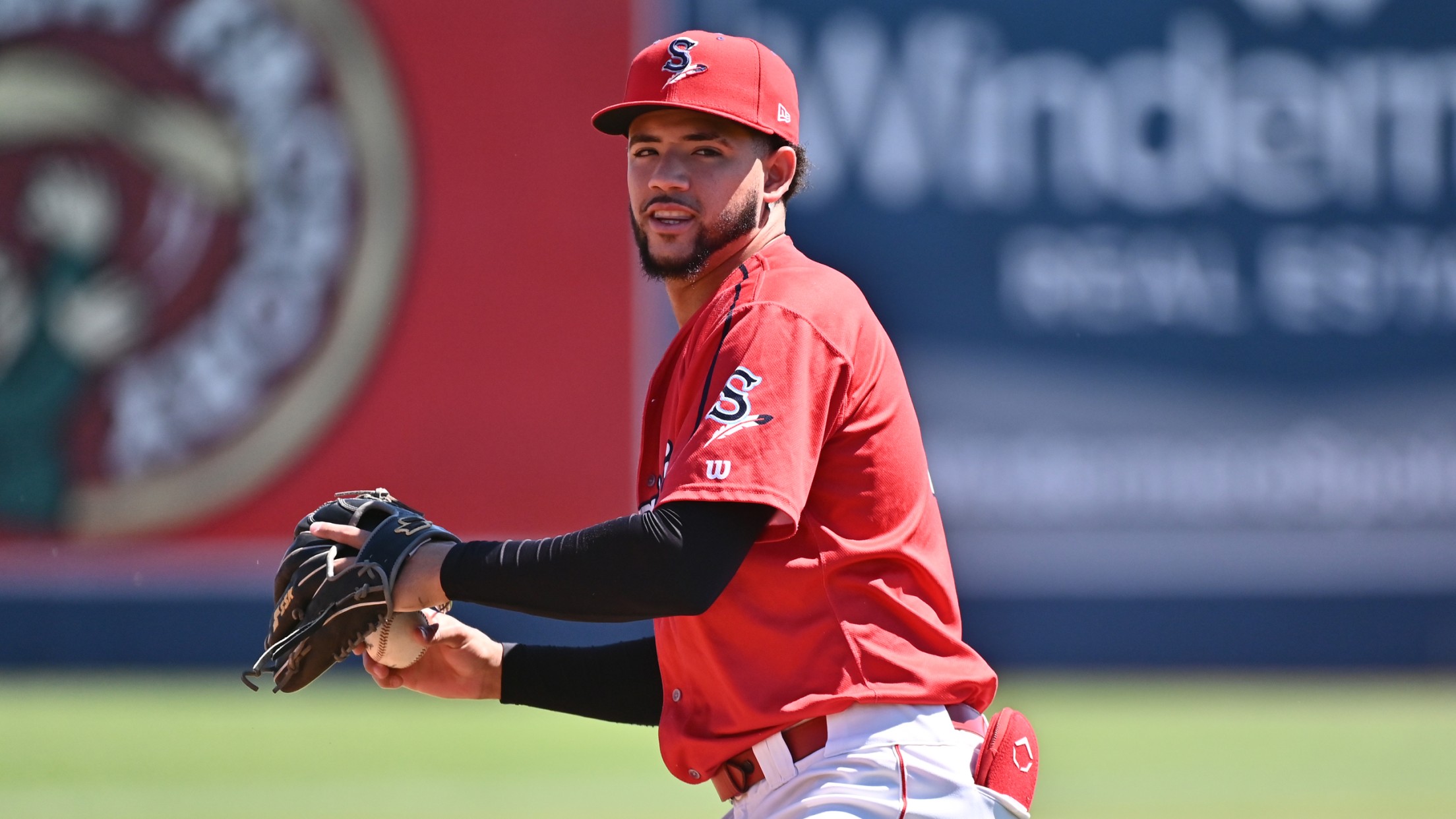 High A Spokane Bench Coach Julio Campos was fielding questions on the phone and interpreting them for Warming Bernabel. He is a fast-rising third baseman, a native of the Dominican Republic and an advanced hitter for a 20-year-old. In the Arizona Complex League last year, where Bernabel made his United
High A Spokane Bench Coach Julio Campos was fielding questions on the phone and interpreting them for Warming Bernabel. He is a fast-rising third baseman, a native of the Dominican Republic and an advanced hitter for a 20-year-old.
In the Arizona Complex League last year, where Bernabel made his United States debut, he played for a month. He hit .432 in 22 games. His OPS was 1.196. Rockies Hitting Coordinator Darin Everson only half-kiddingly said he "was basically Roberto Clemente down in the ACL. It was crazy. Every time he was up, it was like something good was going to happen."
Some opposing managers marveled at Bernabel and made a wrong assumption. They asked Jake Opitz, then managing the ACL Rockies, if Bernabel was a rehabbing Double-A or Triple-A player.
Fair question since players who have just turned 19 are not supposed to slash .432/.453/.743 in 86 plate appearances with five doubles, six home runs and 31 RBI and strike out a mere 12 times.
Bernabel primarily hit third in the ACL. When prized shortstop prospect Ezequiel Tovar was promoted from Single-A Fresno to Spokane at the outset of August last year, Bernabel moved up to Fresno the very next day. He scuffled there but batted cleanup most of the time and third when he wasn't hitting fourth. Those were the only two places he batted.
Bernabel began this season back at Fresno where he mostly batted third and thrived, earning an early July promotion to Spokane where that month he batted cleanup and built upon his Fresno success.
In other words, Bernabel has never eased into the lineup of a team he has joined. He has never batted, say, sixth early on, maybe for no more than a game or two, just to get his footing at the next highest level. The uniforms Bernabel has worn have changed. But not what is expected of him. Namely, hit in the middle of the order and do damage.
So the question was put to Bernabel. Has he ever felt pressure hitting third or fourth, because that's where he has been from day one, whether in the ACL or Fresno or Spokane?
Campos laughed after posing the question to Bernabel. And then Campos said, "It's funny the way he answered. He said, 'I never feel pressure to hit.' "
This cheerful exchange occurred in the waning days of July. At the time, Bernabel, coming off consecutive three-hit games, had played 16 games for Spokane and was hitting .403/.420/.612 with three home runs and 13 RBI. Three impressive weeks and certainly an unsustainable pace. But a forerunner of an additional 1 ½ robust months at Spokane to finish the season? Quite possibly.
Instead injuries followed, one to his right hand that slowly and steadily hampered Bernabel. And then a concussion, the result of an astonishingly bizarre collision that was not his fault and easily could have been avoided.
Bernabel made his Spokane debut July 4. During his first week there, he hit a ball off the end of his bat and repeated it enough to cause his right thumb, index finger and middle finger to swell up and bruise. Despite the inflammation, he kept playing.
The hand issue finally forced Bernabel to come out of a game on Aug. 3. At the time he had two hits in 17 at-bats over five games. Beginning Aug. 4, Bernabel missed nine of the next 11 games through Aug. 16. That 2-for-17 tailspin deepened to 2-for-26.
Bernabel returned Aug. 17 and went 1-for-4 that night and each of the next two games. Campos said in those three games, Bernabel was taking good at-bats, hitting the ball well and made several notable plays at third base. And most importantly, Campos said Bernabel this month has done a much better job coping with the reality that every at-bat will not result in a hit. Strange as it sounds, that was Bernabel's lofty expectation.
Rockies Director of Player Development Chris Forbes put it best a month ago when he said Bernabel, regularly disappointed after a hitless at-bat, needed to be constantly made aware "that the enemy gets a vote, and you're not always going to get a base hit, dude."
That baseball truism is resonating with Bernabel. He has come to realize failure is every hitter's constant companion. Sometimes it lurks in the background. Sometimes, when hits are scarce, it's very much out front, a loud, gnawing, uncomfortable presence. Being a perfectionist at the plate is fine up to a point. And beyond that point, it's wasted energy.
"He's growing," Campos said. "He's getting better. He's learning how to turn the page real quick…He's not doing anything where people can tell he's upset."
On Friday, Aug. 19th, with Spokane leading visiting Tri-City 7–0 in the ninth inning, Bernabel ran toward the far end of the third base dugout in pursuit of a foul pop up. As Bernabel attempted to make a backhanded catch, Tri-City pitcher Jose Salvador, who had started that game and pitched into the sixth inning, inexplicably ran out of the dugout, shielding his head with his hands to avoid being hit by the ball, rather than moving back in the dugout.
Salvador ran in front of Bernabel, whose focus was on the ball, collided with Bernabel and knocked him to the ground. Salvador's right elbow crashed into Bernabel's left shoulder and the left side of his face. Bernabel stayed in the game and didn't have any issues or signs of a concussion until he woke up Saturday morning. He was placed on the seven-day injured list Sunday but will likely be out longer. In 26 games at Spokane, Bernabel is slashing .305/.315/.486 with four home runs and 17 RBI.
The Rockies signed Bernabel for $900,000 on July 2, 2018, the start of the year for international signings, and a few weeks after Bernabel turned 16 on June 6. Rockies Vice President of International Scouting and Development Rolando Fernandez said, "What he does is he gets loaded and separated early. That's to me one of the best things he does. All the big leaguers who are good hitters, they do that. They load and separate early. And to me, that's what he's always done well."
The load, at the start of the swing, begins when the hitter shifts his weight back before striding. Separation, which follows the load, occurs when the hitter moves his hands back before propelling them forward as the front foot touches down and the swing proceeds in full force.
Bernabel was 15 when Fernandez initially saw him in the fall of 2017. During that 2017–2018 signing year, Fernandez said Bernabel was the best young hitter he saw in the Dominican Republic and Venezuela. Fernandez didn't see every hitter because some already were committed to teams through the buscones that represent players and populate the international market. Regardless, Bernabel stood out.
"What I saw was a pure hitter. I saw a guy at that age uses his hands very well," Fernandez said. "He had very good hand-and-eye coordination. He used the middle of the field for a young guy. He looked like a professional hitter hitting at that age. And that was in practice, in (batting practice).
"He took his approach into the game. He didn't swing and miss a fastball. And the bat sped up in the game; it's usually the opposite with young guys. You see a guy that in (batting practice) looks really good. Then the game starts, and the swing doesn't look the same. Or the bat speed is less than in practice. He's the opposite. He could really hit a fastball. He was ready to hit the fastball. He was aggressive. He's still aggressive."
At High-A, Bernabel is far from the Majors. And because he is far away and hasn't encountered the more challenging Double-A and Triple-A levels, there is more projection and less certainty involved when envisioning the type of player he will become. Regardless, watching Bernabel hit and gazing at the future, however hazy, is an enticing exercise for the Rockies.
"I think he's going to be a middle-of-the-order bat for us," Fernandez said. "I think he's going to be a stud."
In the Dominican Republic, Bernabel worked out for the Rockies at shortstop. But Fernandez told Bernabel that third base would be his professional home. He began his career in 2019 and played 55 combined games that year for the two Rockies teams in the Dominican Summer League. It's folly to put much stock in statistics for these players, since they are teenagers whose bodies typically are far from fully developed and whose skill set is understandably rough around the edges. And they haven't faced the cultural challenge, and potentially a daunting one, of coming to the United States to play and in most cases learn English.
Bernabel hit .250 in those 55 DSL games with a .707 OPS. But his strikeouts (29) didn't dwarf his walks (16), and he showed definite signs of power with 13 doubles, two triples, four home runs and 31 RBI in 241 plate appearances. Additionally, he made 28 errors in the 52 games he started and played at third base.
But he was healthy. He played every day. And with the game now his livelihood, he gained valuable experience on and off the field. All vital occurrences for a budding professional.
For a young player who can hit and hit with power, Bernabel has an astonishingly low strikeout rate. It has always been good. And it has remained rather consistent as he's moved up in the farm system. Bernabel's strikeout rate was 14 percent in the ACL in 2021 and 14.9 percent that year at Fresno. It was 13 percent this year at Fresno and is 15.6 percent at Spokane.
"I trust myself hitting with two strikes," Bernabel said late last month. "But if they throw my pitch early in the count, and I can do damage right away, I will do damage right away."
Which explains why Bernabel sees very few pitches, and why anyone wanting to watch Bernabel hit is advised to pay attention the moment he enters the batter's box. He's averaging 2.89 pitches per plate appearance at Spokane, slightly higher than his career mark of 2.58.
"He's not a free-swinger from a strikeout standpoint," Forbes said. "But if you got a five-pitch at-bat from him, you'd think it was a marathon. He ends at-bats as early as he can."
At Fresno last year, Bernabel saw 3.59 pitches per plate appearance. Selectivity, such as it was, didn't help him. In 21 games there, he hit .205/.287/.313 with one home run and seven RBI. Bernabel said, "That was my worst struggle in baseball. But it helped me to be a better player. It helped me understand I can't take anything for granted, and I need to keep working every day to be a better player." It's not like during this forgettable month and a half at Fresno, Bernabel expanded his strike zone, as evidenced by just 14 strikeouts in 94 plate appearances.
Bernabel was hit with pitches three times at Fresno. The last time was on the left elbow one month before the end of the season, leading to an adjustment — albeit not one that paid immediate statistical dividends.
The right-handed hitting Bernabel practically stood on home plate. In the ACL, he wasn't getting pitched inside often. That changed at Fresno.
"He started changing his (bat) path just a little bit to try to get to that pitch because he never had to deal with that," Everson said. "No one ever came in there before, at least consistently."
Bernabel made a slight adjustment, moving a small step back away from the plate. It was totally his decision and came the day after he got drilled in the elbow. That adjustment gave Bernabel more space, resulting in a more effective bat path on the inside pitch, not just on fastballs but on breaking pitches that come up and in as well.
"And when you can handle the soft pitches up, the curveballs up in the zone that they hang that they're maybe trying to land a pitch on," Everson said, "now you have an opportunity instead of maybe pulling it foul, now you have space within your setup and your stance. Now you're able to do damage to that ball to the pull-side gap or even the pull side over the fence."
Fresno hitting coach Nic Wilson was with Bernabel when he struggled last year and again this season when Bernabel hit .317/.390/.504 in 65 games with 19 doubles, 10 home runs and 54 RBI. In Spring Training this year, Bernabel began to surmount his 2021 Fresno struggles by developing a daily routine.
"He figured out that it's OK for practice to be really tough," Wilson said. "And that training maybe just outside of your capability and maybe not always being successful in practice can make things easier in the game…He trained harder, and he had a good attitude about getting better every day. I think he saw results in his game as a product of that."
Wilson believes Bernabel was "doing the correct things" for where he was in his career, namely the Arizona Complex League. But moving up, the game got harder.
"All of us have been young," Wilson said. "And you don't know what you don't know is a good way to put it."
Wilson gives Bernabel credit for the maturity to see where he needed to improve. Hitting off a pitching machine is not a training tool Bernabel particularly liked, Wilson said. But over time, he came to appreciate it and had more success using it.
"One of the reasons we like it is it helps increase the intensity in practice," Wilson said. "It's harder to be good off of it."
Bernabel discovered the right mix of a really challenging practice with a pitching machine and a less challenging practice with a routine built around different drills in the indoor hitting cage. And melding those approaches with batting practice on the field enabled Bernabel to push himself on days he needed to be pushed, Wilson said, and pull back on other days.
"And just keep inching the entire thing one percent better day by day," Wilson said. "I think that was something that he really believed in. He's a guy who's got a lot of confidence in himself, and he's got a lot of confidence in his plan. There's a ton of consistency with the things he was working on, and he got better at them as a result."
Bernabel has a short, compact stroke that is direct to the ball. And he has always been able to use the whole field. In Spring Training this year, Bernabel set out to not just hit the ball to the opposite field but drive it that way. He put a lot of time and emphasis into hitting line drives that don't just reach the opposite field but are hit hard enough to reach the fence in the air or on the ground once they start rolling.
"You're talking about a guy who has legitimate power without trying to (have it)," Wilson said. "It's natural. That is a special quality that allows you to be a good hitter first. And I think he understands that he wants to be a really good hitter first and allow the power to be natural. That's a special mindset."
Accomplished hitters move the ball around and don't fall into the trap of trying to pull the ball excessively. Hitting the ball to the opposite field and particularly the opposite-field gap can be a challenge for a young hitter fixated on turning on pitches, particularly those pitches on the outer portion of the plate. Bernabel has avoided these pitfalls.
"He likes the big part of the field," Forbes said. "I think he's going to have the opportunity as he gets to that man strength to leave the park in all fields. He can really stay on the ball. It's a pretty sustainable approach for such a young kid."
When it was apparent Bernabel had nothing more to prove at Fresno and it was time to promote him to Spokane, Forbes said there was a bonus to the move. Namely, Bernabel would get to play with Spokane shortstop Julio Carreras, 22, someone Forbes said "plays the game with gratitude and passion and just wants to be at the ballpark."
Campos said Carreras is a leader for the entire Spokane team, not just the Latin players. Like Bernabel, Carreras is from the Dominican Republic. But where Bernabel was a big-ticket item, who signed for $900,000, Carreras signed for $15,000. That was in February 2018, shortly after Carreras' 18th birthday. That's old for an international signing, since those players can be signed at 16.
"It wasn't that he was a $15,000 guy, because he was a good player," Fernandez said, adding that Carreras had good hands, good shortstop actions but was not very strong physically. "The reason you pass (on signing a player) not necessarily has to do with strength."
Sometimes the buscone wants too much money or more than any club sees fit to pay. Fernandez said that probably happened with Carreras.
He hit .289 with an .825 OPS, 11 home runs and 59 RBI in 110 games for Spokane before being promoted Monday to Double-A Hartford. Carreras was leading the Northwest League in hits (116) and doubles (37). In addition to playing next to each other in the field, Carreras typically batted third and Bernabel fourth before missing games with his hand injury. Upon returning, Bernabel was hitting fifth with catcher-first baseman Hunter Goodman slotted fourth. Promoted from Fresno last month, Goodman is hitting .358 with a 1.176 OPS, eight home runs and 20 RBI in 20 August games.
Bernabel and Carreras challenged each other with good-natured banter during pre-game stretching and during the game. Carreras might say he's going to begin an inning or launch a rally with a hit and ask Bernabel what he'll do. Or Bernabel might tell Carreras to reach base with a hit, and he'll follow him with another one. "Also on the defense side, the way they communicate, all the time, they're talking," Campos said before Carreras' promotion. "It's fun to have them back-to-back in the lineup and on the field every day. It's really fun because they push each other, and pushing each other, they're helping the team. I'm just enjoying watching them."
Bernabel is 6-foot-2, 205 pounds. He runs well for his size. Campos has clocked him in 4.2 and 4.3 seconds running to first base; 4.3 seconds is Major League average for a right-handed hitter. He has good hands, not surprising since he's a former shortstop. Bernabel has a solid average arm that potentially will be a plus arm.
His range is a work in progress and might always be. But Bernabel has a good feel for the ball off the bat. And he can be very good on the reaction plays that come with the territory at third base. But after reacting instantly to make a marvelous play that might leave observers stunned in disbelief, Bernabel might then boot a ball right at him. If he uses his feet and lower half well, his defense will play at third base.
Forbes said Bernabel is developing the internal clock that good infielders possess, the timing device that enables them to synch up their footwork with their arm and upper body and then cognizant of the speed of the runner, get off a strong, accurate throw.
Bernabel worked on the nuances of third base in the Rockies' instructional league program last fall with former Rockies third baseman Vinny Castilla, who played the position very well and believes Bernabel can become a very good third baseman. They had a sit-down session in Spring Training devoted strictly to defense at third base. And Castilla checks in from time to time with Bernabel.
Bernabel is below average in his defensive consistency, not surprising for a young player. He has made 19 errors this season, 16 at Fresno. But he works very hard on his defense.
"Long term, he can man the hot corner at the big league level," Rockies Assistant Director of Player Development Jesse Stender said. "The skills that he has, the type of person he is, he'll be able to handle the position in time…There's a lot to like on the defensive side of the ball even though he's going through some struggles early on in his career."
The struggles have been minimal on offense when Bernabel has been healthy. His difficulty at Fresno last year caused him to develop a daily routine and adhere to it. That has been a big plus. How players respond to adversity is telling. Responding well is no guarantee of anything long term but is crucial to any sustained success. The miserable month and a half Bernabel had last year or the recent slide at Spokane when his hand was bothering him won't be the last time he steps in the batter's box amid a dry spell.
That's bound to happen as Bernabel rises in the farm system and regularly faces better pitching. But during those stretches, Bernabel inevitably will know that one good swing is all it takes. One good swing can make a dry spell vanish in an instant. One good swing can do serious damage. And whack! what better time for all that than right now on this particular at-bat.
"He knows he's good," Stender said. "And he knows that every time up, he can do damage. It's a quick bat. He barrels everything; he knows how to manipulate the barrel. He can use the whole field. He's got power to both gaps.
"It's a special bat. He's up there, and he knows it's special and he wants to let it fly."