Tennessee Smokies Announce 2023 Opening Day Roster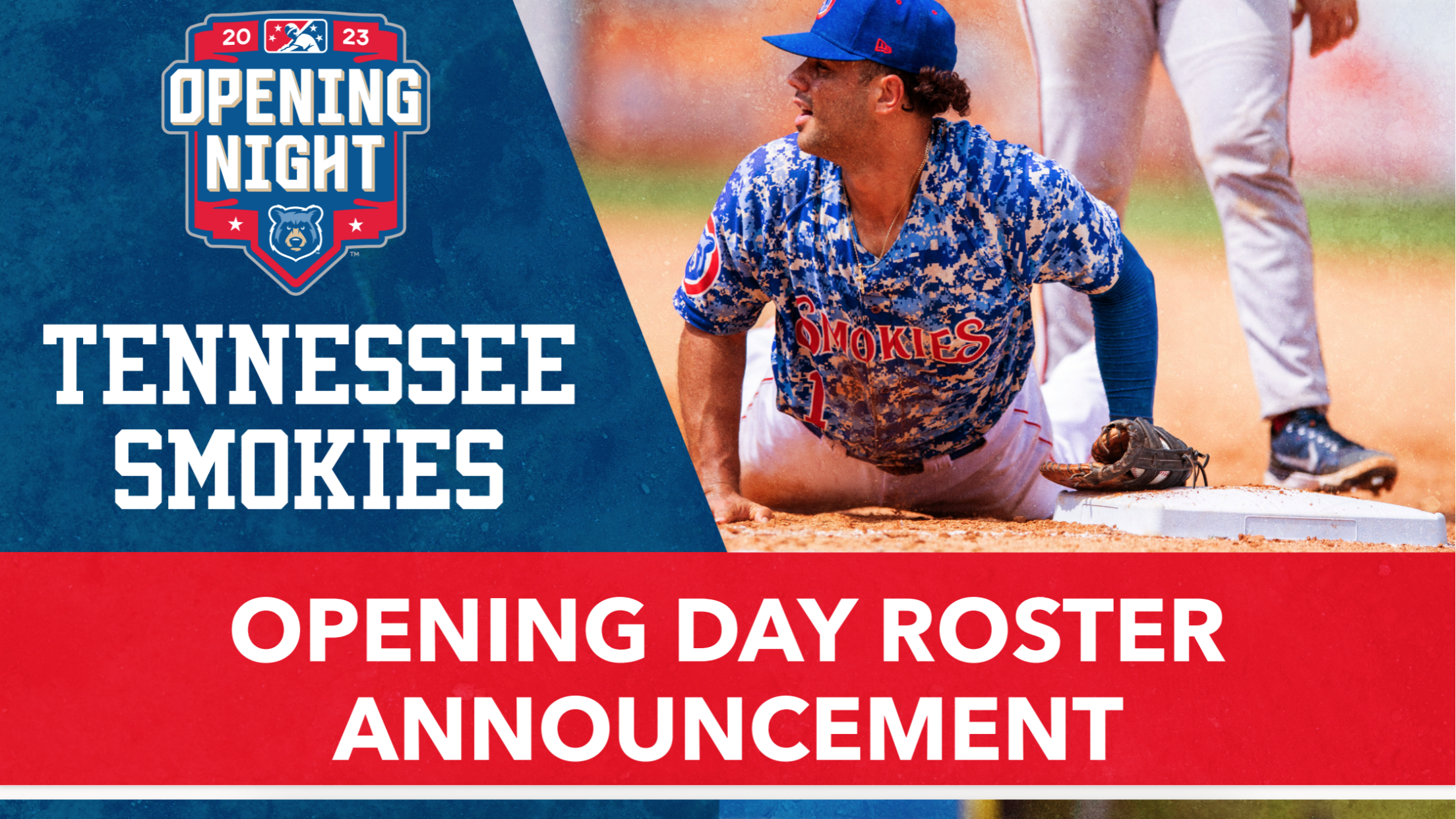 SEVIERVILLE, TN - The Tennessee Smokies, in conjunction with the Chicago Cubs, have announced the initial 2023 season roster. The team features numerous top 30 prospects in the Chicago Cubs organization, and returning faces to Tennessee. The roster is comprised of 15 pitchers and 15 position players to begin the
SEVIERVILLE, TN - The Tennessee Smokies, in conjunction with the Chicago Cubs, have announced the initial 2023 season roster. The team features numerous top 30 prospects in the Chicago Cubs organization, and returning faces to Tennessee. The roster is comprised of 15 pitchers and 15 position players to begin the 2023 campaign.
Outfielders for the Smokies are headlined by Cubs' #1 prospect Pete Crow-Armstrong, who had 132 hits and 61 RBI in 101 games combined with Class A Myrtle Beach and Class High A South Bend last year. Owen Caissie, Cubs' #13 prospect, is coming off of a 96 hit, 58 RBI, and 11 home run season in 2022 with Class High A South Bend. Joining them will be Jordan Nwogu, and Smokies returners Zach Davis and Cole Roederer.
The infield flaunts Cubs' #25 prospect and returner to Kodak, Chase Strumpf. The 2019 second round pick had 181 total bases, 57 RBI, and 21 home runs in 116 games for the Smokies last year. Other infielders will be Bryce Ball, Nelson Maldonado, BJ Murray, Luis Vazquez, Luis Verdugo, and Andy Weber.
Catchers for Tennessee will comprise of Cubs' #15 prospect Miguel Amaya. In just 28 games played last year with the Smokies, the Panama native had 27 hits and 19 RBI. Behind the plate will also feature Pablo Aliendo and Caleb Knight.
The pitching staff is fully loaded with top prospects, with five in the top 30 of the Cubs organization. The staff is highlighted by Cubs' #6 prospect Jordan Wicks, #8 prospect Ben Brown, #14 prospect Daniel Palencia, #21 prospect Porter Hodge, and #29 prospect Ryan Jensen. Cubs' 2021 first round pick Jordan Wicks returns to Tennessee after striking out 35 batters in just 28 innings at the Class AA level. Ben Brown is coming off of a 3-0 record in seven games started with the Smokies last year. Hunter Bigge, Ben Hecht, Bailey Horn, Chris Kachmar, Riley Martin, Michael McAvene, Walker Powell, Jake Reindl, Dalton Stambaugh, and Cayne Ueckert round out the staff.
The Smokies will commence their 2023 home campaign against the Birmingham Barons on Thursday, April 6. The full schedule for this season and season ticket information can be found online at smokiesbaseball.com, or by calling the Smokies Ticket Office at 865-286-2300.
ABOUT THE TENNESSEE SMOKIES
The Tennessee Smokies are the Double-A affiliate of the Chicago Cubs. Members of the eight-team Southern League, Smokies baseball has been entertaining families and fans of America's national pastime in the East Tennessee region for over 100 years. To learn more about the Tennessee Smokies, visit www.smokiesbaseball.com.