Tennessee Smokies Announce New Batter's Box Bar + Grill Hours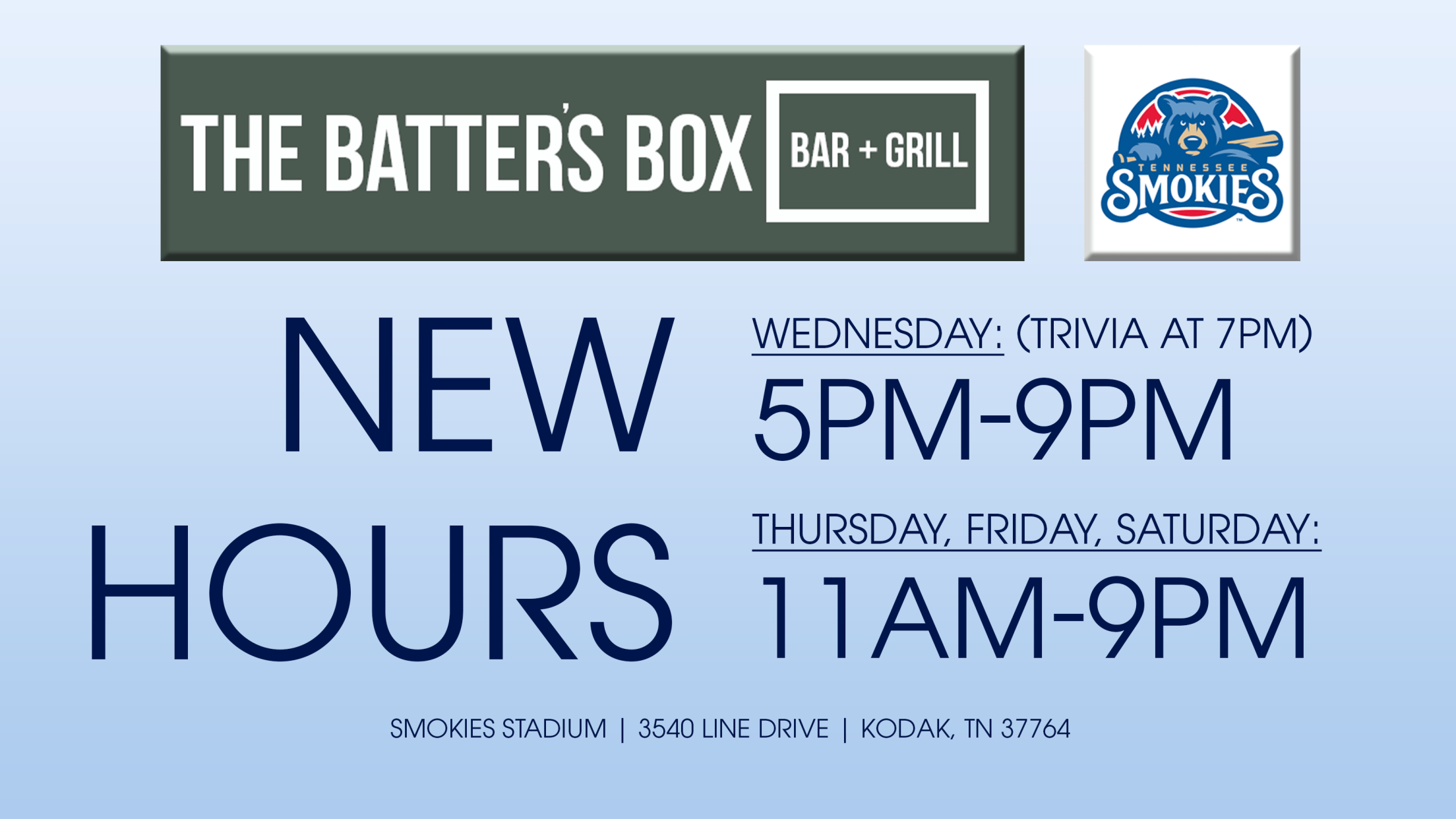 Restaurant hours updated as of March 2, 2022 SEVIERVILLE - The Tennessee Smokies have announced that the restaurant located at Smokies Stadium, The Batter's Box Bar + Grill, will be open four days a week starting March 2. Guests can dine-in and carry-out. Every Wednesday at 7:00pm the restaurant will
Restaurant hours updated as of March 2, 2022
SEVIERVILLE - The Tennessee Smokies have announced that the restaurant located at Smokies Stadium, The Batter's Box Bar + Grill, will be open four days a week starting March 2. Guests can dine-in and carry-out. Every Wednesday at 7:00pm the restaurant will host Trivia Night, presented by Not Rocket Science Trivia for a chance to win great prizes.
Hours for The Batter's Box Bar + Grill are Wednesday 5:00pm-9:00pm, Thursday 11:00am-9:00pm, Friday 11:00am-9:00pm, and Saturday 11:00am-9:00pm.
The menu will feature signature burgers, hickory smoked pork, and other ballpark favorites, in addition to a bar featuring daily specials. Guests can also order catering and rent out the area for parties.
Visit smokiesbaseball.com/food for menu and additional information, or contact Morgan Messick at [email protected] to book a party or event today.
ABOUT BOYD HOSPITALITY
Boyd Hospitality operates all concessions and catering for the Tennessee Smokies, the Double A affiliate of the Chicago Cubs. This includes a dine-in restaurant, The Batter's Box Bar + Grill, a mobile food truck (The Fowl Pole), and all concessions inside Smokies Stadium. To learn more about Boyd Hospitality contact Chris Franklin at [email protected].