Tennessee Smokies announce inaugural 'Clay Clash' presented by KaTom Restaurant Supply benefiting The Pat Summitt Foundation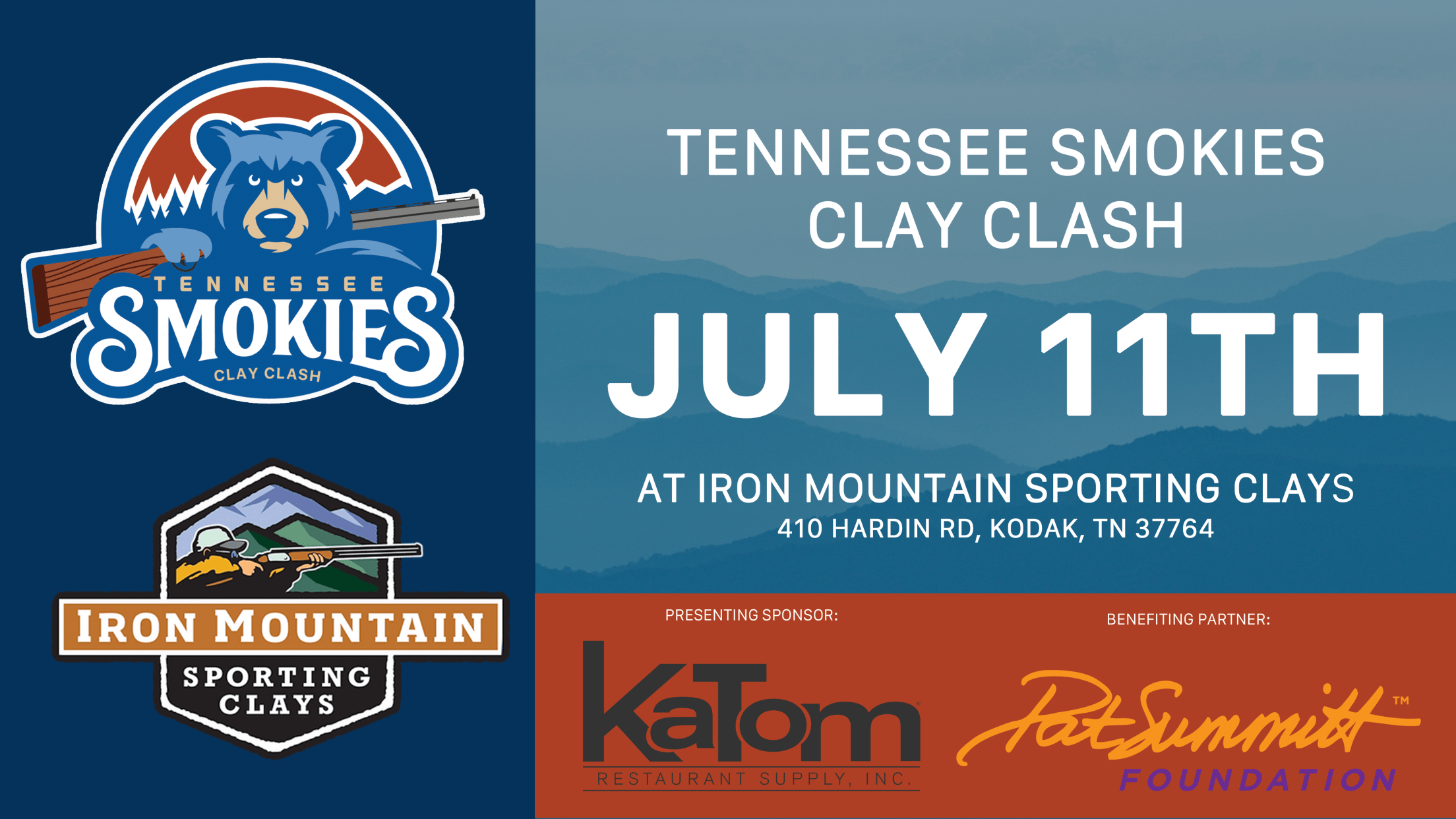 SEVIERVILLE, TN - The Tennessee Smokies have announced the team will host its inaugural 'Clay Clash' presented by KaTom Restaurant Supply on July 11, 2023 starting at 9:30am. The clay shooting contest will take place at Iron Mountain Sporting Clays located at 410 Hardin Road, in Kodak. A silent auction
SEVIERVILLE, TN - The Tennessee Smokies have announced the team will host its inaugural 'Clay Clash' presented by KaTom Restaurant Supply on July 11, 2023 starting at 9:30am. The clay shooting contest will take place at Iron Mountain Sporting Clays located at 410 Hardin Road, in Kodak.
A silent auction and raffle prizes will be available with the proceeds benefiting The Pat Summitt Foundation.
Registration for the contest is now open and will be $600 for a team of four, that includes a cart rental. Single registrants are also available for $150 per person. Each shooter will receive a participant gift. The top three scoring teams will receive a prize. A light breakfast and lunch will be included as part of the event.
Participants can bring their own gun and ammunition. Correspondingly, participants can rent a gun and purchase ammunition on site at Iron Mountain Sporting Clays.
"I think the Clay Clash is going to be a great addition to the list of events we have every year," said Tennessee Smokies Director of Outside Events Morgan Messick. "This is so different from anything we've done in the past, and I'm excited to be a part of it!"
For full details and to register for the Smokies Clay Clash please visit smokiesbaseball.com/clayclash. Please direct any questions to [email protected].
The Tennessee Smokies full baseball schedule for this season and season ticket information can be found online at smokiesbaseball.com, or by calling the Smokies Ticket Office at 865-286-2300.
ABOUT THE TENNESSEE SMOKIES
The Tennessee Smokies are the Double-A affiliate of the Chicago Cubs. Members of the eight-team Southern League, Smokies baseball has been entertaining families and fans of America's national pastime in the East Tennessee region for over 100 years. To learn more about the Tennessee Smokies, visit www.smokiesbaseball.com.
ABOUT THE PAT SUMMITT FOUNDATION
The Pat Summitt Foundation, a fund of East Tennessee Foundation, was established by Pat and Tyler Summitt in November 2011. Its mission is to advance research for treatment and a cure, provide care and support for patients and caregivers, and educate the public about Alzheimer's disease. To learn more, please visit www.patsummitt.org, like the foundation on facebook.com/webackpat, and follow it on Twitter and Instagram @webackpat.