Saturday Game Story: Crosscutters Return the Favor
Herron and Coumoulos homers not enough in 6-3 loss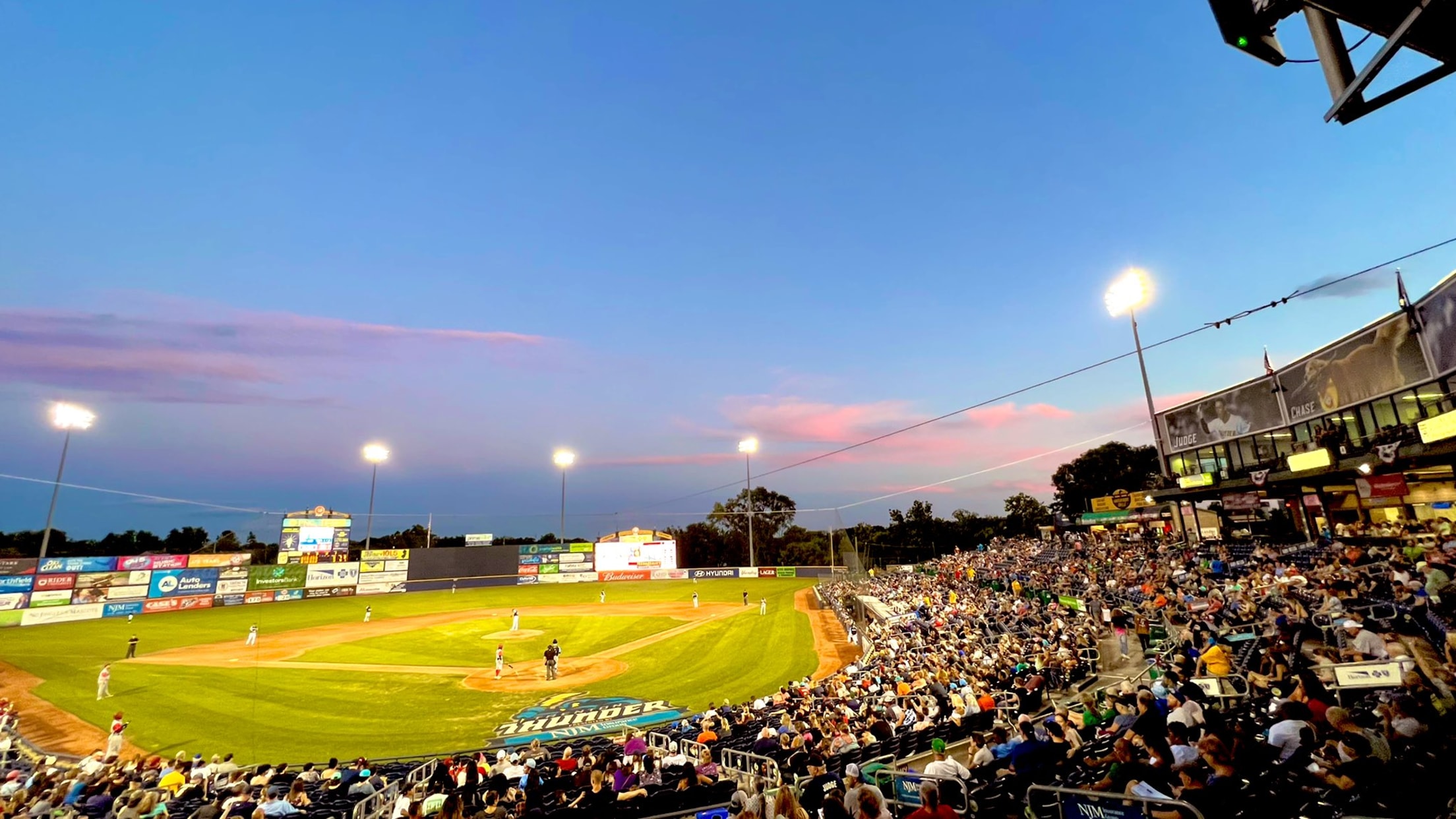 (Trenton, NJ) – The first two games in this weekend series between the Thunder (22-23) and Crosscutters (26-19) have been defined by one big inning. On Friday, Trenton powered to a 6-3 win thanks to a five run sixth as they ended Williamsport's five-game winning streak. Perhaps the Crosscutters are
(Trenton, NJ) – The first two games in this weekend series between the Thunder (22-23) and Crosscutters (26-19) have been defined by one big inning. On Friday, Trenton powered to a 6-3 win thanks to a five run sixth as they ended Williamsport's five-game winning streak. Perhaps the Crosscutters are looking to start another one, and they evened the series at a game apiece by returning fire with a six run third for the same final on Saturday night. Despite six hitless innings from the bullpen, the Thunder failed to generate much outside the first home runs of the season from *Mark Herron Jr. *and *Paul Coumoulos *in front of a crowd of 5,473 at Trenton Thunder Ballpark.
In that frantic top of the third, the Crosscutters sent 10 to the plate and came away with six runs on five hits off Thunder starter Adrien Reese. The visitors loaded the bases to start the inning and then grabbed the lead for good on *Connor Denning's *two-RBI single. *EJ Taylor's *run-scoring single came right before *Daniel Harris' *two-RBI double with a couple of wild pitches sprinkled in. It gave Williamsport a commanding 6-1 edge after Herron snapped an 0-for-15 start to the season with a home run to dead center in the bottom of the second.
After Herron's home run, Crosscutters starter Jarrett Whorff *(2-0)set down the next 12 hitters until *Dilan Espinal's *second single came with two outs in the sixth. On the very next pitch, Coumoulos blasted a two-run homer to right to make it 6-3 and bring the crowd alive. Over the last three innings, Trenton's lone hit came on Coumoulos' leadoff single in the ninth off closer *Cristian Lopez. Following a Ryan McCarthy *lineout to third, *Josh Surowiec *hit into a game-ending double play to shortstop *Travis Holt *to give Lopez his third save in seven games. The Thunder bullpen trio of *Ray Weber, Hunter Waldis, and *Ryan Sandberg *kept them in it with two scoreless innings apiece and 10 total strikeouts.
The homestand wraps up on Sunday, July 31 when the Thunder and Crosscutters get together for the third and deciding game of their series at 5:00 PM. Cloudman's Heroes Week concludes with our First Responders Appreciation Day, Touch a Truck, and Postgame Kids Run the Bases! For full ticket pricing and information for the rest of the 2022 season, partnership/sponsorship opportunities, and information about special events at Trenton Thunder Ballpark, please visit trentonthunder.com or call the Thunder Box Office at (609) 394-3300, opt 4.
#
New Jersey's Baseball Team | Big League Futures. Major League Fun.
The Trenton Thunder have drawn over 10 million fans over 28 years and have won the three major awards that Minor League Baseball teams can win; the Johnson Trophy for the "Nation's Best Franchise", the Larry MacPhail Trophy for Outstanding Club Promotion, and the Bob Frietas Award for Long-Term Success, given by Baseball America. The team has given back over $7.5 million worth of goods, services, and monetary donations through Trenton Thunder Charities, under the Grand Slam We Care Foundation umbrella. The Thunder can be found online at trentonthunder.com, facebook.com/trentonthunder, twitter.com/trentonthunder, and on youtube.com/AATrentonThunder.