New York Mets purchase contract of Thunder's Joe Joe Rodriguez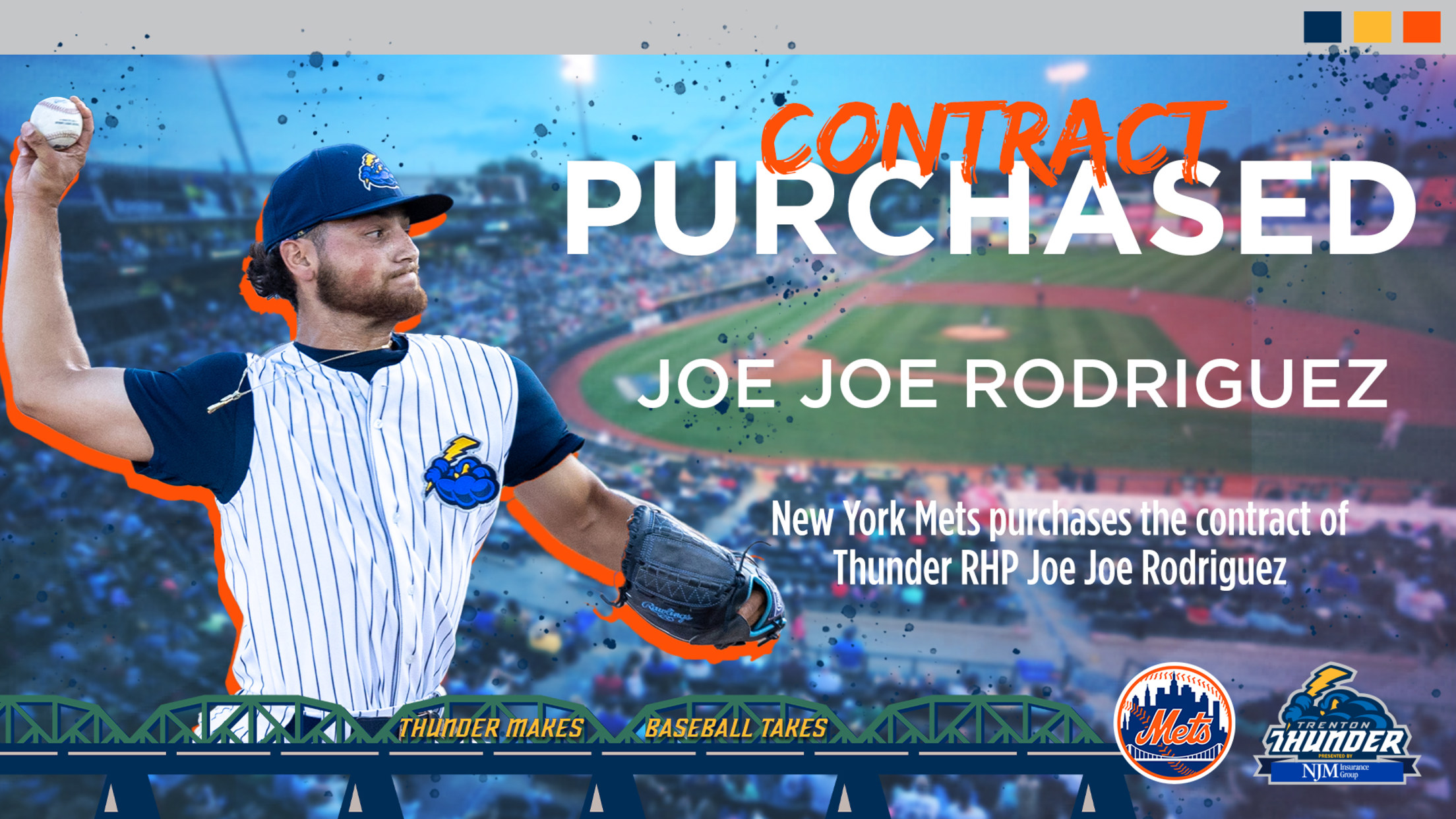 NEW YORK -- The MLB Draft League announced Thursday that the New York Mets had purchased the contract of RHP Joe Joe Rodriguez from the Trenton Thunder. Rodriguez is one of the first two players, alongside Jordan Geber, in MLB Draft League history to have his contract purchased by a
NEW YORK -- The MLB Draft League announced Thursday that the New York Mets had purchased the contract of RHP Joe Joe Rodriguez from the Trenton Thunder. Rodriguez is one of the first two players, alongside Jordan Geber, in MLB Draft League history to have his contract purchased by a Major League club.
The Draft League had 47 players selected in the 2022 MLB Draft, improving upon the League's 39 draft picks during its inaugural '21 season, and more than 20 undrafted players have signed free-agent contracts. Trenton had 10 players selected in the 2022 Draft, with two more signing as undrafted free agents.
This season is the Draft League's first under the new amateur/professional hybrid format. After featuring exclusively Draft-eligible players during the first half (June 2 to July 16), the Draft League transitioned to a professional model in the second half (July 22-Sept. 6), with undrafted, out-of-eligibility players signed to professional contracts comprising the six founding Draft League teams' rosters.
Rodriguez, 22, was one of the Draft League's more accomplished pitchers during the 2022 season, going 2-2 with a 2.17 ERA in 10 games (eight starts) with the Thunder. He ranked among the Draft League leaders in ERA (5th), starts (t-2nd) and innings pitched (37.1; 3rd) at the time his contract was purchased by the Mets. Rodriguez earned the win in his final Draft League start July 31 (his second as a professional player), allowing two runs (one earned) over a season-high six innings against Williamsport.
A native of Vineland, N.J., Rodriguez was selected by the Cincinnati Reds in the 20th round of the 2019 MLB Draft after his freshman year at Rowan College of South Jersey-Cumberland. He opted not to sign, instead committing to St. John's University (NY). Rodriguez compiled a 5-10 record and 5.90 ERA in three seasons with the Red Storm, working 103.2 innings over 34 appearances, including 14 starts, 10 of which he made as a senior in 2022.
# =
New Jersey's Baseball Team | Big League Futures. Major League Fun.
The Trenton Thunder have drawn over 10 million fans over 28 years and have won the three major awards that Minor League Baseball teams can win; the Johnson Trophy for the "Nation's Best Franchise", the Larry MacPhail Trophy for Outstanding Club Promotion, and the Bob Frietas Award for Long-Term Success (Given by Baseball America). The team has given back over $7.5 million worth of goods, services, and monetary donations through Trenton Thunder Charities, under the Grand Slam We Care Foundation umbrella. The Thunder can be found online at trentonthunder.com, facebook.com/trentonthunder, twitter.com/trentonthunder, and on youtube.com/AATrentonThunder.