Piña Strikes Out 14; Emeralds Get Past Dust Devils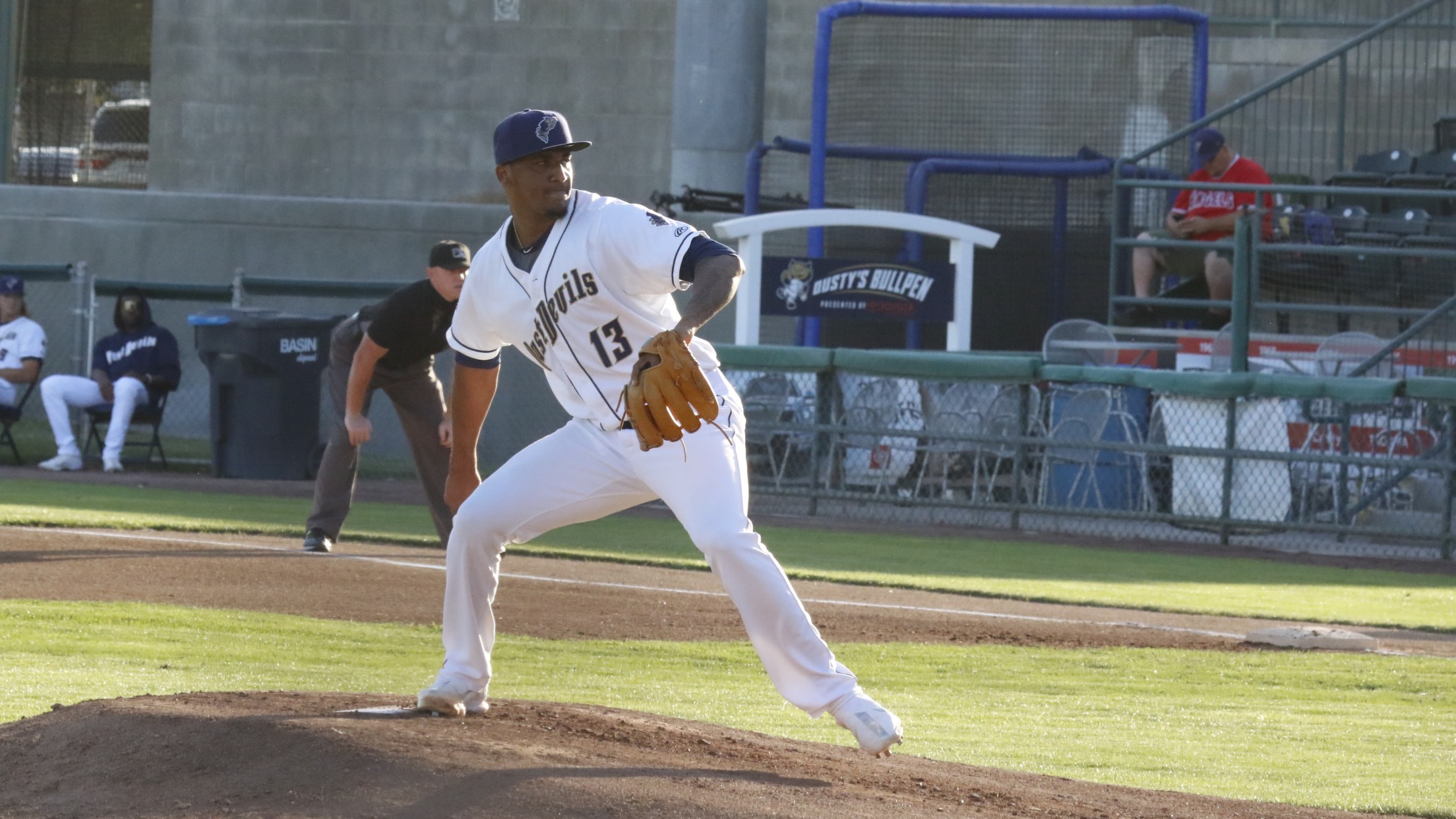 Tri-City Dust Devils (19-21) starter Robinson Piña struck out a career-high 14 batters Friday night, but the host Eugene Emeralds (20-18) came back late for a 7-6 walk-off win at PK Park. The performance by the right-hander from the Dominican Republic was historic, as Piña struck out more batters in
Tri-City Dust Devils (19-21) starter Robinson Piña struck out a career-high 14 batters Friday night, but the host Eugene Emeralds (20-18) came back late for a 7-6 walk-off win at PK Park.
The performance by the right-hander from the Dominican Republic was historic, as Piña struck out more batters in a single game than any Northwest League pitcher going back through the 2005 season, the farthest back NWL digitized stats go.
Piña gave up just one run on two hits over his six brilliant innings, with a 2nd inning solo home run from Carter Aldrete the only blemish. He struck out the side twice, in the 1st and 6th innings, and struck out three in the 2nd inning.
Outside of the Aldrete homer, which gave Eugene an early 1-0 lead, the righty from Santiago in the Dominican Republic allowed only one other baserunner, a 3rd inning single by the Emeralds' Carter Williams.
The Dust Devils would provide Piña with major run support in the top of the 3rd, scoring six runs to take a 6-1 lead. D'Shawn Knowles would follow a Jose Guzman leadoff double with an RBI single to left, his first hit at the High-A level tying the game at 1-1.
After Kyren Paris reached on an error Kyle Kasser chopped a ball off the turf, bouncing it over the mound for an infield single which scored Knowles for a 2-1 Tri-City lead. With two on, Gabe Matthews hit a soaring home run down the right field line, a 3-run shot that gave the Dust Devils a 5-1 lead. It was Matthews' fifth home run of the season, and his third of the series.
Kenyon Yovan would add an RBI single to center later in the 3rd, making it so all three Oregon Ducks on the roster had run-scoring hits in the inning.
Tri-City's 6-1 lead would hold to the 7th, and then evaporate. Eugene scored five times in the inning, with three runs coming from Dust Devil walks, to tie the ballgame at 6-6.
Then, in the 9th, Brandon Dufault (0-2) walked Emeralds catcher Patrick Bailey to lead off the inning. Luis Toribio would follow with a single to center, moving Bailey to third. Williams, the next batter, hit a ball to center field far enough for a sacrifice fly, giving Bailey time to tag up and walk off Tri-City for a second straight night.
Eugene's Clay Helvey (1-0) pitched a scoreless 9th inning for the win.
The Dust Devils and Emeralds meet up at 6:05 p.m. Saturday night for game five of their six-game series. Right-hander Ryan Costeiu gets the start for Tri-City, with righty Mason Black to the hill for Eugene.
You can listen to the game at both dustdevilsbaseball.com and the MiLB First Pitch app, with the King Beverage Budweiser Pregame Show starting at 5:50 p.m.
The Dust Devils return home to Gesa Stadium Tuesday, May 31 to begin a six-game series with the Hillsboro Hops. It's a Coca-Cola Tuesday, with 21 oz. Coca-Cola products available for $2.
Single-game tickets for the Hops series, part of a 13-game homestand, and all games are on sale now. Ticket packages are also available, and start at just $99. And special ticket rates are available for groups of 20 or more. For more information on Dust Devils single game, season, mini-plan (11, 22, 33) and group tickets, visit dustdevilsbaseball.com or call 509-544-8789.