Drillers Victorious in Gavin Stone's Double-A Debut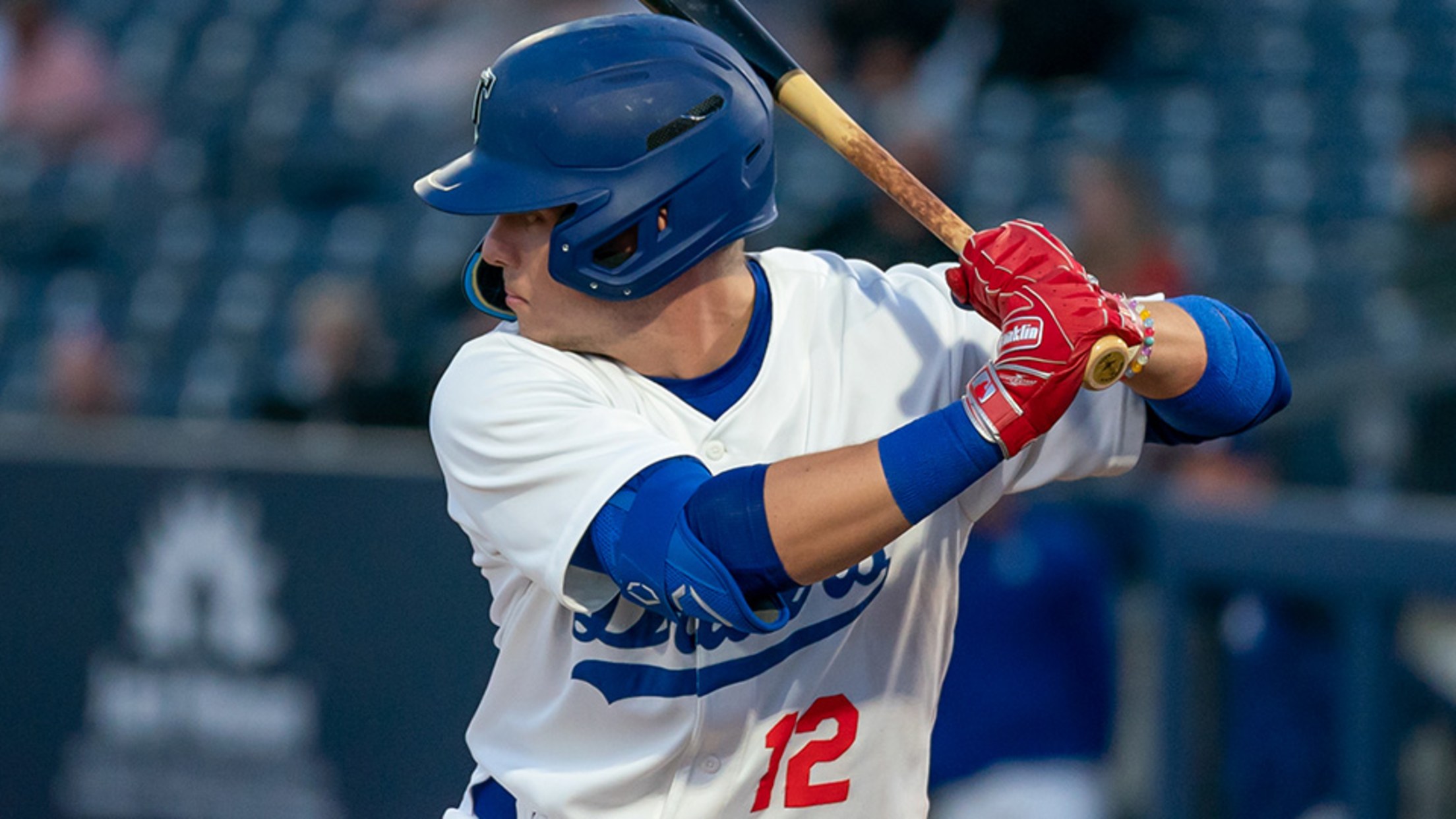 Ryan Ward picked up three hits in Wednesday's win, raising his season average to .295. (Tim Campbell)
AMARILLO, TX -- The Tulsa Drillers continued their offensive tear to win the second game in the series against the Amarillo Sod Poodles at HODGETOWN ballpark on Wednesday night, 9-2. Justin Yurchak boosted the offense with three RBI and was one of five Drillers with a multi-hit night. Gavin Stone
AMARILLO, TX -- The Tulsa Drillers continued their offensive tear to win the second game in the series against the Amarillo Sod Poodles at HODGETOWN ballpark on Wednesday night, 9-2.
Justin Yurchak boosted the offense with three RBI and was one of five Drillers with a multi-hit night. Gavin Stone earned the win in his Double-A debut, striking out five of his first six batters on the way to a season-high eight strikeouts over five scoreless innings.
The Drillers wasted no time getting on the board in the first inning. Tulsa opened the game with three straight hits, including an RBI single from Ryan Ward. Jacob Amaya then scored on a wild pitch to put Tulsa up 2-0.
Devin Mann added on to the Drillers lead in the second with a solo shot to center to extend the score to 3-0.
With bases loaded in the third, Carson Taylor hit an RBI grounder, followed by an RBI single from Yurchak to grow Tulsa's lead to 5-0.
The Driller's lead expanded to 6-0 in the fourth with a sacrifice fly off the bat of Amaya which plated James Outman.
Amarillo earned one of its two runs of the contest in the sixth inning. Eduardo Diaz led off the inning with a triple, and scored on a wild pitch from Nick Robertson to cut Tulsa's lead to 6-1.
Tulsa took advantage of a trio of Amarillo fielding errors to score a three two-out runs in the seventh. After Taylor reached on a fielding error by the second baseman to load the bases, Hoese hit a grounder to third which was misplayed to score the Tulsa's seventh run of the game. With the bases still full, Yurchak followed with an RBI single that passed the left fielder for a third error that helped score two more runs and extend the lead to 9-1.
The game went into a thirty nine minute weather delay before the bottom of the seventh due to lightning in the area.
Once play resumed the Sod Poodles crossed their second run of the evening in the ninth. Following a two-base throwing error by Hoese and a balk by Austin Drury, Jorge Barrosa scored via an RBI groundout from Blaze Alexander.
HIGHLIGHTS AND HAPPENINGS:
*Stone's Double-A debut consisted of five scoreless innings. The Central Arkansas product allowed five hits and no walks while collecting a season-high eight strikeouts. His career high in strikeouts is 12 Ks in a six inning shutout performance at Low-A Rancho Cucamonga last season.
*The Drillers have now hit a home run in seven consecutive games.
*Outman, Amaya, Ward, Yurchak and Mann all had multi-hit nights.
*With his two hits on Wednesday, Outman has now reached base in twelve straight games.
*Seven out of Tulsa's 11 hits were singles, one game after a regular season record nine home runs in Tuesday's matchup.
*After plating runs in six innings in Tuesday's day game, Tulsa scored in five innings.
UP NEXT:
The Drillers and the Sod Poodles will continue their six-game series with game three on Thursday, May 19 at 7:05 p.m. The pitching matchup for game three will be:
Tulsa – TBA
Amarillo - LHP Blake Walston (0-1, 17.47 ERA)
Watch or listen live on MiLB.tv or AM 1430 The Buzz on the iHeartRadio app.