Former C's At Spring Training: Week 1
Tiedemann, Biggio, Lopez, Capra, Britton and Sosa among 39 Canadians alums in MLB spring games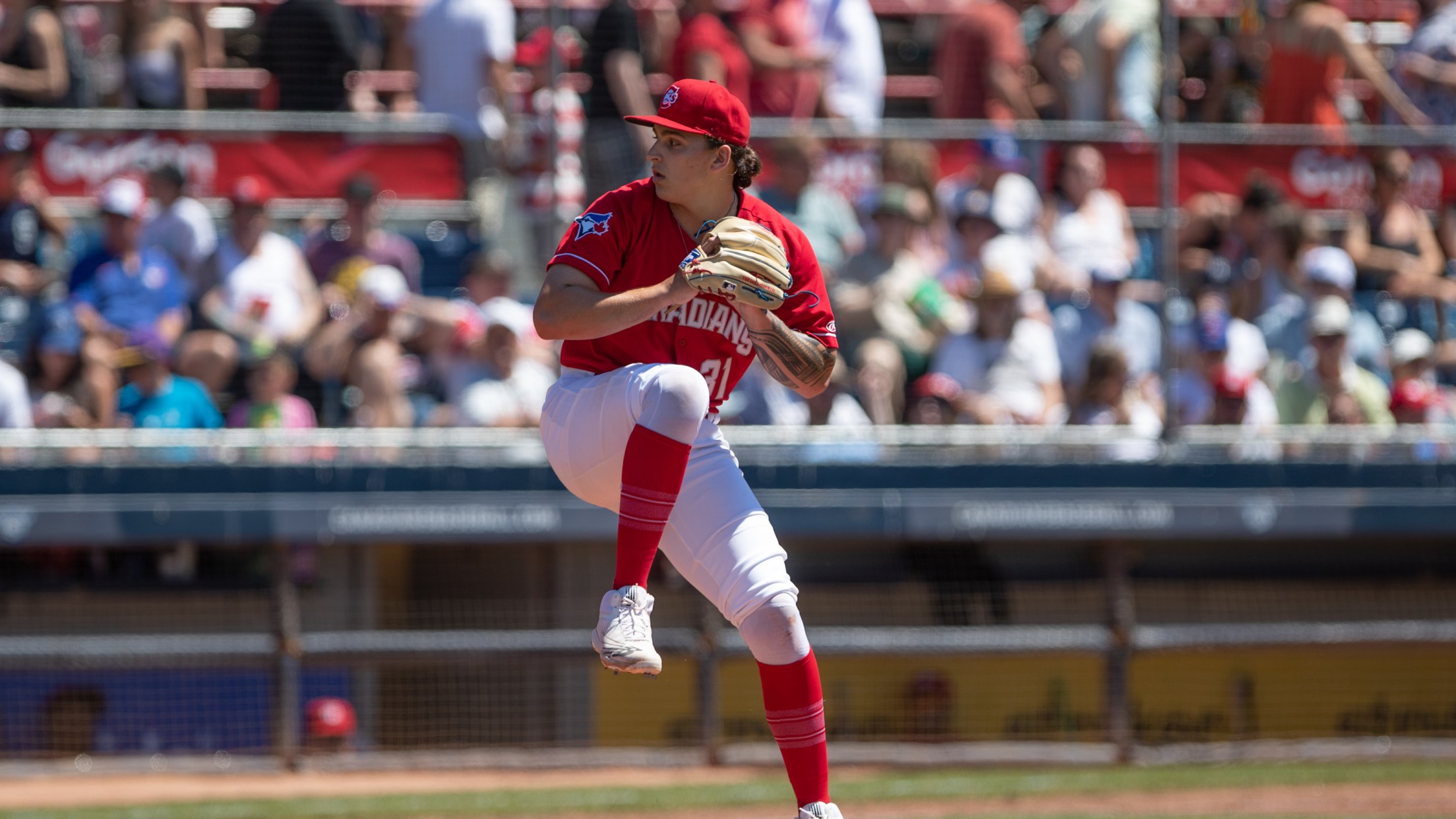 DUNEDIN, FL – Spring Training is in full swing, and the state-of-the-art Player Development Complex in Dunedin is the current sun around which the entire Toronto Blue Jays baseball universe is rotating. Alongside the likes of Toronto's impressive list of star talent are a growing number of former Vancouver Canadians
DUNEDIN, FL – Spring Training is in full swing, and the state-of-the-art Player Development Complex in Dunedin is the current sun around which the entire Toronto Blue Jays baseball universe is rotating. Alongside the likes of Toronto's impressive list of star talent are a growing number of former Vancouver Canadians who are getting their own chance to shine on the preseason stage. As of March 7, 39 players who once suited up for the C's have appeared in a Blue Jays spring game this year; 33 of those 39 played for the Canadians in either 2021 or 2022.
Minor League Baseball's recent restructuring that promoted the Canadians from Short-Season to High-A before 2021 has turned the trickle of one-time C's players getting a taste of Grapefruit League action into a torrent. Each week this month, we'll highlight the exploits of old friends who are making noise down south in advance of the 2023 season. These are six standouts from the first 10 days of spring games:
Ricky Tiedemann (Canadians – 2022)
Long before even the earliest arrivals began showing up at the complex last month, the spring debut of Toronto's top prospect was already the talk of the organization. The 20-year-old lefty – fresh off his breakout 2022 that included a 2.39 ERA, 54 punch outs and only 12 walks in 37.2 innings with the C's – lived up to the hype in his first outing on February 28 against the Detroit Tigers. Tiedemann made short work of three bona fide big leaguers; he started the outing by striking out Javy Baez on a 99 MPH fastball then got the next two hitters for a 1-2-3 frame.
99 MPH heater 🔥
86 MPH changeup 😱@TiedemannRicky3 struck out TWO in his #SpringTraining debut! pic.twitter.com/qHS59yKK2K

— Toronto Blue Jays (@BlueJays) February 28, 2023
The Long Beach, CA native took the hill again on March 7 and ran into his first bit of trouble – an infield single off the bat of Andrew McCutchen followed by a Carlos Santana two-run homer to break a scoreless tie in the fourth – but would go on to register a strikeout and, after a two-out walk, a pickoff to limit the damage.
Cavan Biggio (2016)
Unlike Tiedemann and the rest of the C's alumni to follow, Biggio doesn't need to prove his MLB worthiness; instead, the former Notre Dame standout has a chance to cement his status as one of Toronto's most versatile players on a roster loaded with premium talent. He's been one of the hottest hitters in camp so far; in 19 spring at-bats across 7 games, Biggio is slashing .368/.400/.368 and has thrice logged a two-hit showing and his seven knocks are tied for the most on the roster (Santiago Espinal and Otto Lopez also have seven hits apiece). C's fans got an early look at Cavan's potential when he reached base 86 times in 53 Northwest League games to start his pro career seven years ago.
Cav' another look at this double play 😱 @doinitBIGgio23 pic.twitter.com/QEz3ML4Fvm

— Toronto Blue Jays (@BlueJays) February 28, 2023
Otto Lopez (2018)
On a roster that was nearly set even when camp began, there are a select few spots up for grabs before the Opening Day group is announced. Lopez – who averaged a hit per game and posted a .824 OPS in 51 games with the Canadians in 2018 – has made as strong a case as anyone to break camp with the big leaguers. He had a hit in five of his first six games this spring while posting a slash line of .467/.529/.667; he'll look to carry that success over to the World Baseball Classic as a key part of Canada's squad.
Vinny Capra (2018)
If you made it out to The Nat in 2018 and saw Toronto's 20th round pick out of the University of Richmond at the plate, would you have pegged him as a future big leaguer? Capra – who is listed at 5-8/180 – has proven all the doubters wrong (and the Blue Jays right) over his last two MiLB seasons and earned a call-up for his MLB debut in May of last year. Now considered as an outside candidate for a roster spot, the Melbourne, FL product has appeared in five spring games and has four hits thus far. Two of those hits – a double and a homer – came as part of an eye-popping seven RBI performance on March 4 against Detroit; those 7 RBI make him Toronto's team leader.
Zach Britton (2022)
An electric presence on and off the field, the catcher-turned-outfielder has made the most of his first invite to big league camp. A season removed from posting an .831 OPS with 15 doubles and seven homers over 57 games with the C's, Britton has appeared in eight Grapefruit League games and already has a double, a triple and a home run to his name while playing both corner outfield positions.
Some Zach on Zack action here, as Zach Britton (@zbritton33) JUST misses a homer off Zack Wheeler.

97.6 mph off the bat.

Keep an eye on Britton this season.#BlueJays pic.twitter.com/BpIYmtNuaq

— Brennan Delaney (@Brennan_L_D) March 5, 2023
Andres Sosa (2022)
The Canadians Co-MVP from a season ago, Sosa has emerged as a versatile defender (he catches and plays first base) with an impressive combination of pop and plate discipline. The Hermosillo, MX native – who slashed .361/.494/.639 in 20 August games last year to lead the C's to the playoffs – had two hits and an RBI in his MLB Spring Training debut on February 25 against Pittsburgh and his three walks are tied with Bo Bichette for the most by a Blue Jay so far this spring.
Anders Sosa is halfway to the cycle with this single. Also drives in a run.#BlueJays pic.twitter.com/KDqWAJzrPv

— Brennan Delaney (@Brennan_L_D) February 25, 2023
Toronto is scheduled to play six games in the next five days, including AL East matchups with Tampa Bay on March 9, Boston on March 10, and Baltimore on March 11.
The Vancouver Canadians begin their quest for a fifth Northwest League title on April 7 with Opening Night at Nat Bailey Stadium. Tickets for all 66 home games are available now by visiting the box office, calling 604-872-5232 or clicking here.